People's Daily Whistles Past the Graveyard as Foreign Investment Flees China
September 25, 2013 3:58 pm Last Updated: September 25, 2013 3:58 pm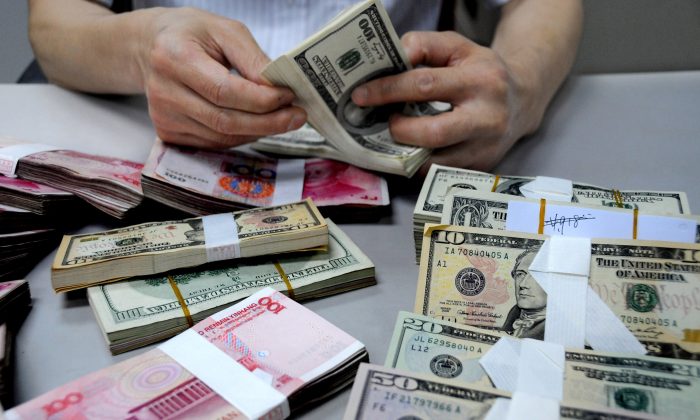 The departure of foreign capital from China has become a trend since 2009. In the past three years, the situation has occasionally reversed, but not enough to change the trend. 
What is notable, is that the state mouth piece People's Daily has published several articles denying the situation, and asserting that the "mass foreign investment flight is pure speculation," and "the withdrawal of some foreign funds was merely a temporary adjustment." 
Since the central Party's propaganda organ has been mobilized to "correct" public opinion, it may be of interest to take a look at its key arguments.
Point 1: There Is No Mass Exodus of Foreign Funds
Evidence of foreign capital leaving China can be seen in the decrease of "forex funds" (funds outstanding for foreign exchange) this June. According to data from China's central bank, the June forex funds balance was 27.38 trillion yuan, a 41.205 billion yuan decrease from May. It is the first negative growth in 2013, and some analysts interpreted it as a sign of foreign capital withdrawal. 
However, in an Aug. 22 article, People's Daily quoted an analysis by a "relevant department of the State Administration of Foreign Exchange" saying that the recent slowdown in foreign investment inflow is the result of several factors, including domestic and international policies as well as seasonal changes, and predicted that the foreign investment would return to balance in the latter half of 2013. It also emphasized that the foreign capital outflow is nothing more than a temporary adjustment, and has limited impact on China's economy. 
Quoting data from the Ministry of Commerce, the report also said that although the number of new companies started up with foreign investment decreased by 17.31 percent year-on-year, the actual amount of foreign capital used increased by 20.12 percent.
Shortly after the People's Daily article, 21st Century Business Herald published a report on Sept. 6, titled "Foreign Capital Quit From Four Major Banks: They know well of the danger of China's banking industry." It mentioned that on Sept. 3, Bank of America sold 2 billion China Construction Bank H shares for over HK$11 billion. 
Immediately after, foreign strategic investments withdrew from all four major banks of China. 
According to Dealogic, between 2002 to 2010, Bank of America acquired at least US$14.8 billion worth of Chinese bank shares, making huge profits. Between 2009 to 2013, it earned US$37.3 billion from shares sold.
In an earlier analysis I pointed out that 2007 was a dividing line. Prior to that time, foreign industrial investment dominated, but after that year, the dominant role shifted to financial investment. 
According to a Shanghai Security News report published on Sept. 10, in the past ten years, the profit gap between China's banking sector and industrial sector has widened greatly, which highlights the problem of China's economic structure, i.e. the severe discrepancy between the fictitious and the real economy. 
The semi-annual report for 2013 showed that China's four major banks occupied the top four positions with the highest earnings. Furthermore, of the top 10 most profitable companies listed, three are banks; three others are energy giants: China National Petroleum Corporation (CNPC), SINOPEC, and China Shenhua. 
Although profits in China's banking sector have continued to rise in the past two years, the abnormal development of shadow banking, the high risk of local government debt, and the collapse of the real estate market in some areas have created operational risks for many banks. 
Judging from the ratio imbalance between the profits of the banking sector and the industrial sector, the economic model dominated by banking profits could face challenges. It indicates that the golden era for China's banking industry has ended. Foreign banks have perceived the danger and retreated at the right time.
Point 2: China Still Has the Advantage in Attracting Foreign Investment
This argument targets the opinion that rising land and labor costs in China are the cause of foreign capital withdrawal. Because land cost is undeniably high, People's Daily focused on rising labor costs instead. 
It stated that although labor costs have increased, the quality of the country's workforce has also increased at the same time, and is more fit for higher value-added manufacturing jobs. Furthermore, although China's coastal area is less attractive to foreign investment now, China's central and western regions are becoming more and more attractive for investors.
The problem with this reasoning is that these "advantages" have to be recognized by foreign investors. The World Investment Report 2012 cited the BCG report, which compared the labor cost in China and the United States. It concluded that although labor costs in the surveyed industries counted for a relatively small portion of overall costs, the rapidly narrowing wage gap between the two countries made it an important factor. Wages in China are expected to increase 15 to 20 percent each year, exceeding China's production growth. 
After taking into account the productivity of the United States, by 2015 the once huge difference in labor costs in China's costal areas and part of the United States' low-cost areas will shrink to 40 percent of today's gap level. 
Moreover, when considering shipping costs, logistics and other costs, and the complexity of the global supply chain, China's labor cost advantage will become very small.
The report also said that numerous facts have proven that China's domestic labor cost does not pose much of an advantage any more. Huawei, China's telecommunication company, reported that its cost for hiring master degree engineers in inner provinces is only 10 percent lower than in Shenzhen. When Kolcraft wanted to move to central China's Hubei Province, it found that labor costs were just 5-10 percent lower than in the coastal cities. 
A common understanding has now been reached that the era of China's unlimited labor force that will work for under one U.S. dollar a day, has passed. 
The report also pointed out other factors unfavorable for China. For example, the risk of unprotected intellectual property in China, and low natural gas cost in the United States, are attracting manufactures to return to the United States. 
Point 3: Withdrawal of Foreign Investment is an International Conspiracy to 'Short China'
For the past few months, three international rating agencies have lowered China's credit rating. JP Morgan Chase, Citigroup, American-owned funds, and other international groups have expressed the outlook of the Chinese economy as "bearish." It goes without saying that the nature of capital is profit-driven; it goes wherever profit can be made, and leaves when no more profits can be made. However, Chinese officials believe the international investment circles have always had a conspiracy to "short China." 
They believe that since March, international investment banks, credit rating agencies, and the international media have "cooperated to secretly prepare the second round of 'shorting' China, and that China will likely be paying for America's financial crisis."
Xu Yili, chief strategy commentator of CCTV's security channel drew the conclusion in his Sept. 9 program that hot money, secretly withdrawn from Asia-Pacific, is a result of the United States "using U.S. dollars as a weapon of revenge and to collect global debts."
Jim Chanos, president and founder of Kynikos Associates, has become the culprit of this round of shorting China. The reason is that Chanos used a 19-slide power point presentation at an investor conference in Hong Kong on April 5 to explain why he felt bearish about China and wanted to short it. 
His reasoning was that China's emphasis on GDP has created a problem with overcapacity in the cement, steel, and automotive sectors. The huge investments in fixed assets ensured high GDP, but caused diminished return on investment per unit, while liability assets depreciate. 
Chanos' speech apparently covered almost all problems in the Chinese economy, including excessive investment, bank credit expansion, shadow banking, local government debts, the real estate bubble, phony urbanization, wealth gap, corruption, and more.
What makes Chinese authorities most unhappy is that Chanos also extended judgment on the political field, saying that once the Chinese economy has serious problems, the existing interest group will collapse and fall apart. 
With this political judgment from Chanos, the Chinese leadership became convinced that there definitely is a big "short China" conspiracy. Authors of the People's Daily articles seem to have forgotten the principles of capital: capital pursues profits, and goes where profits can be made.
It seems that these authors thought that foreign investments came to China not for profits but to help build China's socialist construction. Now their departure is not about there being less room for profits, but because they are playing out a long planned conspiracy against China. 
To summarize, in my judgment, foreign investment from developed countries is indeed withdrawing fast from China. Much of the recent foreign capital influx actually consists of returned funds originating in China that have gone through Hong Kong or other places. 
In order to show that the Chinese market still has advantages to attract foreign investments, People's Daily didn't hesitate to do the promotion itself. However, it didn't achieve the effect of clearing up the doubts, rather, it more served the purpose of reassuring itself.

He Qinglian is a prominent Chinese author and economist. Currently based in the U.S., she authored "China's Pitfalls," which concerns corruption in China's economic reform of the 1990s, and "The Fog of Censorship: Media Control in China," which addresses the manipulation and restriction of the press. She regularly writes on contemporary Chinese social and economic issues.
Translated by Tan Hohua and Jenny Yang. Written in English by Gisela Sommer.
Read the original Chinese article.