Over a dozen members of The People's Convoy gathered outside California Gov. Gavin Newsom's mansion in Fair Oaks, less than 20 miles northeast of the state Capitol, at about 12:30 p.m. on April 20, to protest vaccine mandates and Assembly Bill (AB) 2223.
About six California Highway Patrol officers told protesters to "ease off the bullhorn" and stop honking their horns. Though the supporters stopped honking their horns after police arrived, one of the protestors continued to speak loudly over the bullhorn.
The day before, more than 100 ralliers from The People's Convoy joined over a thousand others, who were protesting AB 2223, at the steps of the state Capitol building in Sacramento.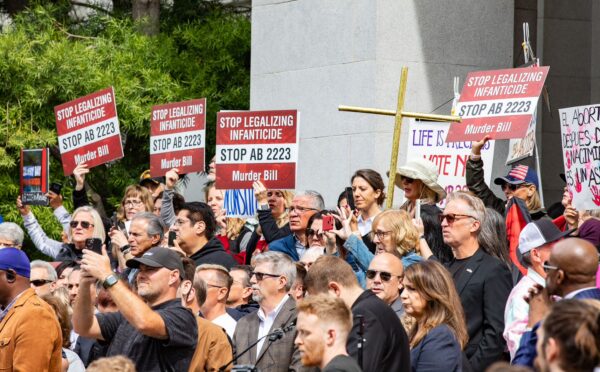 AB 2223 was introduced by Buffy Wicks (D-Oakland), who said the bill would protect women against criminal prosecution following the death of their baby due to self-induced abortion, miscarriage, or other causes was approved, by a vote of 11–3, by an Assembly committee on April 19.
But protestors—members of The People's Convoy included—say the bill could potentially legalize infanticide.
Mike Landis, lead trucker and organizer of the convoy, criticized state senators and assemblymembers for the lingering state of emergency orders and COVID-19 vaccine mandates.
The People's Convoy left Adelanto, California, on Feb. 23 and traveled to the Washington, D.C. area demanding that President Joe Biden give up his emergency powers and end the vaccine mandates.
After spending a few weeks circling the D.C. area, Landis announced in late March the convoy would head back west to California to protest proposed legislative bills the truckers now call "The Tyrannical Ten."
"I never expected us to be back in California, but here we are," Landis told supporters in Sacramento on April 19.
Landis chastised legislators for putting political and corporate interests above the constitutional rights of Americans.
"These people in these buildings here are nothing but puppets on a string for our federal government and the big money of the world. They don't care about you. They don't care about me. They don't care about our kids," he said.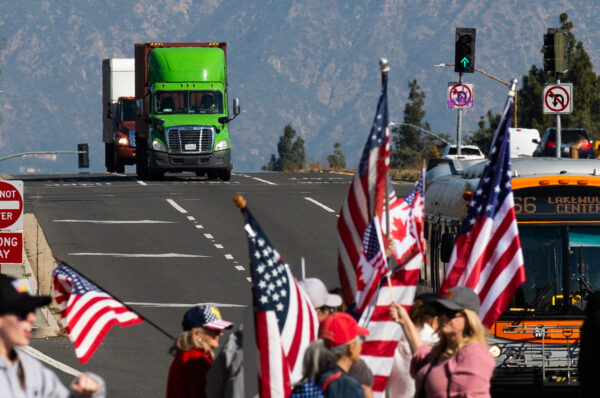 Over the last few months, the mission of the convoy has become about bringing the American people together to demand freedom and stand against tyranny, Landis said.
"It's been incredible to see so many people the whole way across the country and the whole way back—seeing so many people in their own states starting to stand up. And that's really what's super important: to get people to come together in their states in our hometowns. It starts at home and it filters out to here," Landis said.
Landis chastised lawmakers for imposing lockdowns and business closures during the pandemic, and lingering mask and vaccine mandates.
"Everyone says, 'Oh, what freedoms have they taken?' Well, gee, I don't know. I was asked to keep working while I drove a truck at the beginning of this pandemic, if that's what you want to call it. And I couldn't find anything to eat anywhere. But I'm supposed to keep going, right? I couldn't use a bathroom, at places [where] we picked up or delivered because God forbid, we have germs," he said.
"It's completely stupid."
He urged Californians and Americans to pay attention to the legislation that is being passed and not to let their freedoms slip away.
"When they take a little at a time, we don't realize it," he said. "… You have to be diligent and watch everything that's going on."
Landis said the convoy plans meet with Canadian truckers when it leaves California.
"When we leave Sacramento with the convoy, we're going to go meet our brothers and sisters in Canada," he said to cheers from the crowd. "Thanks to them for getting this whole ball rolling. If you think that these people in these buildings are afraid of the people coming together, wait till countries come together."