In Hong Kong, the safety of Falun Gong practitioners is again being called into question after several roadside information booths run by practitioners were vandalized by people believed to have ties to the Chinese regime.
Whether the local practitioners could continue to freely practice their beliefs became a concern when Beijing imposed a draconian national security law on Hong Kong in late June. The law punishes vaguely defined crimes such as "subversion" and "collusion" with a maximum penalty of life imprisonment.
Falun Gong, also known as Falun Dafa, is a practice centered around meditation exercises and moral teachings based on truthfulness, compassion, and tolerance. Amid Falun Gong's growing popularity in mainland China, the Chinese regime, fearing the practice would threaten its rule, began a sweeping suppression campaign in July 1999.
Millions of Falun Gong adherents have been detained inside prisons, labor camps, and other facilities in China, with hundreds of thousands tortured while incarcerated, according to the Falun Dafa Information Center.
Hong Kong, as a Chinese-ruled but separate territory, respects religious freedom. However, since the national security law came into effect, locals have wondered whether Beijing authorities would soon use similar tactics as in mainland China to silence dissidents, such as human rights lawyers, underground church leaders, and Falun Gong adherents, with trumped-up charges that include subversion.
The Hong Kong Falun Dafa Association previously raised the alarm that local adherents could be "arrested and persecuted for groundless claims at any time" under the security law.
Vandalism
In response to China's persecution, adherents in many countries and regions around the world have set up booths in public areas in order to raise awareness of Beijing's human rights violations against Falun Gong adherents in China.
Over the weekend, Falun Gong information booths in three districts of Hong Kong—Causeway Bay, Tsim Sha Tsui, and Mong Kok—as well as one booth near the popular tourist site Wong Tai Sin Temple, were vandalized. Similar incidents occurred earlier this month and in September.
On Dec. 19, a person pushed over several boards on display at the booth in Causeway Bay, before fleeing in the direction of a nearby shopping center, according to a Falun Gong practitioner who was manning the booth.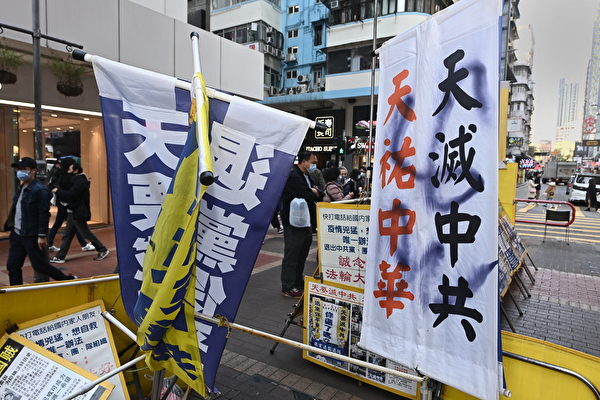 On the same day, a man wearing a mask and a hat tore down several display boards and banners at the booth near Wong Tai Sin Temple, in an incident filmed by a Falun Gong adherent surnamed Zhuang. The vandal eventually fled, taking with him some of the banners he had torn down.
According to Zhuang, the man had a mainland Chinese accent when he spoke. Local police were called to the scene, and police officers took photographs to gather evidence.
On Dec. 20, a man who showed up at the booth in Tsim Sha Tsui broke one of the poles for the booth and threw display boards into the nearby Victoria Harbor. A female practitioner surnamed Chen confronted the man, but he eventually fled.
Police officers helped to retrieve display boards thrown in the harbor after being called to the site.
Also on Dec. 20, several individuals sprayed black ink on several display boards at the booth in Mong Kok. A local Falun Gong adherent who regularly operates the booth said people had shown up to harass the practitioners for several days earlier, including one person who shouted at them that "they would end up in jail sooner or later."
Condemnation
Sarah Liang, chairwoman of the Hong Kong Falun Dafa Association, condemned the vandals, whom she suspected of having ties to the Chinese Communist Party. She called on Hong Kong citizens to pay attention to what has been happening to Falun Gong practitioners there, in order to safeguard the city's freedom of speech.
Retired Hong Kong civil servant Kwok Cheuk-kin, who has made a name for himself locally as the "king of judicial reviews" for filing legal challenges to government policies, said local laws allow Falun Gong adherents to set up roadside booths.
Article 32 of Hong Kong's mini-constitution, the Basic Law, states that "Hong Kong residents shall have freedom of religious belief and freedom to preach and to conduct and participate in religious activities in public."
Kwok said he believed the recent vandalism activities have to do with Beijing not wanting people to learn about the regime's persecution of Falun Gong adherents in China. He urged locals to speak up or report any incidents to the police in order to safeguard their constitutional rights. 
The Hong Kong edition of The Epoch Times contributed to this report.