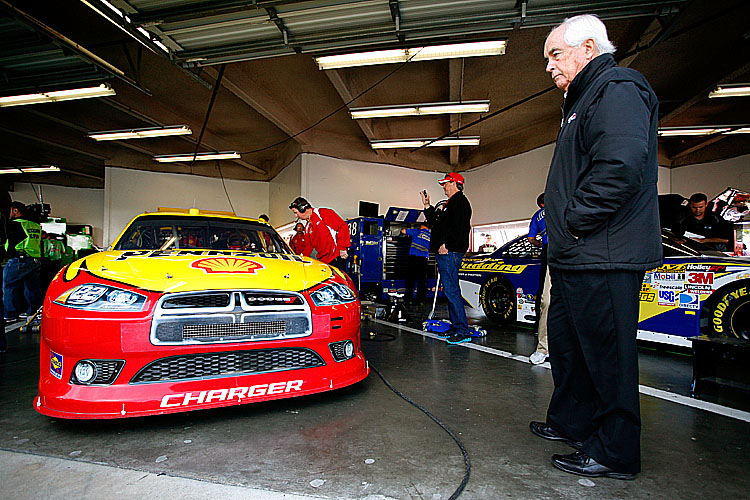 In a surprising move, Roger Penske has switched his NASCAR team from Dodge to Ford for the 2013 season.
Penske has raced Dodge products in NASCAR's Nationwide and Sprint Cup series since 2003. Next season the teams will use the Ford Fusion in Sprint Cup and the Ford Mustang in Nationwide.
"Penske Racing has had and continues to have a terrific relationship with Dodge and we thank them for their partnership and their support over the past 10 years," said Roger Penske on his website. "Our organizations have experienced many great memories together and our teams are committed to produce wins and championships with Dodge this season.
"We look forward to rejoining the Ford Racing NASCAR program beginning in 2013. We appreciate the long-term commitment that Ford has made to Penske Racing and for their continued support of the sport."
Penske raced Fords in 1976–77, and from 1994–2002, when he switched to Dodge.
With Ford Penske earned 27 Sprint Cup wins and one in Nationwide in 524 starts; with Dodge the team won 26 Cup and 22 Nationwide wins, plus the 2010 Nationwide championship, in 1048 starts.
For the rest of 2012 Penske racing will continue with Brad Keselowski driving the No. 2 Miller Lite Dodge and A.J. Allmendinger in the No. 22 Shell-Pennzoil Dodge in Sprint Cup. In Nationwide, Keselowski and Parker Kligerman will campaign the No. 22 Discount Tire/Snap-on Dodge, while Sam Hornish Jr. will drive the No. 12 Alliance Truck Parts/WURTH Dodge.