TOKYO—U.S. Vice President Mike Pence said on Wednesday Washington stands "shoulder to shoulder" with Japan and other allies as it seeks to achieve the goal of denuclearizing North Korea.
Pence, in Tokyo on his way to the Winter Olympics in South Korea, was speaking at the start of talks with Prime Minister Shinzo Abe that were expected to showcase the U.S.-Japan security alliance in the face of the North Korean threat.
"We will continue to stand shoulder to shoulder with the people of Japan, the people of South Korea, and our allies and partners across the region until we achieve the global objective of the denuclearization of the Korean peninsula," Pence said.

Earlier, Pence visited a Japanese Patriot PAC-3 missile battery, Japan's last line of defense against any possible North Korean missile strike.
Pence watched the battery raised to a firing position and got a briefing before shaking hands with members of the Self-Defense Forces, as Japan's military is known. He was accompanied by Japanese Defence Minister Itsunori Onodera and Japan's highest ranking military officer, Admiral Katsutoshi Kawano.
His trip to South Korea from Thursday will coincide with a visit to the Games by North Korea's ceremonial leader, Kim Yong Nam, the most senior North Korean official to enter the South since the 1950-53 Korean War ended with a truce.
Pence has stopped short of ruling out the prospect of meeting senior North Korean officials but President Donald Trump has cast doubt on U.S. negotiations with Pyongyang any time soon. The White House has also cautioned against reading too much into remarks Pence made en route to Japan.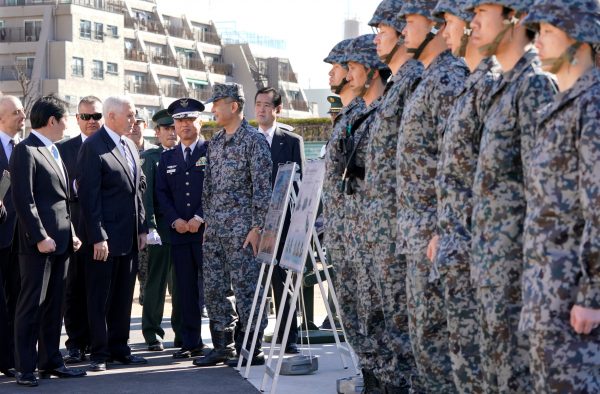 Clear Message
Pence said before arriving his message to the North was clear: Washington and its allies would keep pressing Pyongyang to give up its missile and nuclear programs.
"… my message—whatever the setting, whoever is present—will be the same. And that is that North Korea must once and for all abandon its nuclear weapons program and ballistic missile ambitions," he told reporters during the flight to Japan.
Abe's close aide, Chief Cabinet Secretary Yoshihide Suga, reiterated Japan's tough stance. "We must not be fooled by North Korea's 'smile diplomacy'," Suga said.
North Korea test-fired ballistic missiles over Japan last year, as well as a new type of intercontinental ballistic missile that climbed to an altitude of more than 4,000 km (2,485 miles) before splashing into the sea within Japan's exclusive economic zone.

Concern about North Korea is pushing Japan to update its missile defense. Besides extending the range and increasing the accuracy of its Patriot system, it will add two U.S.-made ground-based Aegis radar stations and interceptors and plans to add to its arsenal air-fired cruise missiles that can strike North Korean missile sites.
Pence was likely to stress the need for close coordination among the United States, Japan, and South Korea over the North's threat at a time when ties between Seoul and Tokyo have been frayed by the bitter legacy of a history that includes Japan's 1910-1945 colonization of the Korean peninsula.
He will also meet Japanese Finance Minister Taro Aso, who doubles as deputy premier and is Pence's counterpart in economic talks, although trade friction is expected to take a backseat to security during his visit.
Recommended Video:
President Trump's First State of the Union Address