House Speaker Nancy Pelosi (D-Calif.) tore President Donald Trump's State of the Union speech in half just after the president finished speaking on Tuesday night.
Pelosi, 79, was handed a copy of Trump's prepared remarks along with Vice President Mike Pence, 60, before Trump began speaking. She reached out a hand to shake Trump's but he did not shake it.
It wasn't clear whether Trump, 73, saw Pelosi's hand as he was turning away from her when she reached out after receiving the copy of Trump's remarks. Trump also did not shake Pence's hand, which was not offered.
Trump spoke for about an hour before closing to applause. As he raised his hand and acknowledged the praise, Pelosi ripped the papers she held behind him.
An Epoch Times reporter heard Pelosi respond to a question about her reaction to the speech. "I tore it up," she said.
"It was the courteous thing to do considering the alternatives," Pelosi also told reporters as she left the House floor.
Pelosi said she was "trying to find one page with truth on it" but failed.
The White House said in a statement that Pelosi "just ripped up: One of our last surviving Tuskegee Airmen. The survival of a child born at 21 weeks. The mourning families of Rocky Jones and Kayla Mueller. A service member's reunion with his family."
"That's her legacy," the White House added.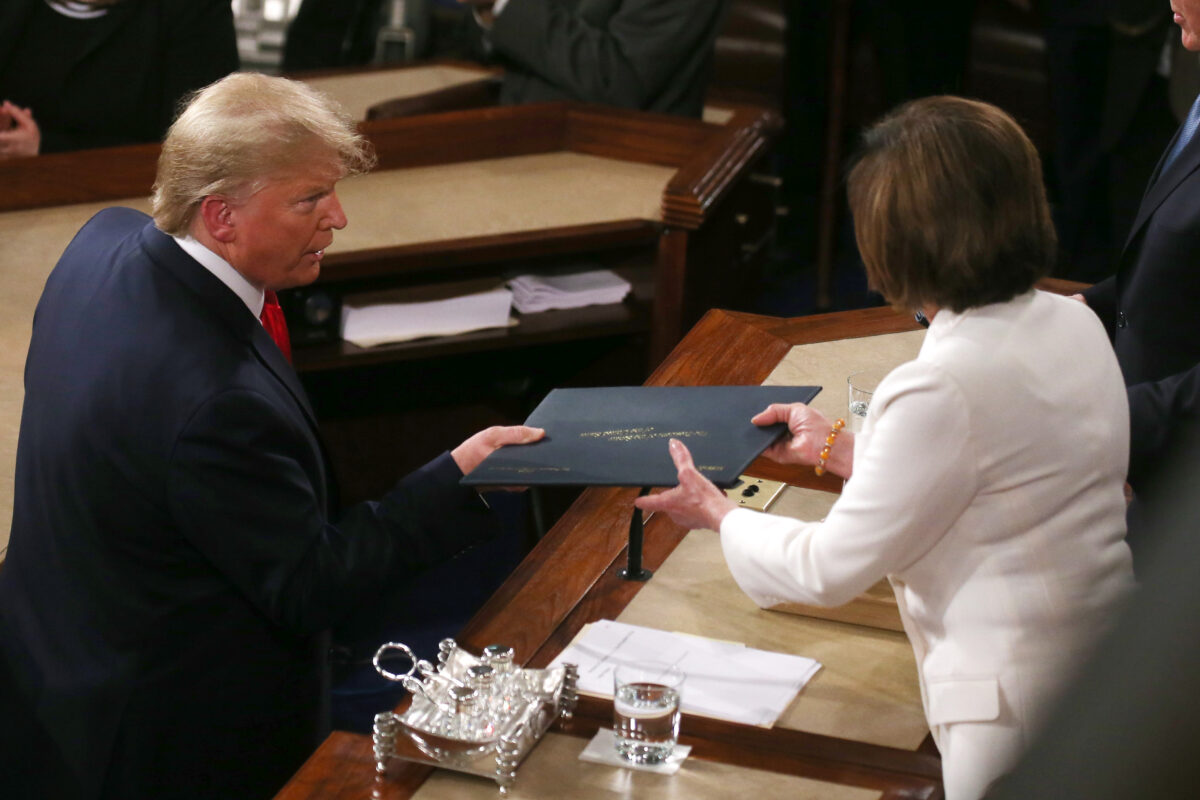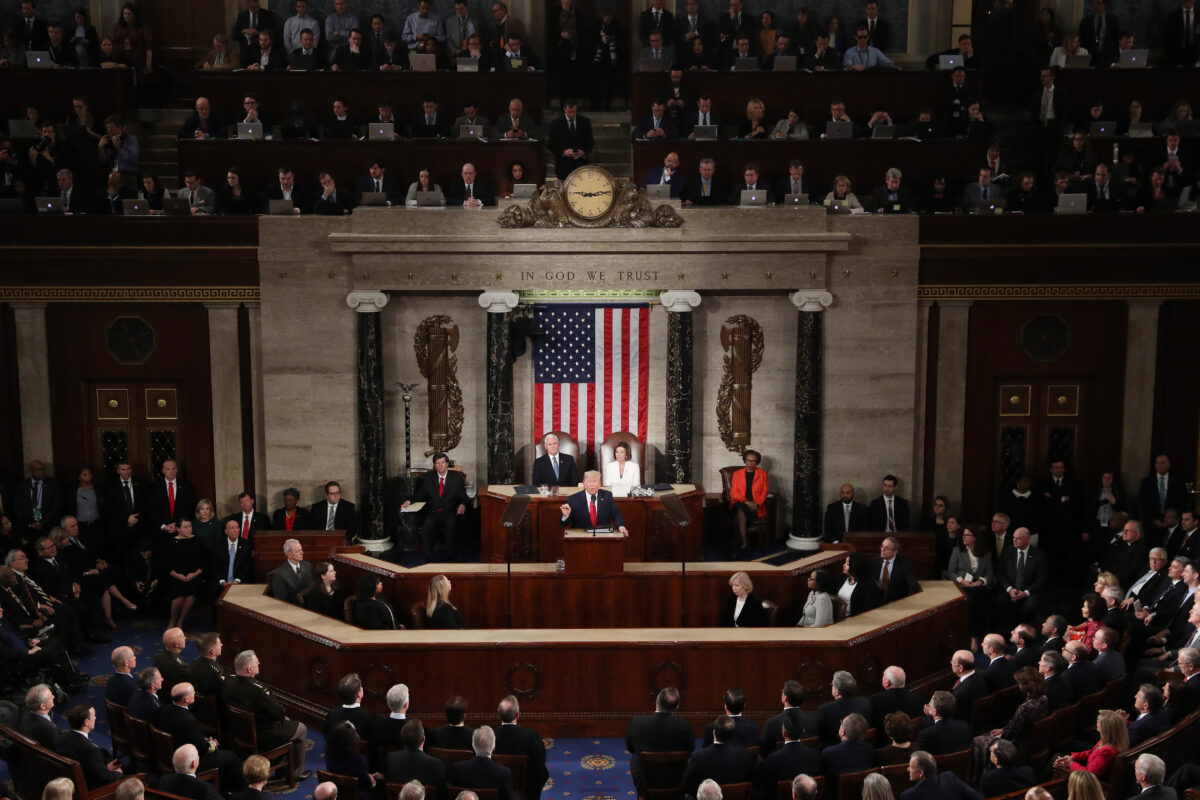 Pelosi later issued a statement saying Democrats were told "the President would have a positive message on health care."
"However, President Trump's address tonight gave no comfort to the 130 million Americans with preexisting conditions or the families struggling to afford the prescription drugs they need. Once again, President Trump was not truthful about his actions in court to destroy preexisting condition protections. Once again, President Trump pulled his punch on his promise to negotiate for lower prescription drug prices, which House Democrats delivered with the Elijah E. Cummings Lower Drug Costs Now Act, H.R.3," she added.
Trump spent the State of the Union highlighting the military, the booming U.S. economy, and a vision of rising above the partisan rancor that has been prevalent in Washington in recent years.
Trump focused on some of the accomplishments of his time in office, including the U.S.-Mexico-Canada trade agreement (USMCA), tax cuts, and the phase one trade deal with China. He also championed how unemployment has dropped sharply since he assumed office.
Moments of note included Trump announcing a member of the military had returned to the United States to surprise his wife and children; honoring Tuskegee Airmen Air Force Colonel Charles McGee and McGee's great-grandson, who hopes to join the Space Force in the future; and giving a Medal of Honor to longtime conservative radio host Rush Limbaugh, who recently announced a cancer diagnosis.
Other guests of Trump and First Lady Melania Trump included Kelli and Gage Hake, wife and son of Army Staff Sergeant Christopher Hake, who was killed by a roadside bomb supplied by Iranian General Qassem Soleimani; Philadelphia fourth grader Janiyah Davis, who was given a scholarship; and Juan Guaido, the interim president of Venezuela.
Charlotte Cuthbertson contributed to this report.