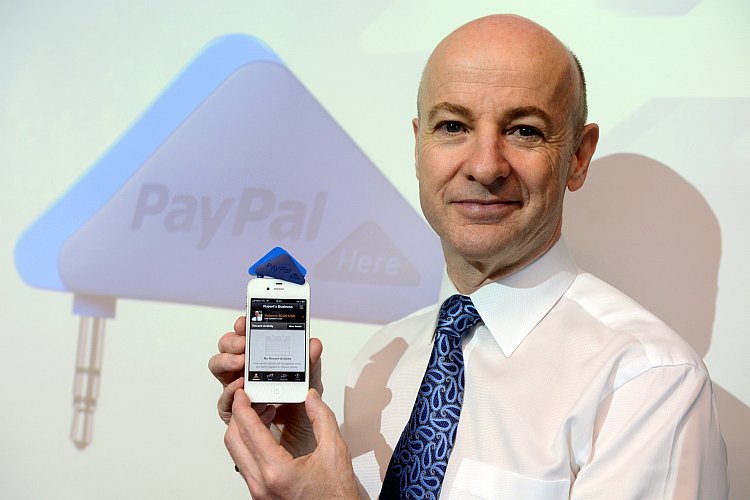 News Analysis
NEW YORK—If you're a small-business owner, you know about Square Inc., the service that accepts credit card payments through mobile devices.
Now, a much more entrenched player in the online payments industry is jumping into the still-nascent mobile payments market—PayPal.
PayPal, a subsidiary of online retail giant eBay Inc., has introduced a new mobile payment device called PayPal Here, aimed squarely (pun intended) at the San Francisco-based Square Inc.
PayPal Here, through the use of a thumb-sized device that plugs into any iPhone, accepts major credit cards such as those from Visa, MasterCard, American Express, and Discover. It also takes PayPal accounts as a form of payment.
The service will soon also be available for iPad and Android devices and should offer small-business merchants a choice in selecting a mobile payment acceptance platform.
Chances are, many small-business merchants and taxi drivers currently accepting mobile payments are already Square customers. To eat into Square's client base, PayPal is using the time-honored tactic of undercutting its competition.
PayPal Here charges merchants a 2.7 percent transaction fee, which is slightly lower than the 2.75 percent currently charged by Square. While this doesn't sound like much, it could add up for high-volume merchants.
There are some differences between PayPal Here and Square. For one, PayPal Here accepts payments via PayPal and physical checks (by taking pictures using a camera) in addition to popular credit cards. Also, PayPal customers have the option of being charged their 2.7 percent fees through their PayPal accounts, instead of PayPal taking a haircut from the credit card transaction. This also allows merchants who already have a PayPal account to consolidate their accounts by using PayPal Here.
PayPal is billing its offering as "the world's first global mobile payments solution," which is a dig at the current market leader—albeit still a startup—Square. Of course, PayPal is backed by the multibillion-dollar parent company eBay and has considerable weight in the payments industry.
PayPal has the financial might to undercut current market leader Square in the long run and extensively market its service globally, which is bad news for the privately owned Square.
The company is a cash cow for its parent eBay, and PayPal has been aggressively expanding its services beyond online payments. It has rolled out its payment acceptance services at traditional stores, such as designated Home Depot locations, to accept PayPal at the checkout register.
Square's Growth
It's no secret that Square's success has caught the eye of PayPal. Square currently has 100 million users and has been on a growth trend since its introduction in 2010.
Founded by Twitter creator Jack Dorsey, Square caters to merchants seeking a simpler way to do business on the go.
Traditional credit card payment services offer lower per-transaction charges, but their systems tend to be overly complex, and most require upfront fees and monthly charges. In addition, those services rarely offer the simplicity and the software for taking payments from mobile devices such as smartphones.
Square has enjoyed success since its introduction, and last November, British entrepreneur and Virgin Group Chairman Richard Branson became its latest investor.
Besides Square, VeriFone Systems Inc. and Intuit Inc. also offer mobile payment acceptance systems.
"The key differences from other existing mobile payment solutions are that it [PayPal Here] includes PayPal's world-class fraud management capabilities," said PayPal's vice president of mobile, David Marcus, in a statement announcing the PayPal Here service.