New England Patriots owner Robert Kraft broke his silence for the first time on March 23 regarding his alleged involvement in a high-profile prostitution case, days after he rejected a plea deal that could have allowed him to avoid the charges.
In a lengthy statement, 77-year-old Kraft struck an apologetic tone over the charges that he and other men solicited prostitutes. It's been a month since the news initially broke.
The billionaire was charged with two counts of sex solicitation during visits to the Orchids of Asia Day Spa in Jupiter, Florida. He has denied any wrongdoing.
"I am truly sorry. I know I have hurt and disappointed my family, my close friends, my coworkers, our fans and many others who rightfully hold me to a higher standard," he said. "Throughout my life, I have always tried to do the right thing. The last thing I would ever want to do is disrespect another human being."
Statement from Patriots' owner Robert Kraft: pic.twitter.com/GiswaNQxh4

— Adam Schefter (@AdamSchefter) March 23, 2019
The NFL team owner continued saying, that he has always had respect for women.
"I have extraordinary respect for women; my morals and my soul were shaped by the most wonderful woman, the love of my life, who I was blessed to have as my partner for 50 years," he said. "As I move forward, I hope to continue to use the platform with which I have been blessed to help others and to try to make a difference."
Last week, Florida prosecutors offered to drop the charges against Kraft and other men involved in the case in a plea deal—but only if they concede that they would have been proven guilty at trial. Anonymous sources told CBS on March 20 that Kraft ultimately rejected the plea offer.
As part of the deal, Kraft and the 24 other men charged would have to perform 100 hours of community service, attend an educational class on the dangers of prostitution, and pay $5,000 per count, spokesman Mike Edmondson of the Palm Beach State Attorney's Office said March 19.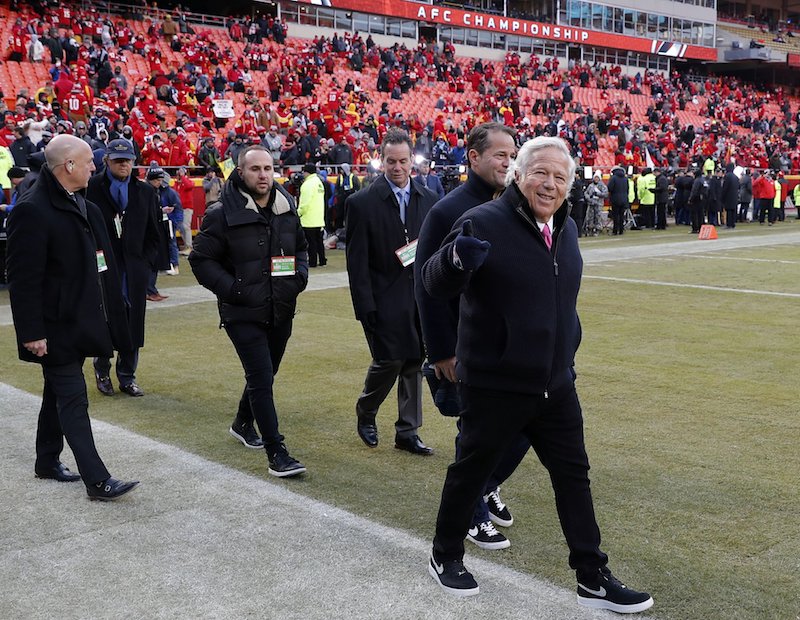 Jupiter police said Kraft was caught on surveillance video paying for and receiving sex acts on Jan. 19 and Jan. 20 as his visited the Orchids of Asia Day Spa in January, Reuters reported. He made the visit just before he flew to Kansas City to see the Patriots defeat the Chiefs in the AFC Championship game.
Police said the sting was intended to stop a growing human-trafficking problem. Nobody was charged with human trafficking in the case. Prosecutors' affidavits also haven't detailed any evidence of human trafficking at the Orchids of Asia Day Spa.
If Kraft chooses to go to trial and is convicted, he could be sentenced to a year in jail, a $5,000 fine, and 100 hours of community service, according to Reuters. He is scheduled to be arraigned on March 28 in Palm Beach County, Florida.
The NFL hasn't taken any action against Kraft, but has said its personal conduct policy "applies equally to everyone in the NFL"; the league says it will handle "this allegation in the same way we would handle any issue under the policy."