Coca-Cola, Airbnb, Procter & Gamble, and Visa—all U.S. sponsors of the 2022 Beijing Olympics—have proudly declared that they support human rights globally. But that support is less clear when it comes to addressing the Chinese communist regime's gross rights violations.
At a July 27 congressional hearing on corporate sponsorship of the Games, representatives from the U.S.-based sponsors declined to take a stance on whether they would support moving the Olympics to a different location or postponing them over the Chinese regime's human rights abuses.
All—with the exception of a fifth witness, Intel—said they had no involvement in the site selection.
"But as a human being and as somebody as a corporation that believes in human rights, it seems to me that you have a moral responsibility to be very clear," said Rep. Chris Smith (R-N.J.), noting the allegations of sexual assault, forced abortion and sterilization, and other torture committed inside concentration camps in China's Xinjiang Province.
"I'm baffled and disappointed that you can't just say, 'Move the game.'"

Andrea Fairchild, senior vice president of global sponsorship strategy at Visa Inc., responded, "As long as the governments are allowing the athletes to attend the games, we will be there to support and sponsor them."
Asked whether they agree with the U.S. government's determination that the regime is committing genocide against the Uyghur population in Xinjiang, the only company representative to respond in the affirmative was Steve Rodgers, executive vice president and general counsel of Intel.
"I've read the State Department report. I've studied it, and I believe its conclusions," Rodgers said, adding that Intel had no business operations in Xinjiang even before the January designation.
The other four executives said they respected the government's decision, but they refused to project their views.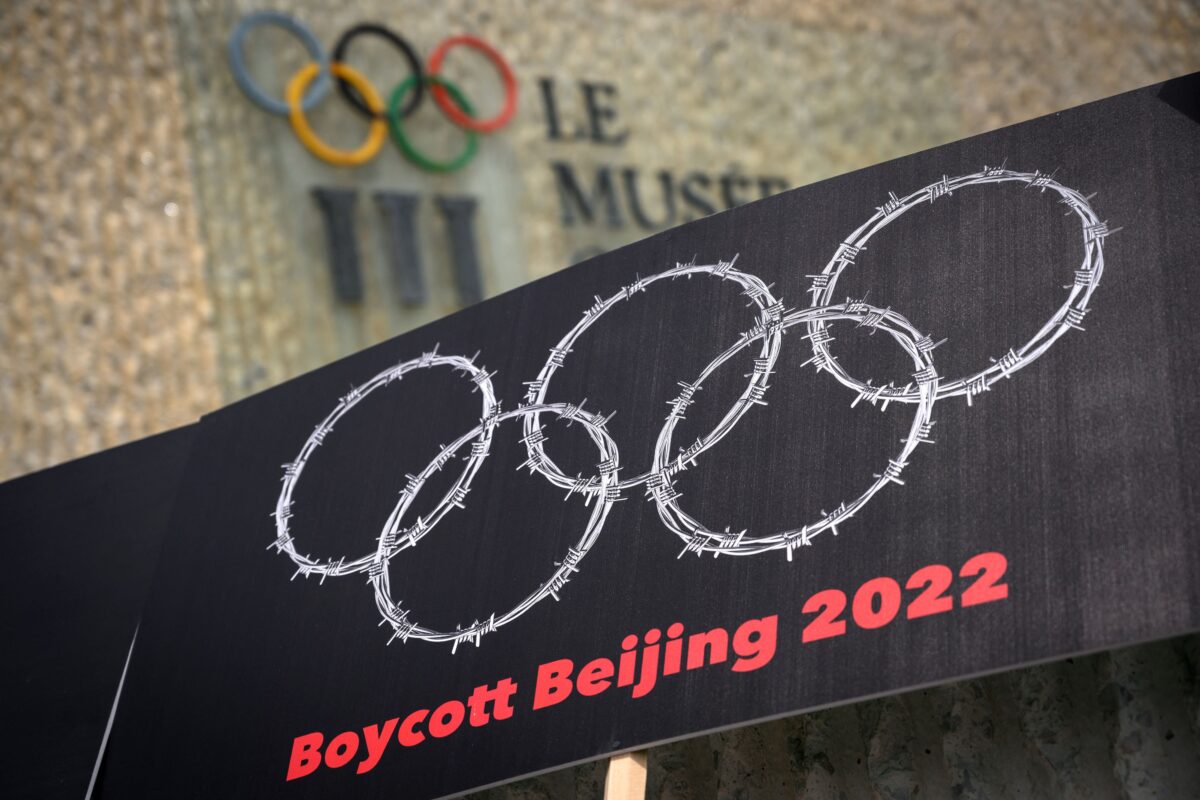 Hypocrisy
Sen. Tom Cotton (R-Ark.), who praised Rodgers for his "straight answer," pronounced what he saw to be "the most pathetic and disgraceful hearing in which I've participated in eight years."
"Every one of you, with the exception, on occasion, of Mr. Rodgers, were sent here with orders not to say anything that could offend the Chinese Communist Party," he said.
David Holyoke, Airbnb's head of the Olympics and Paralympics partnership, drew a rebuke from Rep. Tom Malinowski (D-N.J.) for not being more vocal about Beijing's denial of passports and identification documents to Uyghurs and Tibetans, which prevents them from traveling or finding accommodation.
"You are just completely absolving yourself of responsibility for being complicit in abject discrimination," Malinowski said when the Airbnb executive said the company's "policies do not require hosts to violate local laws."

Coca-Cola fared no better. Multiple lawmakers criticized the contrast between the corporation's silence on human rights abuses in China and its CEO's open opposition to the newly enacted voting law in the firm's home state of Georgia.
Asked repeatedly whether the company would specifically condemn the regime's practice of holding people in concentration camps, Paul Lalli, global vice president for human rights at Coca-Cola, said, "We respect all human rights," without specifically naming China.
"I just think this is stunning," Malinowski said, adding that it's "absolutely clear" that "the only reason" for the company's reticence is to protect its profits in China.
"You are afraid of them in a way that you are not afraid of critics in the United States. I think that's shameful," he told the Coca-Cola representative.