Party Likely to Expel Bo, Says Japanese Paper
August 26, 2012 4:43 pm Last Updated: October 1, 2015 12:31 pm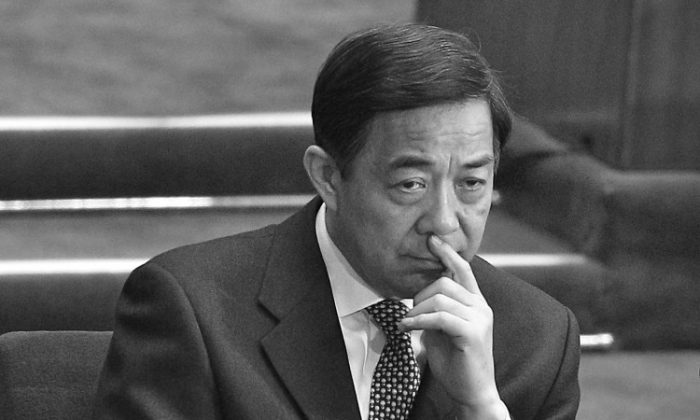 Bo Xilai, the disgraced Chinese Communist Party (CCP) official whose wife was recently given a suspended death sentence for murdering a Briton, is likely to be expelled from the Party, according to the Japanese newspaper Asahi Shimbun, who quoted sources familiar with the matter.
Bo was former Party chief of the Chongqing municipality and considered by many to be a "rising star" in the Communist Party through his attempt to enter the Politburo Standing Committee, the CCP's peak ruling body, through a series of neo-Maoist policies. His political fortunes changed swiftly beginning in February of this year, after his deputy Wang Lijun fled to the American consulate in Chengdu, seeking asylum. In April Bo was suspended from his Party position and put in custody. 
The saga has become a wide-ranging scandal and has for many observers crystallized the disputes and contradictions at the heart of the Party's grip on power. These include question of the role of the Political and Legislative Affairs Committee (PLAC), a secretive Party apparatus that controls all law enforcement organs in China, and whose power became enormous over the last decade; the legacy of Jiang Zemin, the former Party leader who initiated the persecution of the Falun Gong spiritual discipline that continues to this day; and some of the Communist Party's most hidden, severe human rights abuses, including the live, forced organ harvesting from Falun Gong detainees, which Bo Xilai was understood to have been involved in and had intimate knowledge of. 
If Bo were expelled from the Party it would demonstrate the waning influence of Jiang Zemin, who was Party chief until 2003 and Bo's political patron and protector, according to Asahi Shimbun. Asahi is the second largest newspaper in Japan. Bo was to be the guarantor of Jiang's legacy, according to the plan that came undone in February.
Asahi Shimbun gained the news of Bo's expulsion from sources who had contact with some officials who attended recent Party meetings at the Beidaihe seaside resort. The paper did not report whether the expulsion would come with some other form of punishment, such as a lengthy jail term, or worse.
The Epoch Times publishes in 35 countries and in 19 languages. Subscribe to our e-newsletter.
Click www.ept.ms/ccp-crisis to read about the most recent developments in the ongoing crisis within the Chinese communist regime. In this special topic, we provide readers with the necessary context to understand the situation. Get the RSS feed. Who are the Major Players?