OTTAWA—With Prime Minister Justin Trudeau and Canada's new ambassador to China, John McCallum, ambitious to pursue ever greater engagement with the world's most populous nation, two former ambassadors on April 3 addressed the annual parliamentarians' forum on religious freedom concerned about rights violations in that country.
"China remains one of the world's most egregious violators of freedom of religion," former religious freedom ambassador Andrew Bennett told a packed audience. Bennett is a senior fellow at think tank Cardus, where he chairs a group dedicated to celebrating the importance of faith in Canadian society.
"Let's be clear, there is no debate about the lack of religious freedom in China. Its government is tightly controlled by an avowedly atheist party," said David Mulroney, Canada's former ambassador to China and current president of St. Michael's College at the University of Toronto.
Completing the panel were human rights advocates and representatives from various faith groups, including the Falun Gong, Tibetan, and Uyghur communities, along with reigning Miss World Canada Anastasia Lin, whom Chinese authorities declared persona non grata for her outspoken views on rights abuses in China.
Hope and resilience were uplifting themes, but also cautionary advice amid the stark reality of rights abuses as Bennett and Mulroney charted proposals for moving forward to increase protection for religious believers in China.
What Canada Can Do
Mulroney said Canada took a very important step forward by creating an Office of Religious Freedom led by Bennett. However, now that this initiative has been dissolved by the Liberals and folded into an Office of Human Rights, Freedoms and Inclusion, he had some recommendations for the government on how he believes this change can continue to improve on the effort.
The government should make it clear, through projects and funding, that the office truly is open to promoting the broad spectrum of human rights in the Universal Declaration of Human Rights, Mulroney said. It should also "listen and learn" about local conditions and needs and reach out to partners across Canada who are dedicated to advancing religious freedom.
As well, "building Canadian bridges to China's inspiring and courageous religious believers is, in my view, smart diplomacy," Mulroney said.
Building Canadian bridges to China's inspiring and courageous religious believers is, in my view, smart diplomacy.
, Canada's former ambassador to China
Bennett agreed, adding that "the first step needs to be greater awareness-raising and education of the elites in this country around the role of religion," including the role it plays in geopolitics and even international trade.
Meanwhile, he said the key is "to recognize the depth of the problem, that China is among the countries with the most severe government restrictions on religious freedoms, and that has to be factored in how the Canadian government approaches human rights."
"Canadian corporations that are engaged in investment, export, and trade in China should also, in their corporate social responsibility frameworks, factor this in," said Bennett.
Moreover, "it means to engage very publicly with the Chinese government on its human rights record," said Bennett, adding that governments and advocacy groups need to do much more to expose Chinese government actions and demand improvements in behaviour.
Bennett also cautioned against treating China as "special" and saying that the regime operates and governs in a different way and has different values. "To use this as an argument for not taking action against human rights violations is moral relativism at its worst," he said.
"We need to reflect that Canadian values are not simply Canadian values. The values of freedom, democracy, justice, rule of law, and human rights—these are cosmopolitan rights that speak to a universal, objective truth. That must be the basis for our engagement with the Chinese government and indeed with all governments," said Bennett.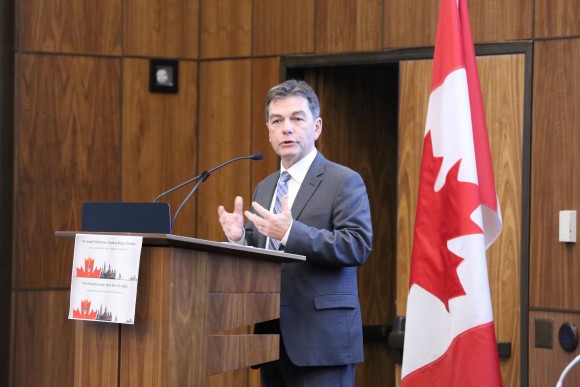 'A Cautionary Note'
"We should not be under any illusion, as China engages more and more with the political, economic, and social frameworks of the world, that that is having any impact on their human rights record," Bennett said.
He said the more China engages in international fora, one would hope that there would be pressure put on the country to improve its record on human rights including religious freedom. "But they remained unmoved."
Bennett added "a cautionary note for those countries such as Canada and our allies who continue to seek deeper relations with China, political relationships, trading relationships, defence relationships—we need to hold the Chinese government's feet to the fire."
We should not be under any illusion, as China engages more and more with the political, economic, and social frameworks of the world, that that is having any impact on their human rights record.
Persecuted For Their Faith
Joel Chipkar, spokesperson for Falun Dafa Association of Canada, described the persecution of Falun Gong practitioners launched by former Chinese leader Jiang Zemin in 1999.
"He unleashed a relentless propaganda campaign that blanketed the country, and also created an extra-legal police force, called the 610 office, with absolute power that hunts down, arrests, and can even kill practitioners without trial."
Carole Samdup, executive director of the Canada Tibet Committee, as part of her talk showed images of China's repression of religious freedom in Tibet.
"Here what you see is a video that was smuggled out depicting nuns being forced to dance on the stage, which actually breaks their religious vow. And the next slide will show some other nuns who were required to sing patriotic songs."
Rukiye Turdush, former president of the Uyghur Canadian Society, said the Chinese government puts serious restrictions on religious publications. "Chinese police forces can search Uyghurs' home any time, without any searching warrant, and they confiscate the Koran, Bible, or any kind of religious books."
In an interview after the forum, Mulroney expressed his "great admiration for religious believers in China."
"I was always deeply impressed by their courage, and by what they are contributing to the rest of Chinese society. So I think it should be a real priority for Canadians to reach out and support believers in China."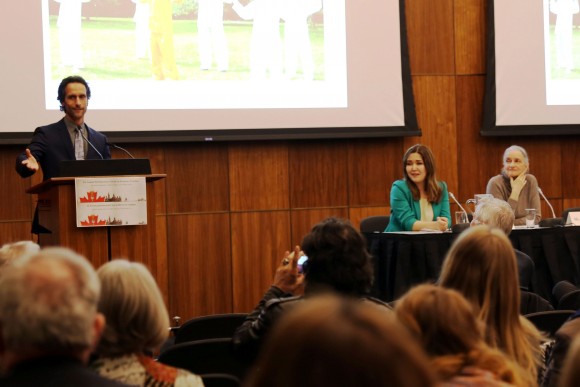 'It's Incumbent On Us' to Speak Out
"Canada does have to be extremely careful that it is not naive in its relationship," said MP Judy Sgro in an interview after the forum. "And there needs to be conditions as we move forward on rights."
"It's important that we are not afraid to identify the lack of freedom that our Chinese brothers and sisters are experiencing and to draw attention of the international community to these injustices," said MP Harold Albrecht. "It's incumbent upon us as Canadians."
Canada does have to be extremely careful that it is not naive in its relationship.
"It just shows that there is a lot more work to do before China joins the international community and is recognized as a member in good standing that respects human rights," said MP Andrew Saxton. "We just have to continue to engage to make sure they are moving in the right direction."
"I think it's true that the regime in the PRC really does want to make sure their government is seen as being respectable and is seen as conforming with international norms," said MP Scott Reid. "So whenever they are confronted with evidence that the world is rejecting something they are doing, it does have a certain impact."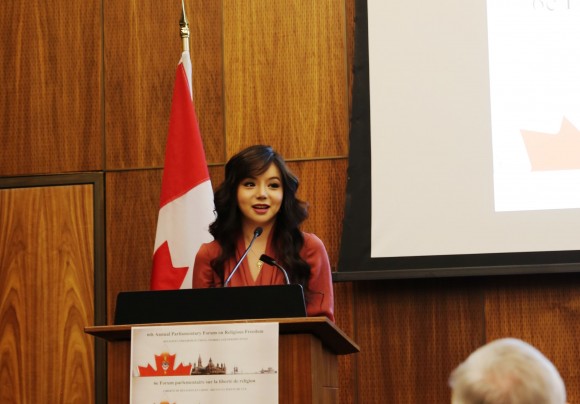 Optimistic Outlook

Mulroney said he spent much time with faith groups in 2009–2012 when he served as ambassador to China, and saw the hope it offered to China's religious believers.
"I quickly became aware that something as simple as showing up with a message of Canadian concern and support can become, as my colleague the German ambassador eloquently put it, like a candle in the dark for people who are otherwise alone and abandoned," he said.
MP Garnett Genuis, co-chair of the forum along with MP David Anderson, called on the attendees to help advance the protection of religious freedom in China.
"It's wonderful that we are able to end this evening on an optimistic note about the triumph of the human spirit over evil," Genuis said. "Now it's up to all of you to take the information you gained … and look for ways to become more engaged."
"Canada can be a candle in the dark, so that we actually, by participating and by bringing up these issues, shine light on the subject and encourage the Chinese government to do better than they have in the past," said Anderson. "We do have a significant influence, and we can use that influence and hopefully make some great change."
Lin, the keynote speaker at the forum, said that a few years ago while preparing for her role as a victim of torture in the movie "The Bleeding Edge," she spent time with two sisters who had escaped China to Canada in order to internalize their experience of abuse when imprisoned for practicing Falun Gong.
Vancouver residents Jing Tian and Jing Cai described to Lin the horrific pain of being shocked with electric batons on their heads, having bamboo shoots shoved under their fingernails, and brutal, life-threatening force-feeding techniques.
"All these tortures were part of the Chinese Communist Party's psychological reprogramming to make one renounce one's belief," said Lin, adding that she was inspired by the sisters' inner power that enabled them to stay strong.
"That power was the belief of the sisters—truth, kindness, and forgiveness," she said.
"I think of them when I find myself in the darkness," she continued. "My family [in China] was under great pressure from the Chinese regime in an effort to silence me after I won the Miss World Canada title."
The Chinese regime "might succeed for a while, arresting human rights lawyers and believers, banning books and blocking websites, but they can never censor the human spirit," she said.
"They can never take away … the hope and faith in us. They can never take away the human spirit."