CALGARY—It was an action packed day as the quarter final bracketing was decided in both the men's and women's open and the team match play events completed their round robin stages.
For Team Canada, it was a bit of a disappointing day as Gerry Martinez and Craig Hiddleston were defeated 6-2, 6-0 in their Final 16 match against Gustav Briner and Damien Diez, one of Argentina's toughest teams.
"It didn't go as well as we had hoped. I think we had very good rallies and very good points. Unfortunately they were just too steady for us and they had just a little bit more firepower at the end to finish off the points," said Martinez after the match.
"They play really well. They play more matches [than we do]. So it just comes down to a little bit here and a little bit there."
On the American side, John Chun and Leo Contini also lost their match to Argentina's top line of Rodrigo Ovide and Fernando Cavalleri by a score of 6-0, 6-0.
Chun and Contini quickly forgot about their defeat however as later Tuesday night Team USA faced off against Portugal in men's match play. USA won a very intense and drama-filled match 2-1, advancing to group 2 of the match play finals where they will play for places 5-8. Team USA will play Mexico on Wednesday.
"From here on out, there's definitely only tough matches. There will not be any easy matches. We look forward to playing some good paddle," said Mike May of Team USA.
The Canadian men played their final match of the round robin against Mexico and were defeated 3-0. They will now play in group 3 of the match play finals and vie for places 9-11.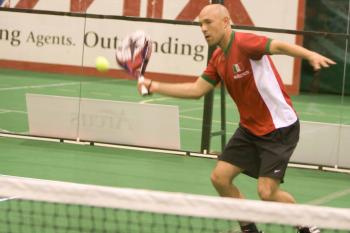 "That did not go very well," said Martinez. "We ended up losing 3-0. We knew going into the match that it was going to be tough and that they've always beaten us. We tried to reverse that, but it was not to be this time."
Originally from Mexico, Martinez has lived in Canada for the last 10 years. He used to be Mexico's top paddle tennis player and came out of retirement especially for this event, travelling to Calgary from Toronto. He is currently playing in his first competitive match in 10 years on only 3 days of practice.
He talked about the significance of playing against his old team. "It was tough, it was very tough. It was some mixed emotions. As soon as the game started I let that go, but it was tough to actually do it.
"I haven't played in a competitive match in 10 years. I was never going to have the match readiness. My goal was different though — my goal was to try to get Canada to do as best as they could. And I did that; we made it to the third round which has never happened before."
The Canadian women's team played their first group match in the tournament after their bracket was delayed due to the late arrival of the Argentinean team. Canada lost against Argentina 3-0 and will play Chile Wednesday.
Wednesday features quarter final action in both the men's and women's open as teams from Argentina, Spain, Brazil and Mexico vie for a spot in the semi-finals.