Police were forced to shoot two dogs out of a seven-strong pack that attacked five people in Georgia.
Cobb County Police were cited by Fox5 as saying that in the morning hours of April 10, a pack of seven dogs escaped from a home and attacked an elderly woman.
The victim's son and others chased the dogs away, according to the Atlanta Journal-Constitution.
The dogs continued their rampage, targeting other area residents, according to the police.
Multiple Victims
Cobb police spokesman Sgt. Wayne Delk told the Atlanta Journal-Constitution that a total of five people suffered injuries in the attack. Two women were rushed by ambulance to the hospital for treatment, others arranged their own medical care, Delk said.
Raymond Patton, the son of an 82-year-old victim hospitalized for her injuries, told WSB-TV that five pit bulls attacked his mother.
Developing: Five pitbulls maul 82-year old great grandmother. Dogs attacked other neighbors, too. Victim's son walks me through how he saved her life. Live starting at 5. @wsbtv pic.twitter.com/1S7VsaxyBz

— Chris Jose (@ChrisJoseWSB) April 11, 2019
Patton said she was at the doorstep of her home when the dogs attacked.
"God was with me," Patton told WSB-TV. "Because somehow, I got that door open, got her. Kicking dogs. That's my mom's blood on my boots," Patton said.
After he pulled his mother to safety, he called 911.
Police said the dogs attacked four other people.
One of the victims was a woman inside the house where the dogs lived. Deputies opened fire on two of the dogs, injuring one and killing the other, WSB-TV reported, before pulling the woman to safety.
'My Dogs Are Gone'
Cobb County Animal Services took the remaining dogs into custody, Fox5 reported.
Reporter Chris Jose of WSB-TV confronted the owner of the dogs, who expressed regret about the incident.
"My dogs are gone and they're about to be dead," said the woman, who was not identified by name. "I'm so sorry about what happened. They're gone. I'm sorry."
The investigation continues.
Dog Trainer Found Dead With Bite Marks
In related news, a 66-year-old dog trainer's body was discovered in the backyard of her Texas home covered in bite marks, according to police.
Elaine Richman was found dead early February by authorities conducting a welfare check, news station KPRC reported.
Houston police were dispatched to Richman's home after it was reported she had missed two dog training classes.
Deputies found Alief Doberman trainer Elaine Richman dead with dog bites in her backyard on Friday. Autopsy report shows she died from "sharp force injuries." #KHOU11 pic.twitter.com/mQ6ARWoUCP

— Matt Dougherty (@MattKHOU) February 11, 2019
Richman died of sharp force injuries, according to the Houston Chronicle, and officials have called her death accidental.
Authorities said responding officers found two full-grown Doberman Pinschers inside the woman's home. Police did not say if those dogs were responsible for the bites on the woman's body or played a role in her death.
Both dogs were confiscated by authorities, according to KTRK, and were said to have been remanded to the City of Houston's Animal Control.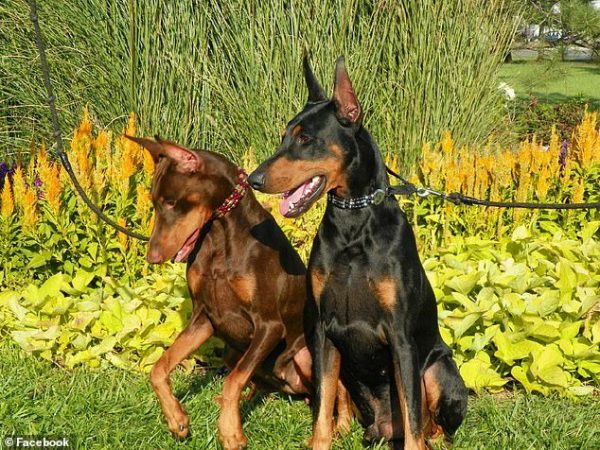 'Extremely Unusual'
Houston Kennel Club president, Tom Pincus, told the Chronicle it's rare a dog would cause its owner's death.
"That is extremely unusual, that a person is attacked by their personal dogs," Pincus told the publication. "I would not believe that for a second until I heard that from a coroner's report."
Theresa Nail, who handled one of Richman's Dobermanns in competitions, told the Chronicle that Richman's dogs were "champions" that were very well-behaved and sweet.
Centers for Disease Control and Prevention did a study in the mid-90s into dog bite-related deaths, which placed Dobermans in the top 10 of dog-bite deaths by breed.
According to the Chronicle, Richman had a sign on her fence that said, "Beware of dog."