An operator of the limousine company involved in a fatal crash over the weekend in Upstate New York had previous run-ins with the law, according to a report. Twenty people died in the collision.
Nauman Hussain, 28, was arrested and charged with negligent homicide in connection with the crash. He pleaded not guilty on Oct. 10, CBS News reported. He could face four years in prison.
Schoharie County District Attorney Susan Mallery said Hussain was stopped in Albany, and he had packed bags with him.
In 2014, CBS reported, he was convicted of trying to switch his identity with his brother who was driving with a suspended license.
Hussain's father, who owns the limousine company Prestige Limo, is out of the country.
New York State police superintendent George Beach said that a 2001 Ford Excursion limo involved in the crash on Oct. 6, violated a number of safety regulations.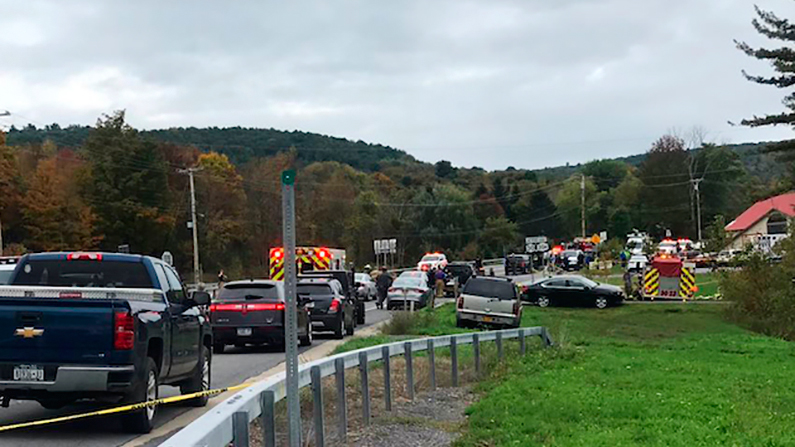 "The sole responsibility for that motor vehicle being on the road on Saturday rests with Nauman Hussain," Beach told CBS. "That vehicle was placed out of service by the Department of Transportation in September of this year and should not have been on the road."
The limo, namely, had issues with its brakes, according to a federal agency. Four of Prestige Limo's vehicles had 22 maintenance violations, according to CBS.
A family mourns four sisters killed in tragic limo crash https://t.co/jJApQjGYlG pic.twitter.com/ilQKk26PsO

— New York Post (@nypost) October 8, 2018
Hussain left a courthouse in Schoharie County after making a $150,000 bond payment. His lawyer insisted that he's innocent.
"My client. Not guilty. Does not want sympathy or pity from anybody. He understands that this is the process and it has to take place but certainly he was shaken by what's happened," attorney Lee Kindlon said.
Wife of Driver Speaks Out
Scott Lisinicchia, the driver of the limo who died, was stopped in August 2018 for allegedly not having the right license to operate the vehicle. His widow, however, said that he was an experienced driver.
"He trusted in what the limo company said, that the cars were alright….there were a few times where he told me… 'I'm not going to drive this like this, you need to give me another car.' He cared about who he drove," she told CBS.
In the crash, the limo had 17 passengers on board bound for a party at the Ommegang Brewery in Cooperstown. Everyone inside the limo and two people standing outside the Apple Barrel County Store died after the limo ran through a stop sign, hit a car, and slammed into an embankment.
The attorney said that the owner, Shahed Hussain, controls the daily operations and "runs the company." He's currently living in Pakistan, but he would return if asked by law enforcement, according to the Albany Times-Union.
Kindlon said his client had to change his phone number three times due to death threats.
"This is something that I've fought for," Kindlon said, adding that he served in the U.S. Marines for 18 years. "So all these people who want to lob death threats from afar just because my clients may be Muslim-American or just because 20 people are dead today, I want to look at you directly and say, 'That's disgusting! How dare you!' That is not the way that we are supposed to act in a civilized society."
He added of his client: "He is terrified. He hasn't eaten in three days. He hasn't slept in three days. He's got 20 souls who were here a week ago, aren't here today and he's got the eyes of the world looking at him because they want someone to blame."