At least 20 people died in a limousine crash in upstate New York on Oct. 6 in front of a store and was reportedly carrying a wedding party.
The Albany Times Union reported that the limo had a wedding party inside, but it did not report on the names of those involved. The crash occurred on State Route 30A and State Route 30 in Schoharie.
New York State Police said the crash occurred at around 2 p.m. on Oct. 6, according to the Times Union, which said the limo sped down a hill and crashed into bystanders at a country store.
The National Transportation Safety Board (NTSB) said its investigators were heading to the scene as of the morning of Oct. 7.
NTSB launching go-team today to limo crash near Albany, NY. More details to come. Check @ntsb_newsroom for additional updates.

— NTSB_Newsroom (@NTSB_Newsroom) October 7, 2018
Police told Fox News that the crash involved two vehicles, including the limo. The Times Union reported that the limo was a stretch-style SUV.
"What we can tell you at this point is that it is a 2-vehicle, multi-fatalities as a result of this crash. The investigation is very preliminary it's in its infancy stages," New York State Police Capt. Richard O'Brien said on Oct. 6, Fox News reported.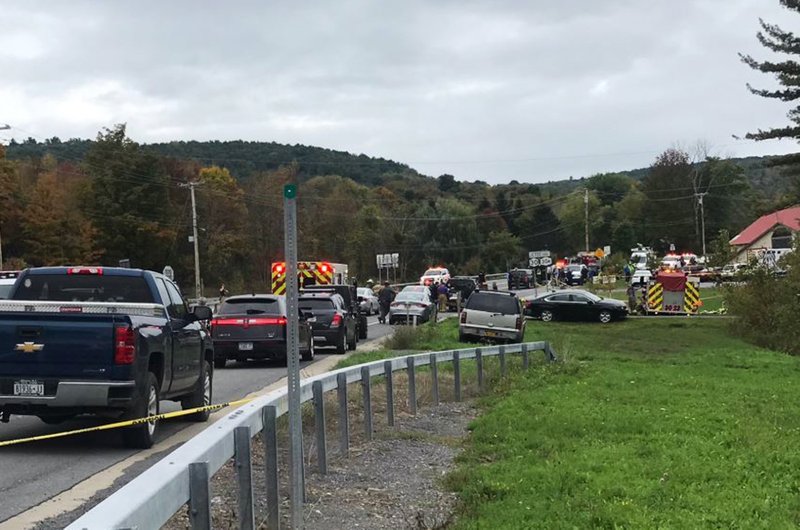 'Heard Some Screaming'
"I heard some screaming. It looked serious because people were running back and forth," witness Bridey Finnegan of Schoharie told WNYT NewsChannel 13.
"I heard a loud bang I came out my front door to see what was going on," Finnagen told WTEN. "I saw a lot of people here at the Apple Barrel out in the parking lot. Then I heard screaming. Then I saw this large van, a very unusual looking vehicle out here in Schoharie in the bushes and really wrecked, hit a tree."
"The first responders broke some windows to try to get people out. I believe the jaws of life were here on the side of one of the fire trucks," Finnagen added.
Apple Barrel, where the crash took place, issued a statement on Oct. 6, thanking first responders.
"As you may be aware, there was a horrific accident in front of our business today [Saturday]. First, we want to thank all of the emergency services that responded. We are so thankful for all of you," the store wrote in a Facebook post.
"We will be collecting donations for our local volunteer emergency services. They are the heroes of our small community. Our hearts and prayers go out to everyone that was affected by the events of today. You will always be part of our family," the store said, adding that it will not be issuing any more comments on the matter.
Bill Waterson and his son arrived on the scene on Oct. 7. "I couldn't believe it when I came out of the woods," he told the Times Union. "This is terrible, terrible, terrible."
Schoharie Town Supervisor Alan Tavenner suggested that the intersection is quite dangerous. "There have been tractor trailers that have come barreling down that hill and it was a miracle they didn't kill somebody," said Tavenner, the paper reported.