Over Half Million Expected Stranded at China Rail Station
January 27, 2008 12:00 am Last Updated: January 27, 2008 12:00 am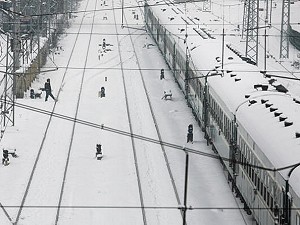 BEIJING—Over half a million passengers could be left stranded at a railway station in south China on Monday ahead of the biggest holiday of the year after snow cut power to more than 136 trains, state media said.
Heavy snow and sleet in recent days have hit central, eastern and southern China, areas used to milder winters. Dozens of people have died and many highways, railways and airports have been paralysed, especially in the east.
Chinese Premier Wen Jiabao said the weather was threatening lives and disrupting supplies of fresh food, coal, oil and electricity ahead of celebrations marking the Lunar New Year, which starts on Feb. 7. He warned of worse to come.
More than 150,000 people were stranded at the main railway station in Guangzhou, the capital of the booming southern province of Guangdong, on Sunday.
"A Guangzhou railway official warned that the number of stranded passengers could hit 600,000 today," the China Daily said.
"Last night, 100,000 passengers packed the square in front of the railway station; another 50,000 found shelter inside the building or under nearby flyovers," an official in Guangzhou, which enjoys a relatively warm winter, was quoted as saying.
The Lunar New Year holiday sees one of the biggest movements of mankind as Chinese, many of them migrant workers, make their way to their home provinces to reunite with family.
The Ministry of Railways has dispatched about 100 diesel locomotives to move the electric trains and ordered 63 trains to bypass the non-operational section of the Beijing-Guangzhou line.
Road traffic between Guangdong and neighbouring Hunan had also ground to a halt. Hunan's Huanghua airport has been closed since Friday in the worst cold snap in a decade.
Snow hit the eastern financial hub of Shanghai for the third day on Monday, bringing traffic to a crawl and many flights had been delayed.
China on Sunday ordered urgent steps to fight the transport chaos.
Wen and other top officials announced steps aimed at softening the economic blow from the bad weather and energy shortages when inflation is already a dominant worry.
Provinces were ordered not hoard their own coal and electricity, and officials said they would waive some transport charges for farm goods and monitor price hikes. Trains must not only cope with tens of millions of passengers surging home for the holidays, but also with coal being shipped to power plants.
The national forecasting authority said the freezing weather would continue to hit provinces from west to east over the next week.