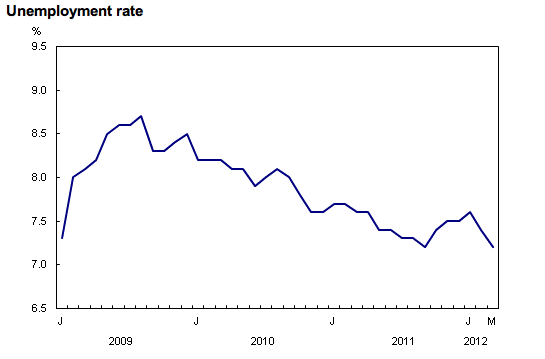 OTTAWA—Canada saw its largest gain in employment numbers since 2008 in March, Statistics Canada reported Thursday.
The agency announced that employment increased by 82,000 jobs in March, bringing the total number of jobs up by 197,000, or 1.1 percent, from a year ago.
With that, the national unemployment rate shed 0.2 percentage points to 7.2 percent.
While employment increased in Ontario, Quebec, and Manitoba, it declined in New Brunswick and Nova Scotia.
Prime Minister Stephen Harper used the job numbers to deflect criticism over Monday's report from the Auditor General outlining significant problems with the F-35 procurement process.
Harper said the government will follow a process to ensure Canada gets a jet that meets the needs of taxpayers and the military.
"That is why, because we follow these kinds of processes, we have the kind of strong economic performance that is behind today's job numbers," he said.
Ted Menzies, Minister of State for Finance, noted that 70,000 of those jobs were full-time and 39,000 were filled by youth.
Much of the employment gains in March came in the service sector, with 28,000 jobs created in information, culture, and recreation, and an additional 15,000 created in public administration.