ORANGE, Calif.—"It felt like the right time to get married," said Johnson, standing next to his fiancé. "She picked the date."
Jennifer and Johnson have been together for four years and decided to tie the knot this Valentine's weekend at the Santa Ana clerk-recorder. The courthouse was filled with couples in fancy wedding gowns and suits, and some in more casual attire, eager to obtain their marriage licenses.
"We met on Instagram," Jennifer shared. "I actually DM'd him because he's a photographer and I liked his work. I feel like we clicked pretty well."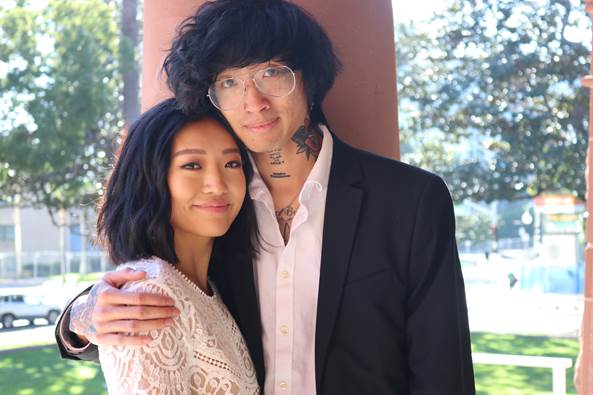 Love was in the air this Valentine's Day across Orange County. The Clerk-Recorder Department performed 194 marriage ceremonies and issued 258 marriage licenses to couples who flocked to the county's courthouses, according to clerk-recorder records.
Oceanside residents Brian Alcantar and his fiancé dated for six years before deciding to make it official on Valentine's Day.
"We are so excited, we've been together for six years and we went to the [Oceanside] train station to get here," Alcantar said out of breath, "but when we got there, they said there was a two hour wait, so we had to rush back home and get our cars, so we drove here and we get married in eight minutes–I can't wait."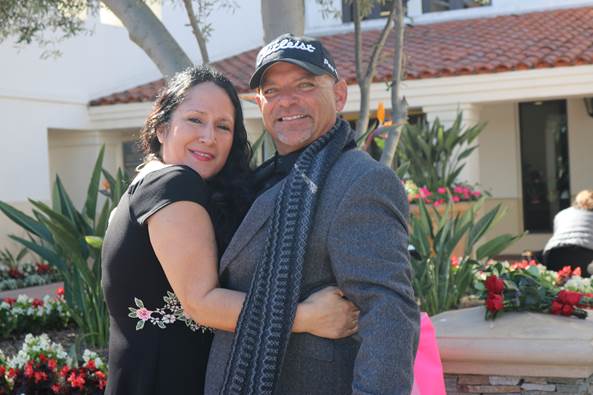 Ten minutes later, the couple walked into the Laguna Hills clerk-recorder office to say their vows. After they were issued their marriage licenses, huge smiles spread across their faces. The couple honeymooned beachside in Laguna over the weekend.
Every year, Valentine's Day boasts around 200 marriages in Orange, and there are nearly thousands more who say "I do" across the country. Couples must be above 18 years old to obtain marriage licenses, which may cost anywhere between $30–$100, and an additional $28 for a civil non-sectarian wedding ceremony.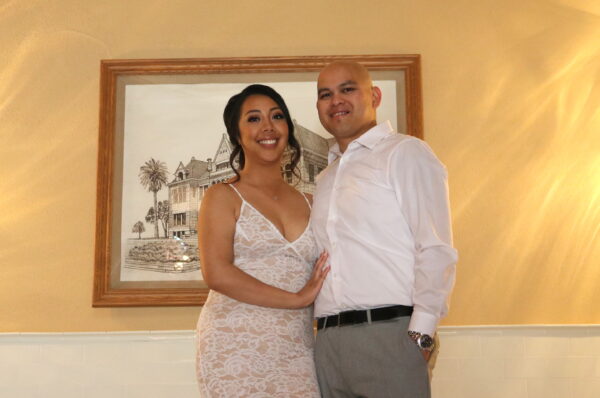 Jonathon and Alyssa Aguilar met at Disneyland three years ago working in the amusement park's health clinic. Alyssa shared they did not intend to get married on Valentine's Day, but that "it just worked out that way" because they both needed a Friday off of work and "it just so happened to be Valentine's Day."
The couple is having a formal wedding on March 6, but Alyssa shared it's been her dream to have a court wedding.
"I've always wanted a court wedding, so I wanted to have it before our actual wedding day," Alyssa said. "We didn't choose today because it was Valentine's Day or anything like that … we don't celebrate Valentine's Day as a couple, but now we're going to celebrate our court wedding."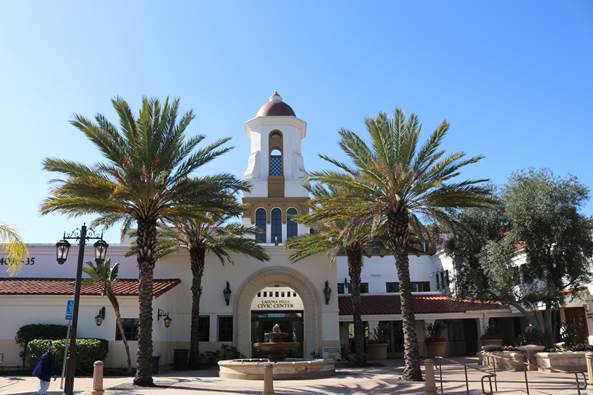 After meeting at work, the two became friends before they started dating. "I had a crush on her first," Jonathon admitted.
Family members and friends gathered around the couples outside of the Santa Ana courthouse and snapped photos on their cell phones; cheering and applauding could be heard from inside and outside the ceremony halls. With Valentine's weekend at a close, it "was the most romantic day in Orange County" for those tying the knot.