Two parents whose son's life came to an early and unfortunate end remember him each year by giving youth the joy of fishing.
On July 30, two dozen children, most from the Big Brothers and Big Sisters program, took a few hours to cast from the shores of Echo Lake, about an hour east of Regina. It was all part of the third annual "Wishin' I was Fishin'" event, put on by David and Sara Gillis and volunteers.
"My son passed away in 2016 at the age of 27. He had mental health issues, and he got into some bad drugs," David Gillis said.
Gillis enjoyed fishing with his son, Brad. Three years after his passing, he decided he would honour Brad by giving children a day of fishing who might not get a chance otherwise.

"I was just planning on bringing out four or five kids out fishing just for a day, and I was just gonna give them a used rod and some tackle. So I went on Facebook and I said, anybody got an old tackle box?" Gillis recalled.
"And it just went crazy. People started to donate all kinds of stuff."
Like this year's event, the inaugural one in 2019 was hosted on the shores across from a fish hatchery.
"They only got like four fish the first time but they had a good time. They all went out and they got to fish for a couple hours. They all got a fishing rod and tackle box and we had a big barbecue and they all got T-shirts and they' were pretty excited," Gillis recalled.
"Anybody I ever talked to with mental health issues that goes fishing find it very relaxing and calming. So I figured if I can get kids from the city out there fishing, then I'm getting them off the streets, and they're not causing any troubles. And, if they have any issues, well, this is a good way of working through them."
The pandemic cancelled the 2020 event, but the Gillis's hosted it again in 2021 with a novel mix of youth and adults.
"We joined up with the Royal Canadian Legion, and we brought out the army vets that have mental health issues and suffer from that post traumatic stress disorder. So we had 15 army guys come out and we had 15 kids from Regina North Central Community Center."
North Central Regina was dubbed "Canada's worst neighbourhood" by Maclean's in 2007. Gillis's wife, Sarah, believes children from there and anywhere else can benefit from learning to fish for a day and return home with the equipment to do it for life.
"A lot of single parents can't afford fishing rods and tackle boxes, so this way, they start off. They've got their one little kit and rod, and mom can take them out, or dad, just for the fun of it," she said.
"It's getting them outdoors and teaching them something new. We have conservation officers that come out also, and the kids get a small little explanation on the fishes."
This year roughly two dozen children aged 3 to 17 bused in from Regina, accompanied by a big sibling or parent. The youth get top-notch equipment now, thanks to corporate sponsors.
Twins Terrence and Ashton Macdonald, who recently turned 13, fished in both last year's and this year's event. Terrence said the lake had walleye and pickerel and he enjoyed being there "very much."
"I like that we can fish every year. Yeah, I think it's very cool that they do this for us," Terrence said.
Ashton said he put leeches and worms on his hook, and one fish got away with his bait.
"One took mine. I had him on the line," he said. "It's nice and calm. There's also a lot of people here to make new friends. The weather's always nice."
The day meant all the more to their father, Trevor Macdonald.
"I've known Dave for the last 20-some years. I was actually good friends with his son Brad. I had a lot of fun volunteering for it last year and just couldn't wait to get back to it again," he said.
"[Brad] loved fishing. Dave has always been a fisherman so they always used to go out. So this is why this was the perfect event to do in his honour."
"Honestly, fishing doesn't seem to be a common thing nowadays with kids," he adds. "So it's just nice for them to get out, just be able to spend the day outdoors, learning to fish, getting the experience of it. They seem to really enjoy it. And once you get that first bite, that's what keeps bringing you back."
'It's Just a Magical Thing'
Volunteer Steven Gloade said he was drawn to help because of the Gillis's genuine hearts.
"Dave told me his story, and it's a tragic thing. But yet, sometimes out of a burnt forest comes the best of the forest, the most  beautiful things. And when you start here seeing these kids, it's a no-brainer. I'll be here next year if he wants me," Gloade said.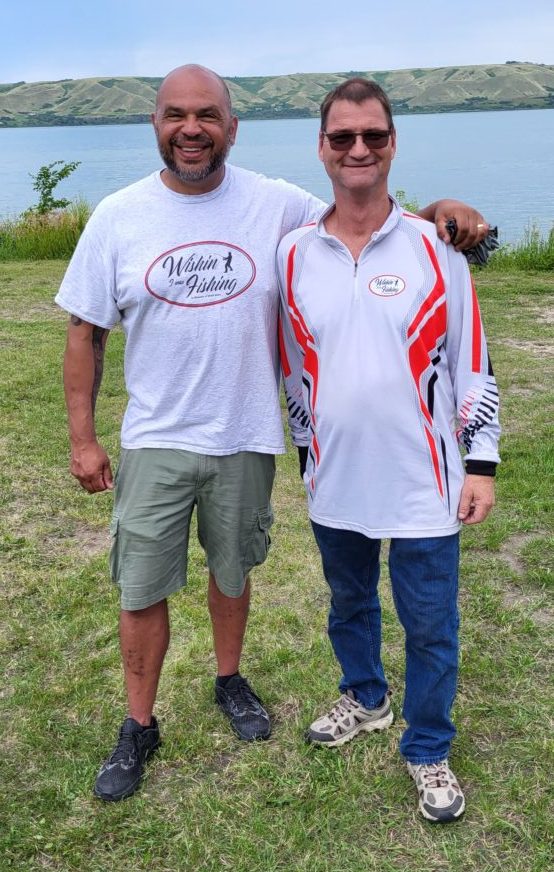 "It's just a magical thing, right? It takes all of us away from whatever we're dealing with—run away from things for a few hours and get lost in the moment. It's hard not to be in the moment. You feel the heat, hear the people talk and laugh. Yeah, it's pretty cool."
Gloade's smile and enthusiasm betray no indication of the PTSD he suffered in 2015 after a long career with the RCMP.
"Over the 27 years, I did a lot of general duty front-line policing in a lot of tough places. Things caught up to me, I just ran out of ways of dealing with them. It's like when you're shoving stuff in a box and close the lid, but sooner or later the box gets too full and you can't close that lid anymore," he explained.
Gloade believes "outdoor medicine" helped his healing and can benefit anyone.
"It's not got to fix anybody, but it's another tool in the tool belt, right? I like hunting and fishing, but someone can do just walking, sitting, reading a book outside," he said.
"When I broke [down] of PTSD back in 2015, a couple buddies dragged me out bear hunting. I didn't want to go. I was what they call bunkering down. I just wanted to stay in the house."
Gloade said he grew up hunting and fishing in Nova Scotia, and that hunting trip to Northern Alberta reminded him how "wow" of an experience it can be. Since, then, he makes a point of bringing out veterans and other "wounded warriors" for healing in the great outdoors.
"It would be too smart to actually try to establish a charity," he joked, "[but I'll] take guys out deer hunting or whatever on my own dime. This year, I was fortunate. I ran into just a bunch of average people, a few of them own businesses, and they sponsored bows to take veterans bow fishing.
"There's something about helping people that's a beautiful thing. It brings a lot of life back."