Our World in 7 Headlines: Sept. 29
September 29, 2013 10:09 am Last Updated: September 29, 2013 10:11 am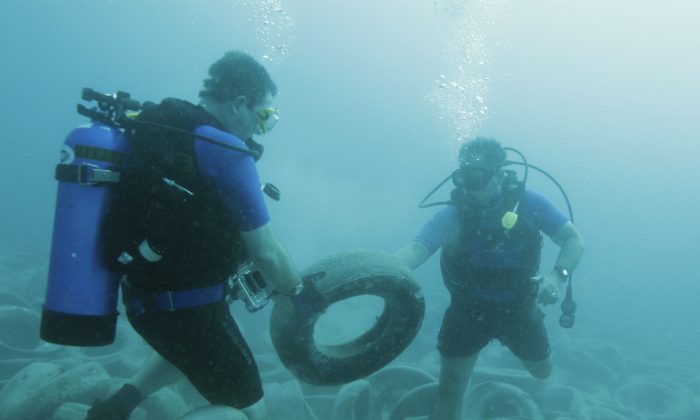 Angela Merkel is extremely frugal with her emotions, and her speeches aren't overly arousing. But many Germans feel comfortable with her and yearn for continuity. How does all this fit together?
Angela Merkel biographer Jacqueline Boysen described the chancellor as "intelligent and hard working" – not to mention incorruptible, she added, which has made her particularly popular. But there is something else about Merkel that Germans like: continuity. …
Deutsche Welle

Local diving centres are taking part in an attempt to break the Guinness World Record for the most participants in an underwater clean up across multiple venues today. …
The global event, which started yesterday and ends today, is taking place across the world in 80 countries after being officially opened by Prince Albert II of Monaco. …
Cyprus Mail
James Ragan discusses life during and after communism in Czechoslovakia
After the Soviet-led invasion of Czechoslovakia in 1968, the country underwent a process called "normalization." In the communist double-speak of the time, that meant things would be anything but normal. It has been 45 years since the policy was put in place, and more than two decades since it ended. But its legacy and the legacy of the Prague Spring that normalization put an end to can still be felt today.
The arts in particular suffered under the policy. Poet and screenwriting teacher James Ragan saw some of the effects first hand. In addition to his experiences in Czechoslovakia during the Cold War, he has taught poetry and screenwriting at Charles University for the past 20 years.
Prague Post
*Czechoslovakia existed until 1993, when it dissolved into the Czech Republic and Slovakia.
Bear attacked a man in Churchill, Man., and deemed not fit for the wild
Winnipeg will soon have a new polar bear at the Assiniboine Park Zoo. 
The zoo is taking in a three-year-old bear that attacked a man in Churchill earlier this month. The man was not seriously injured. 
After the incident conservation officials deemed the bear not fit for the wild. They decided instead of putting the animal down, it would be relocated to the International Polar Bear Conservation Centre at Winnipeg's zoo.  …
CBC
Kazakhstan scientists believe there can be an original solution to the country's water deficit problem, NP writes. 
Kazakhstan is experiencing a deficit of water in its biggest river Irtysh that enters Kazakhstan from China. The latter has been diverting more and more water from the river as it strives to develop its desert-like western territories. 
The two countries have been repeatedly discussing the use of the river, and China has been giving Kazakhstan a lot of friendly promised, but the situation with the quality and quality of water in the river has been going from bad to worse. …
Tengri News

(Google Maps)
The majority of people have found the behaviour of MPs during parliamentary meetings increasingly intolerable, a new poll shows.
The Abac Poll finds that 67% are getting frustrated with verbal aggression and proxy voting while 32% said that it was bearable. …
According to the poll, 89% want MPs to react with more courtesy and civility towards one another while 10% feel that MPs are well behaved. …
Bangkok Post
A court ruling has cast doubt on the future form of physical education in Finnish schools. Unions fear that their members could be held accountable for accidents that occur when children are out of sight.
Cross-country skiing, running and orienteering might all disappear from Finnish schoolkids' timetables. That's because of a court ruling last week in which a school principal was found to be responsible for an accident during a sledging session. …
Uutiset