Our World in 7 Headlines: Sept. 24
September 24, 2013 7:47 am Last Updated: September 24, 2013 7:51 am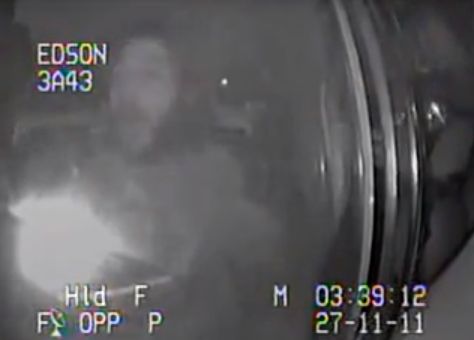 EDSON—An Alberta man who became a YouTube sensation for enthusiastically singing the song, "Bohemian Rhapsody" from the back seat of a police car is going into politics.
Robert Wilkinson is running for mayor of Edson, a town west of Edmonton.
The town says Wilkinson submitted the necessary five signatures from residents along with his nomination papers to register as a candidate.
Wilkinson was convicted of impaired driving last November, fined $1,400 and prohibited from driving for one year. …
Toronto Star
People in Varteg in Torfaen fear they will be open to ridicule if proposals to use the Welsh language name 'Y Farteg' are adopted.
Many road signs in Wales show place names in both Welsh and English, and Torfaen council is consulting on which forms should be used on signs and maps.
The Welsh Language Commissioner supports the use of Y Farteg.
Torfaen councillor Giles Davies said: "You can just imagine people taking photos and putting them on Facebook." …
BBC
Prime Minister John Key is almost as cool as pop sensation Justin Bieber and if ever there was a new milk flavour, bubblegum would be the coolest choice.
That's according to the majority of primary and intermediate-aged children who took part in a survey looking at what Kiwi kids believe is cool.
Almost 5000 students around the country answered questions as part of a survey in the Cool Our Schools programme, run by dairy product manufacturer, Meadow Fresh. …
New Zealand Herald

New Zealand Prime Minister John Key (Hagen Hopkins/Getty Images)

Justin Bieber (Nicky Loh/Getty Images)
Work begins this week in France on what is set to be the world's biggest cruise ship, some 360 metres long and 28 floors high, by the same company that built the iconic RMS Queen Mary II.
The world's biggest cruise liner goes into construction on the west coast of France next year, but not before the harbor is ready to accommodate the massive vessel, which will weigh some 270,000 GRT on completion. …
France 24
Israeli officials are reported to be increasingly nervous that international efforts to destroy of Syria's chemical weapons might serve as a prelude to demands on Israel to eliminate its own, undeclared weapons of mass destruction.
Israel maintains a posture it terms 'ambiguity' on the question of whether it possesses either nuclear or chemical weapons.But Israel is widely believed to have a large arsenal of nuclear bombs, concealed from international scrutiny, and there are strong suspicions that it has secretly developed a chemical weapons programme. …
Al Jazeera
Helped rescue Jews by carrying forged documents on training runs
Italian cycling legend Gino Bartali has been recognized as 'Righteous Among the Nations' by the Israeli museum of Yad Vashem in Jerusalem, which formally added him Monday onto the honour roll of the gentiles who helped Jews escape the Holocaust.
In a citation entitled Racing to Save Lives, Yad Vashem said the honour was a tribute to the two-time Tour de France winner and devout Catholic's role in rescuing Jews by biking forged documents around central Italy, along with other papers for the Italian Resistance, during the German occupation of Italy in World War II. …
ANSA
Municipalities in the Tohoku disaster area are so intent on outdoing each other in terms of reconstruction subsidies that the prefectural and central governments have warned against the heated competition.
The local governments, however, say they are running out of options to save their towns from a population exodus.
"It's a life-or-death problem for the town," said Yutaka Ikarigawa, mayor of Otsuchi, a coastal town in Iwate Prefecture that has seen its population drop by 20 percent since the earthquake and tsunami on March 11, 2011. "We want to prevent any more people from leaving however we can." …
Asahi