Recent revelations from Vietnam about Chinese criminal gangs abducting innocents to harvest their vital organs are adding to longstanding concerns of widespread organ transplant abuse in China.
In July 2016, Vietnam police in a province on the Chinese border issued a notice warning the public about Chinese human traffickers, who were reportedly kidnapping vulnerable Vietnamese for organ smuggling, according to documents obtained by Epoch Times.
In October, Vietnamese state television aired investigative reports on China's underground organ procurement operations, which partly target Vietnamese.
The new revelations of organ transplant abuse, targeting citizens of country neighboring China, come as China's organ transplant system is being put under increasing scrutiny. Last year, investigators published a massive compendium of transplant abuses targeting prisoners of conscience, and at a recent summit at the Vatican, Pope Francis declined to attend, after the presence of Chinese officials became a scandal in the press.
Border Abductions
On July 27, 2016, a local police station in the northern Vietnamese province of Lao Cai, on the border with China, alerted the community about a spate of kidnappings that ended macabrely.  
"Sixteen victims have been kidnapped and harvested for organs (liver, kidney, heart, eyes …) at Ha Giang Province near the border of Vietnam and China," according to a document sent to Si Mai Ca District police station. "After investigation, the kidnappers were identified as Chinese."
The kidnappers operated in groups of three to five and drove cars with illegal license plates, the document read. They targeted "families with more elderly people, children, or students of schools that hold extra-curricular activities," such as unsupervised cattle feeding or farming.
There was briefly some confusion as to whether the Vietnam police document was genuine—Vietnamese police retracted it on Aug. 18 after it went viral on social media.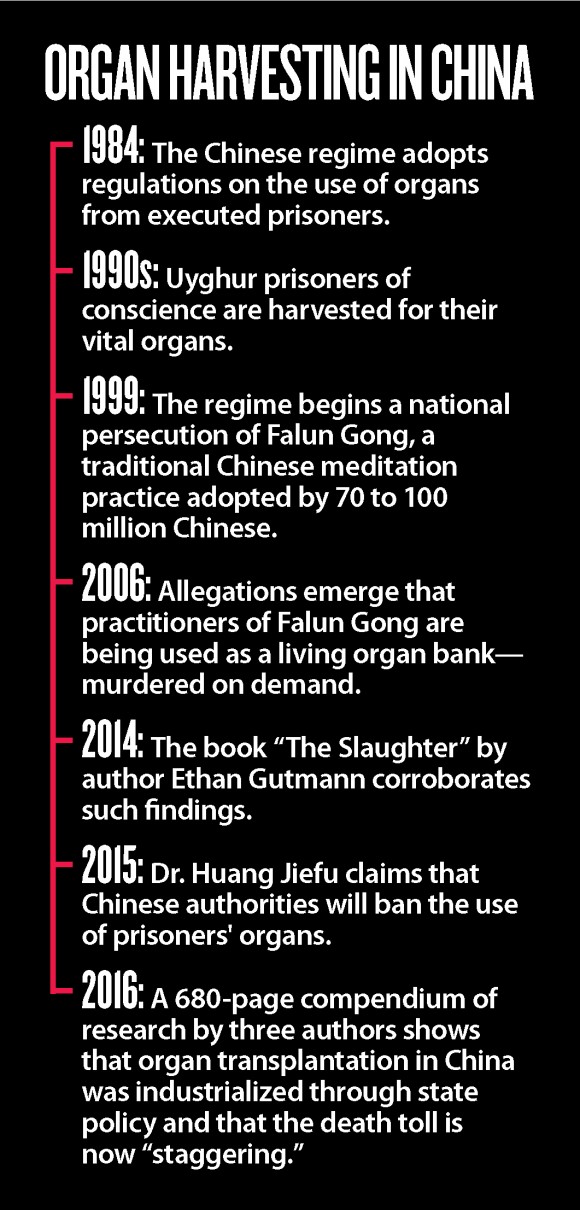 But one week prior, on Aug. 10, Hoang Tien Binh, the chief of Si Mai Ca Police Station, told the Vietnamese edition of Epoch Times that the police document was authentic. "The purpose of the announcement is to spread serious awareness to the community," Hoang said.
National broadcaster Vietnam Television (VTV), which was the first to break the story, also said it received confirmation of the document's authenticity from a police station.
In October, VTV aired two investigative reports about the issue of human trafficking that dealt with organ harvesting in China. VTV reporters posed as interested organ buyers and secretly recorded their clandestine efforts to procure organs from Chinese or Vietnamese middlemen.
In the first report, a Chinese organ broker told reporters that Vietnamese women trafficked to China are pushed into prostitution and later sold as wives. Vietnamese infants and men are sold instead to "organ concentration camps." The VTV report did not comment on how long such activities may have been going on.
The second report followed journalists seeking a kidney in Guangdong, a southern province of China that is "considered the capital of the organ trading market," according to VTV.
An organ trafficker walked the reporters through the procedure for securing "good and healthy" organs, then quoted a price for a kidney and showed them a video of the organ harvesting process. Later, the trafficker identified the Chinese surgeon who would be doing the transplant from portraits of staff on the wall of a large hospital in Foshan, a city in Guangdong.
Defining the Norm
Dr. Nancy Ascher, president of The Transplantation Society, a global transplantation body, said in an email that organ trafficking between Vietnam and China is criminal activity that must be investigated.
"Perpetrators need to be brought to trial," she wrote in an email, in response to a summary of the allegations. "To the extent that medical personnel are involved in such nefarious acts, these individuals need to be brought to justice as well."
Ascher stated that the "criminals are likely acting outside the regulatory systems that have now been established in China," referring to official Chinese claims that it has stopped using prisoner organs since January 2015.
For the last several years, Chinese authorities say that they have been constructing a system of voluntary organ donation resembling that found in the West.
During a recent international summit on organ trafficking at the Vatican, top Chinese surgeons were given an opportunity to explain how they had reformed unethical practices in their country. They told the attendees, over 100 experts on the ethics of organ transplantation, that prisoners are definitely no longer used as an organ source in China—except for sometimes, when they're identified as "violations of the law."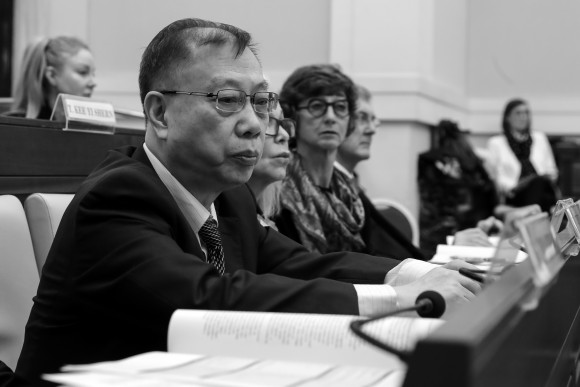 But these claims, mainly made by Chinese transplantation spokesman Dr. Huang Jiefu, have been cast into doubt by researchers, who note that there has in fact been no outlawing of the practice.
Most of the controversy surrounding organ transplantation in China relates not to executed prisoners, but to reports that Chinese authorities have systematically harvested organs from prisoners of conscience, primarily practitioners of Falun Gong, a persecuted spiritual practice. Organ transplant volume in China began growing exponentially six months after the persecution of the practice began in 1999.
For instance, Huang's close colleague, the prominent liver surgeon Dr. Zheng Shusen, is the head of an anti-Falun Gong task force in the province of Zhejiang, a title he wears in public. Zheng ranks just behind Huang in repute and power in China's organ transplant system. The extraordinary overlap in two otherwise unrelated fields has never been explained by Chinese officials.
Some researchers believe the rampant abuse of organ transplantation in China has now metastasized.
"Generally, human rights violations spread, unless stopped," wrote David Matas, a Canadian lawyer who has investigated transplant abuse in China for over a decade, in an email. "The killing of Falun Gong for their organs led to the construction of a national Chinese machinery of death, which, to all appearances, is now being used internationally against Vietnamese."
For Matas, the answer to the question of whether the abuses identified by Vietnamese television and police are in fact the norm in China, or a local deviation that will be swiftly punished, is exasperatingly obvious.
"How much evidence of how many people from how many countries being organ harvested in China do we have to have," he asked, "before organ transplant abuse in China gets the global attention it deserves?"