Two bodies found in the woods in Oregon were identified as a missing teen and the man she ran away with, authorities said.
Zachary Petersen, 23, and Annieka Vaughan, 15, each died from a single gunshot wound, the state medical examiner determined. The bodies were found in northwest Portland on Wednesday, Nov. 8.
Detectives believe that Petersen killed Vaughan, then killed himself.
Annieka was living with her aunt and uncle in Aloha, Oregon, when she ran away.
She had met Petersen in Kennewick, Washington, while she was visiting her mother, and they started a relationship in August, authorities said. Petersen lived in neighboring Pasco, Washington.
The two were caught having sex in a car in early October, the Tri-City Herald reported, and Petersen was being investigated for child rape after the incident.
Annieka was first reported missing on Oct. 30.
Petersen also disappeared that day after calling a crisis hotline in Washington. Authorities believed the two ran away together in Petersen's pickup truck. Petersen was suicidal and possibly armed, the Washington County Sheriff's Office said.
Petersen's truck was found on Monday in the Forest Park park with Annieka's backpack inside, but police couldn't find the two.
Around 5:35 p.m. that day, somebody called the police to report noise along the trails, about a mile south of where the bodies were eventually found.
Police launched another search of the area, involving a plane, police dogs, and night-vision equipment, but didn't find anything, according to The Oregonian.
The search continued the next day. An 8-year-old golden Lab named Nexus that was trained to smell decomposing bodies seemed to catch a scent on Tuesday night, but it was already getting dark by that time, and the search was suspended.
On Wednesday morning, the bodies were found near the intersection of the Wildwood Trail and the Upper Macleay Trail, only a 10-minute walk from the historic Pittock Mansion, one of the most visited spots in Portland with a view of the city skyline, The Oregonian reported.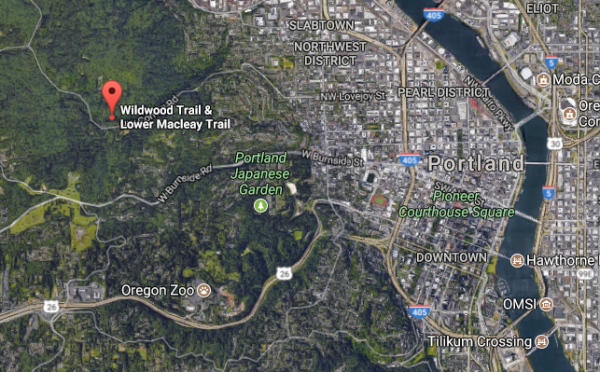 Annieka's father, Rick Vaughan, tearfully addressed a press conference about his daughter's death on Friday.
He said Annieka was artistic—good at drawing, animation, and acting. She also taught herself to play guitar.
The last thing she and her father did together was shopping for a homecoming dress, he said.
"I'm going to miss not being able to see her go through high school, get married," Rick Vaughan said. "I'm going to miss just everything that made her so unique and special."
A GoFundMe page has been set up to cover Annieka's funeral expenses.