IRVINE, Calif.—Orange County Soccer Club (OCSC) converted all five penalty kicks in overtime to win the Western Conference Finals over San Antonio FC (SAFC) on Saturday night in front of more than 5,000 elated home fans.
After 11 years in Irvine, OCSC has great hopes of winning their first USL League Championship as the win propelled them to the finals in Tampa versus the Rowdies next Sunday.
With a season record of 15–10–7, OCSC has now won eight consecutive games and has been undefeated since mid-October, winning their last two playoff games through penalty shoot-outs.
OCSC is comprised of U.S. and international players hoping to advance their soccer careers one day to the top professional leagues.
The club's successful run has come from remarkable defensive play, having allowed just the second goal last night in eight matches.
OCSC's defense is anchored by goalkeeper Patrick Rakovsky (Germany), and central defenders Rob Kiernan (England), and Michael Orozco (Orange County).
The man of the match, Dillon Powers (Scotland/Texas), had a superb match completing 50 of 70 passes, converting the second shoot-out penalty shot, 18 recovered balls, and winning 14 of 20 duels in central midfield.
"We're obviously enjoying it right now, celebrate, and move right on to the finals," Powers said.
Powers and Head Coach  Richard Chaplow repeated that "the job's not done, the job's not done til next week."
"Where we came together was at the  performance against Tacoma away where we lost," Powers added. "As a group, we responded really well. "Its been a real determination about the group, "I'm really proud  we (decided that we) can go one way or the other, and we chose to go up."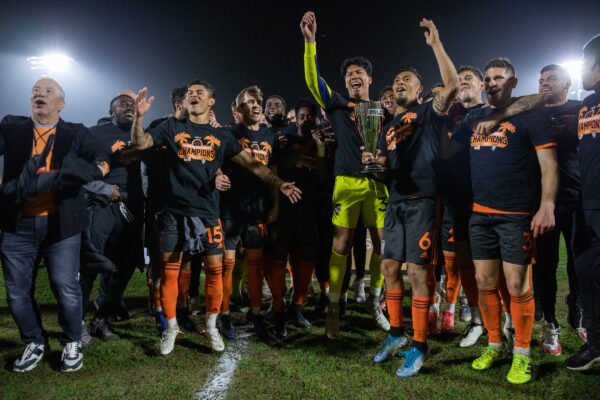 The match was played at a frantic pace by both sides, especially in the first half. Each team's stifling defense did not allow many opportunities for an early goal.
OCSC settled in midway through the first half to possess the ball for 57 percent of the game. Their midfield controlled the tempo, with excellent passing from Powers and Mikko Kuningas (Finland); wingback Brent Richards (Wash.) was also instrumental in distribution from the back.
OCSC began to create more chances off of free kicks and long throw-ins into the box by Richards.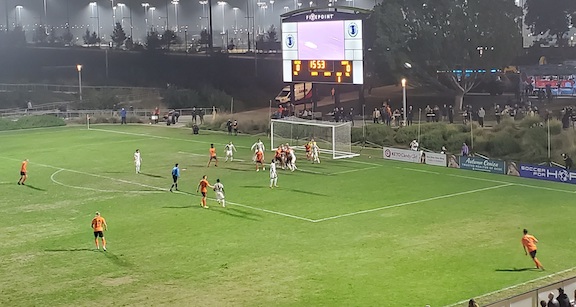 In the 39th minute, one of Richards' throw-ins from the right sideline reached striker Ronaldo Damus (Haiti) who made a short run from left-center of the box past the penalty spot to shoot a turning right-footed half-volley that found its way past a frozen SAFC keeper, Jordan Farr (U.S.), into the goal.
"Every time I make a goal it makes my job so satisfying that we come out here and work so hard," said Damus through an interpreter. "But it's the coaches that helped me work so hard, that helped me perform better each week, and help motivate me to perform better."
OCSC remained in control of the match until beyond the 60-minute mark. American, Jose Gallegos, led SAFC in ball possession through the midfield and made penetrating runs through the right-center.
In the 67th minute, Gallegos found an overlapping Conner Maloney in the right corner, who made a first-touch cross to the back left of the goal finding a high-flying header over the defense by Marcus Epps (USF).
Epps led SAFC in total shots, and nearly scored a tie-breaking shot in the 82nd minute from a square pass provided by forward substitute Justin Dhillon (Cal-Poly) at the top of the box; it lacked enough left-bend and missed outside of the right post.
Both squads were unable to manage to score in the 30 minutes of overtime. But a handful of SAFC players cramped, and injury stoppages slowed the play.
The overtime (OT) was decided on penalty kicks, and OCSC were perfect in their five shots; in order, Seth Casiple (San Diego), Powers, Ben Mines (Conn.), Thomas Enevoldsen (Denmark), and Sean Okoli (Wash.), all converted.
OCSC goalie Rakovsky guessed correctly on the last three penalty kicks by SAFC, partially blocking the second penalty by Santiago Patino (Brazil); but was unable to make any saves.
The fourth penalty taker for SAFC, Dhillon, must have succumbed to the pressure as all kicks had been made; he missed wide left of the goal to set up the winning kick by OCSC Okoli.
It's the second consecutive OT victory by penalty kicks for OCSC. They just defeated Oakland, where Okoli was also successful under pressure.
"It's a season of lots of ups and downs as a club and individually," Okoli said. "To have the character, perseverance, and resilience to bounce back and keep going week after week, it shows the true character in that locker room, and I'm very proud to be a part of that group."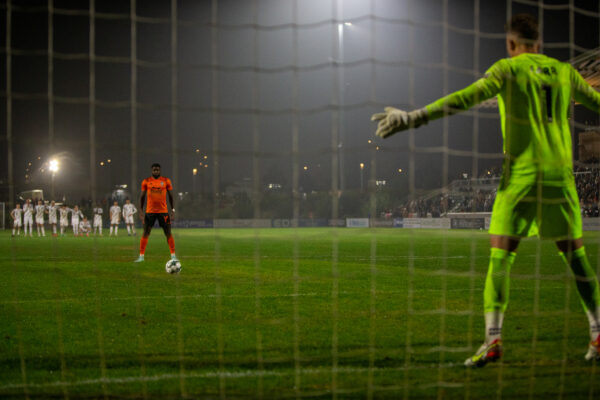 OCSC is to travel to face the Tampa Bay Rowdies in the USL Championship Final, on Sunday, Nov. 28, at 8:30 p.m. ET. The game will air live on ESPN, and ESPN Deportes.