NYSPHSAA Gives Scholar Athlete Awards to Minisink Varsity Teams
The New York State Public High School Athletic Association recognized 21 of 23 Minisink Valley varsity teams with the Scholar Athlete Team Award for the 2015-2016 academic year on June 16 . The girls track and field team had the highest composite GPA of all the awarded Minisink teams with 96.2 . "Reaching this level of academic and athletic achievement demands consistent focus, discipline and a brand of commitment that is not without hard choices and sacrifice," said Tim Bult, director of the Minisink High School athletics department. NYSPHSAA, the governing body for interscholastic athletics in New York state, recognizes academic achievement through the program. Varsity teams must have a cumulative GPA of 90 or above to be recognized.
Scotchtown Avenue Bridge Closed Until July 1
The Scotchtown Avenue Bridge in Hamptonburgh will be closed until July 1 due to construction to reconnect County Route 83 (Scotchtown Avenue) to the bridge. The bridge is expected to be opened for two-way traffic as early as the first week of July. During the closure, normal through traffic using this portion of County Route 83 should use alternate routes or follow detour signs to Stony Ford Road and Hill Road.
Film Production Tax Credit Approved for Orange County  
The state legislature has approved an expansion of state movie production tax credits to Orange County and seven other counties after a lobbying effort that included numerous celebrities from the Hudson Valley and Catskills. The state budget in 2014 created a 10 percent film tax credit for much of upstate New York, but it didn't include Orange and seven other counties including Sullivan and Ulster. A letter urging expansion of the credit was signed by over 30 entertainment professionals including actors Chevy Chase, Debra Winger, Mark Ruffalo, and Aidan Quinn. The state Assembly passed the bill expanding the Empire State Film Production Tax Credit program on June 15. The Senate already passed the measure, which now awaits Democratic Gov. Andrew Cuomo's signature.
From The Associated Press
Senate Passes Reserve Fund Bill for Minisink Valley School District
The State Senate on June 16 passed Sen. John Bonacic's legislation, S.7756, that would allow the Minisink Valley School District to maintain a reserve fund for insurance and to make expenditures from that reserve fund for losses, claims, actions or judgments authorized or required to purchase or maintain insurance. In New York State there is a shift in how school districts continue to provide their services while staying within the tax cap. Health insurance reserve funds are seen as beneficial for a municipal corporation, Bonacic said. This bill extends the statute for the Minisink Valley Central School District. The bill has now passed both the Senate and the Assembly.

Brendan Casey Named County Commissioner of Emergency Services
The County Executive's office announced on June 20 that State Police Captain Brendan Casey was named the County's Commissioner of Emergency Services. "Captain Brendan Casey is someone who not only earns the respect of his peers and the public, but commands it," Neuhaus said. Casey's responsibilities will include the administration, management, and supervision of the Emergency Services department, which encompasses the divisions of Fire, Emergency Management, Emergency Medical Services, Emergency Communications, and Police Liaison Services.  Casey will succeed Walter Koury, who is retiring later this month.

Port Jervis High School Student Champion in State Pentathlon
Port Jervis High School Senior Troy Zanger has been named 2016 New York State Champion in a Pentathlon this past weekend at the state track and field championships held at Cicero-North High School, near Syracuse. The pentathlon encompasses five events—100 meter hurdles, high jump, long jump, shot put, and 1,500 meter run. Points are awarded per finish in each event. Zanger finished with 3,496 points, first place for Division 1 schools.
Middletown School District Reports on Voluntary Testing for Lead
Superintendent Kenneth Eastwood sent a letter on June 16 to parents of students in the Enlarged City School District of Middletown to report on testing for lead in school buildings. The tests, he said, were conducted on a voluntary basis to inform families of the status of water students used and said the school's standards were stricter than those of the EPA. It gave a list of fixtures that tested high in lead in seven schools that were shut off and taken out of service as a short-term control. The district is forming a plan to remove and replace all identified outlets as a permanent remedy. "In addition, the district is researching new water fountain/bottle fill stations for all locations, and will provide filtered water for all building occupants," the letter said. EnviroTest Laboratories Inc. of Newburgh did the testing.  
County to Receive $1.9 Million from Montreign Resort Casino Licensing Fees
Gov. Andrew Cuomo announced that Orange County will receive about $1.9 million of the licensing fee Empire Resorts paid to the state Gaming Commission to build the Montreign Resort Casino at Adelaar in Sullivan County. The award is part of $10.2 million shared by other counties in the Hudson Valley. "These funds will allow Orange County to begin realizing the long anticipated benefits of casino gaming in the Catskills," said County Executive Steven Neuhaus. Montreign Resort Casino is set to open in early 2018.
Utility's Good Neighbor Fund Receives National Recognition
The Salvation Army recognized Central Hudson Gas & Electric Corporation's Good Neighbor Fund with the Salvation Army Award during the National Energy Utility and Affordability Conference this month in Denver, Colorado. The fund provides last resort grants to help customers who have exhausted all other forms of public and private assistance. It is funded by customers with voluntary contributions of $1 to $10 when paying their utility bills, and matched by shareholders by up to $50,000 per year. The program is administered by the Salvation Army offices in Newburgh and three other Hudson Valley cities.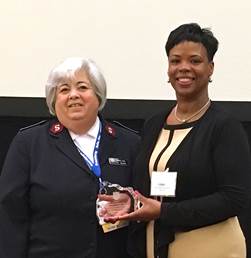 Port Jervis Library Plans Permanent Stephen Crane Exhibit
The Port Jervis Free Library announced on June 21 that it will install a permanent photographic exhibit to highlight famed author Stephen Crane who at one point lived in Port Jervis. Crane's novel, "The Red Badge of Courage," as well as earlier fiction, and his last stories before he died at age 28 all hold associations to Port Jervis or nearby Sullivan County. The exhibit will be curated by Stephen Crane scholar Robert G. Eurich. There will be images from the archives of the Minisink Valley Historical Society that illustrate places in the Port Jervis area linked to Crane. The exhibit is scheduled to open on Nov. 1, the 145th anniversary of the author's birth.
Allegiant Begins Bi-weekly Non-Stop Service to Myrtle Beach, S.C.
In the effort to expand passenger traffic at Stewart International Airport, airport officials announced on June 16 that Allegiant Air will now offer non-stop bi-weekly flights to Myrtle Beach International Airport to run from June 16 through Sept. 25 with fares as low as $44. Allegiant, based in Las Vegas, links travelers in small cities to leisure destinations. The airline currently provides non-stop service from Stewart to Tampa/St. Pete-Clearwater, Florida.
To contact this reporter, email [email protected]