Commentary
Most of us barely paid attention last week when Congress, entirely under the control of one party, passed two huge pieces of legislation with a price tag of $730 billion. We get the headlines—transition to green energy and support semiconductor manufacturing—but not the details simply because they are too voluminous.
Members of Congress don't read the bills because they are too long, but neither do reporters on deadlines. Votes turn entirely on benefits doled out to particular interest groups represented by the politician in question. As a result, we are left mostly in the dark about what these people are actually doing with our money.
Part of the story here is about backing labor unions. Why? In the private sector, membership has been declining for decades and is now in the single digits. But in government, unionization is still very high, and the very act in politics. They are major benefactors to the Democratic Party. Therefore, they are in need of a payback and more support from government to keep them alive and to keep the quid pro quo going.
The Wall Street Journal
explains
how what is supposedly a green-energy bill is actually a union-subsidization bill:
"The 725-page bill is riddled with green goodies that favor unions and projects located in specific regions. Most tax credits for renewable energy projects are five times more generous if contractors pay 'prevailing wages'—that is, union-scale wages—and employ workers participating in apprenticeship programs. These are usually run by unions."
Further:
"Another example of union favoritism is the tax credit for carbon sequestration from manufacturing or fossil-fuel combustion. This credit is currently $35 per ton of CO2 captured and stored, which is about half the break-even cost for most projects. The Manchin–Schumer deal cuts the base credit to $17 per ton but increases it to $85 per ton for projects that meet its labor standards."
That's a major part of the story but there is more. I'm grateful to Judge Glock of the Cicero Institute for breaking down what's going on with at least part of this spending. We have government undertaking exactly the same lending patterns that got the financial industry in such trouble in 2008. They were lending without proper evaluation of risks, and bundling investment products that blended bad with good risks, to the point that no one could untangle the difference.
That's precisely what the bills passed by the Democrats are doing for the computer chip and green energy industries.
"The Inflation Reduction Act is the latest example of the trend that has transformed the U.S. government into a gigantic bank. The U.S. now lends or guarantees loans totaling over $5 trillion in areas including housing, education, small business, energy, disaster relief, and transportation. This figure doesn't include the assets of semipublic corporations such as Fannie Mae, Freddie Mac and lesser-known government-sponsored enterprises, which total more than $6 trillion. The world's biggest bank, the Industrial and Commercial Bank of China, has slightly more than $5 trillion in assets; America's biggest, JPMorgan Chase & Co., less than $4 trillion.
"The federal government appears to have become the biggest bank in the world. How? Over the past century, Congress realized it could create programs to win allies now and absorb the costs years or decades later when the loans default."
Default in such programs has become a normal path of doing business. Glock mentions Solyndra, a solar company that defaulted on $535 million in loans offered up in 2009, plus the Great Plains Coal Gasification that defaulted on $1.5 billion in 1985 and the $188 billion bailout of Fannie and Freddie after 2008.
Further, "when loans don't default, Congress has found the political pleas of borrowers irresistible." In this case, we are talking about hundreds of billions in new lending, which is then considered not spending as such, due to the expectation of repayment in the future, which may or may not happen.
This leaves government agencies with huge portfolios of outstanding loans on their books. That further creates enormous problems for future reform.
Let's say that we get an actual reform-minded Congress in place after November plus an executive who cares about fiscal responsibility two years later. What exactly are such reformers supposed to do with a loan portfolio of $5 trillion that's already committed and being deployed all throughout economic structures, wastefully or not? Can Congress call in such loans immediately? Nope. The damage is already done. The defaults come five to 10 years later. Government then faces the problem of writing them off or bailing them out.
The damage being done to the future economic health of America by this current Congress is truly incalculable. Actually, it's terrifying. To add insult to the injury, they slap preposterous names on the legislation such as the Inflation Reduction Act, when the actual effect of the legislation will be to create unfathomable amounts of financial liability that depend solely on the capacity of the Federal Reserve to create infinite amounts of new money and credit out of thin air.
It's this power that is allowing the government to eat away at private productivity in a way that amounts to the gradual nationalization of economic life. The lockdowns massively expanded this general trend. It's all the more striking that it is happening in a country founded on the idea of minimal government and maximum freedom.
Federal debt as a percentage of gross domestic product (GDP) is already reaching 125 percent, after this figure only crossed the 100 percent point a mere 10 years ago!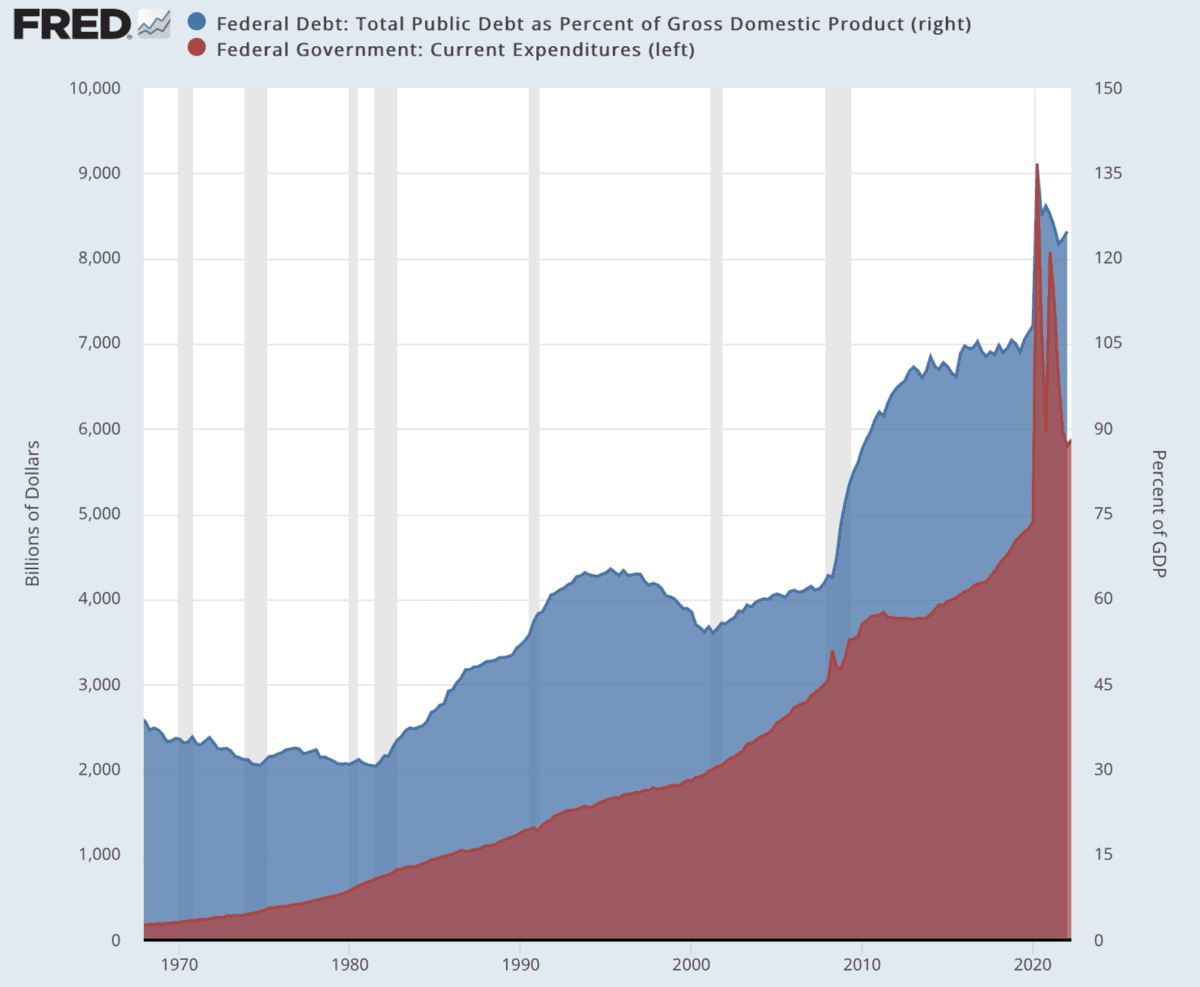 Watching this Congress work surely creates within most reasonable people a sense of helplessness, like standing outside your home and watching marauders pillage the place. There's nothing you can do but wait it out. And Congress is working as fast as possible to get the deed done before November, after which many of the voted-out lawmakers will accept high-paying positions in companies created by their own financial profligacy.
What's even more insidious: the current Congress is deploying every tool available to make genuine reform impossible in the next session. The new Congress needs to arrive ready to do some very hard work necessary to save this country from final bankruptcy.
Views expressed in this article are opinions of the author and do not necessarily reflect the views of The Epoch Times.