Commentary
On May 3, the Philippine Foreign Secretary, Teddy Locsin,
told
China to "GET THE F*** OUT." He was referring not only to the Philippines' exclusive economic zone (EEZ), including its fishing grounds in the South China Sea, but to what he claimed was an attempt to make the Philippines into "a Chinese province."
Since the 1980s, China gradually grabbed Philippine maritime space, including through the massacre of over 60 Vietnamese marines on
Johnson South Reef
in 1988, the construction of a Chinese outpost on
Mischief Reef
in 1995, a 2009 "
9-dash-line
" claim to nearly the entire South China Sea, the occupation of
Scarborough Shoal
in 2012, and the occupation of
Whitsun Reef
this year. Since the mid-2010s, China scraped the seabed for endangered
giant clams
, and put at least
200 times
the number of fishing boats on its reefs, as compared with the fishing boats of other countries on other reefs in the Great Barrier Reef.
China destroyed fields of living coral that are critical to the replenishment of fish stocks, built artificial islands with dredged sand, and constructed military bases in the South China Sea that have runways capable of accommodating China's largest bombers, underwater submarine
bastions
, and docking for aircraft carriers. China's ships
harass
Philippine fishing boats (including one on which I found myself in 2016 near Scarborough—The Epoch Times
coverage
is the best to be found). In 2019, a Chinese ship rammed and sunk a Philippine fishing boat, then
abandoned
the crew.
Secretary Locsin therefore has good reason to mutter angry words on Twitter.
But words aren't enough.
Rolling back
China requires imposing economic costs through joint allied international sanctions and litigation for
billions
in damages, or military measures that substantially increase the risk for Chinese ships operating in the Philippine EEZ.
Argentina
over the years fired at Chinese fishing boats that illegally entered its EEZ, resulting in the sinking of one in 2016. All 32 crew members were rescued. Buenos Aires is still standing.
The Philippines should activate its 1951 defense treaty with the United States and create a U.S.-Philippine naval and coast guard blockade of China's military and economic activities in the Philippine EEZ. If Argentina can chase away China's boats, the United States and allies can too.
"Had America really wanted to avoid trouble, early on … why did you not send the armada of the 7th Fleet, which is stationed there in the Pacific?" Philippine President Rodrigo Duterte
told
the United States in 2017. "You just make a U-turn and go there and tell them right on their face, stop it." Eight months later, the United States and Japan
sailed
three aircraft carriers together in the Western Pacific, which had no apparent effect on Beijing's behavior.
Most other times, Duterte has been friendly to China. In addition to Xi Jinping's alleged
threat
of war against the Philippines, and China's checkbook diplomacy, according to my sources,
Duterte
's acquiescence may be explained by more personal forms of incentive and disincentive. They say he was bought by Beijing through the provision of millions of dollars in consulting contracts to his business and family associates. There are additional unproven
allegations
that the Duterte family, and close aide Bong Go,
took
millions from an illegal drug syndicate with a financial controller in Hong Kong. A Philippine opposition senator alleged that Duterte's son Paolo is a Chinese gang (
triad
) member.
A new book called "
Wilful Blindness
" by a Vancouver journalist alleges that the Chinese Communist Party (CCP) supports Hong Kong, Macau, and Vancouver triads and money launderers to move illegal drugs into North America. If the Duterte group is involved in illegal drugs, it would be relatively easy for anyone who knows of it (such as the CCP) to leverage them. This constellation of allegations could at least somewhat explain Duterte's pro-China and pro-triad behavior, including years of looking the other way as
illegal
Chinese immigration and online
gambling
took place in Manila.
The day of Foreign Secretary Locsin's courageous tweet, the notoriously foul-mouthed Duterte called for
tact
. "China remains to be our benefactor," the Philippine president said. "Just because we have a conflict with China doesn't mean to say that we have to be rude and disrespectful." He added that, "As a matter of fact, we have many things to thank China for the help in the past and the help that it is giving us now."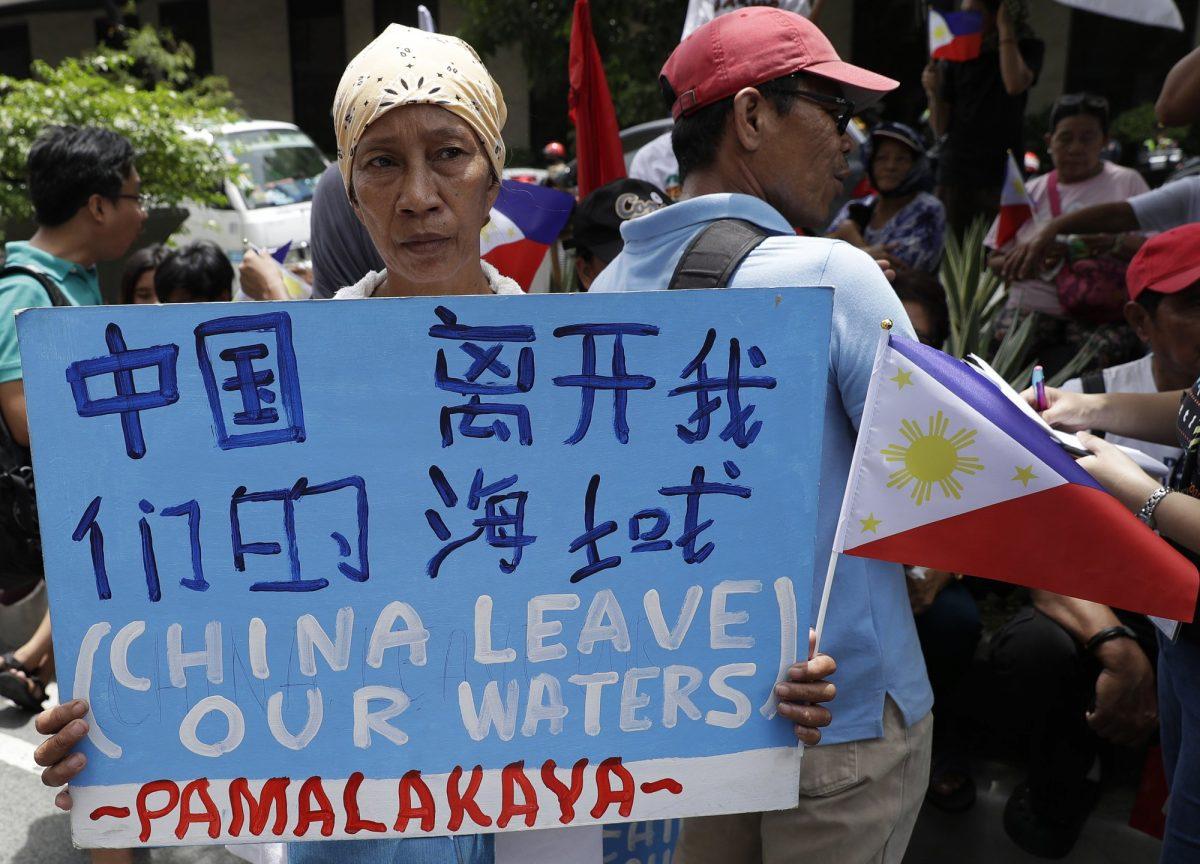 Duterte has counter-leverage he is not using. In 2019, the Philippines exported
$13.6 billion
to China, but imported $36.2 billion. The Philippines is therefore a net importer. The country's failure to use this consumer power (the customer is always right) more effectively as leverage on the South China Sea issue is a mistake, or worse.
On May 3 (a busy day at Malacañang Palace), President Duterte
received
his first dose of China's Sinopharm COVID-19 vaccine, which is the world's most expensive at
$145
for two doses, especially when considering that the effectiveness is as low as
50.4 percent
. Compared to
Pfizer's
95 percent efficacy for $39, and Oxford's 76 percent for $8, China's vaccine can't beat the competition. Yet, Duterte has repeatedly expressed a preference for vaccines from China and Russia. The Philippines has thus far administered 1.9 million COVID-19 vaccine doses, mostly from China's Sinovac Biotech. Duterte's vaccination was an advertisement for Sinopharm, announced by his aforementioned aide
Bong Go
. A lot of red flags.
Tough economic and military measures against China's incursions are getting politically and militarily more difficult, not least because China's navy is overtaking the U.S. Navy in the region. China steals U.S. and European military technologies, then outbuilds us in terms of tonnage and number of ships. America's steel plants are producing
half
as much as they did in the mid-1970s. Our naval and commercial shipyards are
derelict
and closing down. China has the biggest naval shipyards now, and produces more commercial
ships
(by tonnage) than any other country. In 2020, China
produced
over 14 times more steel than the United States.
The time is fast approaching, when the Chinese navy will be able to defeat the U.S. Navy in the South China Sea. At that point, China can use brinkmanship to push us back and more thoroughly take control of the EEZs of the Philippines, Vietnam, Indonesia, Malaysia, and Brunei. Beijing's "offers" of revenue sharing from hydrocarbon exploitation will rise to 100 percent from the more recent 50 to 75 percent for China, which was the rate on offer in about 2015, according to one of my diplomatic sources. The rate should be 0 percent for China, but failing to share hydrocarbon revenues from the South China Sea with China has led to Chinese naval harassment of Vietnamese oil rigs. The same would happen to the Philippines.
According to
U.S. estimates
, $3 trillion to $8 trillion worth of oil and gas deposits lie beneath the South China Sea. But according to China, hydrocarbons there are much more: $25 trillion to $60 trillion. If China gains control, its hydrocarbon revenues will increase China's GDP, which is already higher in purchasing power parity, and growing at a faster rate, than that of the United States or European Union.
Time is therefore short. Secretary Locsin's heroic fighting words are a good start that the United States and allies should follow with not only words, but actions.
Anders Corr has a bachelor's/master's in political science from Yale University (2001) and a doctorate in government from Harvard University (2008). He is a principal at Corr Analytics Inc., publisher of the Journal of Political Risk, and has conducted extensive research in North America, Europe, and Asia. He authored "The Concentration of Power" (forthcoming in 2021) and "No Trespassing," and edited "Great Powers, Grand Strategies."
Views expressed in this article are opinions of the author and do not necessarily reflect the views of The Epoch Times.