The U.S. Department of Housing and Urban Development (HUD) and the National Association of Homebuilders (NAHB) are sponsoring the first-ever Innovative Housing Showcase in Washington this week.
The showcase is a five-day event that,
according to HUD
, will display "new building technologies and housing solutions that are making housing more affordable for American families and homes more resilient during natural disasters."
As well as 16 exhibitors, there are panel discussions and demonstrations with lawmakers, entrepreneurs, and leaders in the housing industry.
"What is really encouraging about what's going on this weekend is that we can see the innovative spirit that still exists here in America," HUD Secretary Ben Carson told The Epoch Times on June 1.
"What HUD will actually be doing is working with the local jurisdictions providing reference points for grants and technical assistance, so that we can get people to remove a lot of the barriers that prevent the usage of some of these newer technologies [to improve housing]," he explained.
Housing Resilience
Housing resilience has been an ongoing issue, but has made great strides forward over the past few decades.

When Hurricane Andrew hit South Florida in 1992, more than 63,000 homes

were destroyed

and more than 100,000 were damaged. The scope of the damage was attributed to lax enforcement of building codes.

But, after many policy changes, Florida is now one of the best states in the country in terms of building code standards.

"By 2007, all new homes had to be constructed utilizing the new techniques, and when Irma came along in 2017, it did nowhere near the damage people were expecting for that reason," said Secretary Carson.
But, hurricanes aren't the only threat.
Recently, tornadoes tore through the United States from Kansas to Pennsylvania, causing tremendous damage to homes and local businesses. The Associated Press
reported
that there were 12 days in a row "that at least eight tornadoes were reported to the National Weather Service."
The technology and solutions presented at the showcase aim to lessen the damage caused by such events.
"We're talking about being able to encourage these localities to use manufactured homes and tiny homes and accessory dwelling units and some of the building techniques, in terms of their [hurricane and tornado damage] mitigation," Carson said.
"We want to take advantage of the fact that a lot of people are thinking about tornadoes and hurricanes right now and how do we mitigate against the kind of damage that causes long term."
Affordable Housing Solutions
In addition to resilience, the showcase tackles head on the growing problem of affordable housing.

A report by the Joint Center for Housing Studies at Harvard University 

showed

that 11 million Americans spent more than half of their paycheck on rent in 2014. And the Wall Street Journal 

reported

 in 2018 that roughly two-thirds of renters can't afford to buy a home.

Add to that, on any given day, there are more than a half-million homeless people in the United States and roughly 11 percent of those are veterans, and it's clear that the United States is in a full-blown housing crisis.

In order to help address the crisis, companies and organizations from across the country have come to the showcase in Washington to present solutions including manufactured homes and micro-homes.

Elizabeth Singleton is the founder of Build Us H.O.P.E., a Phoenix, Arizona-based non-profit that builds tiny homes for veterans. Her organization provides long-term support services for people with mental illnesses, disabled residents, the chronically homeless, and U.S. military veterans.

"We realized the tiny house kind of settings were better in being able to build it quickly and set up a sense of community," Singleton said.

In Phoenix, Singleton's organization has recently built the first micro-home community exclusive to military veterans.

With Arizona now being the third-worst state in the United States for affordable housing, Build Us H.O.P.E. is well-placed to bring meaningful change to an area that has increasing need.

The showcase runs through June 5 and is free and open to the public.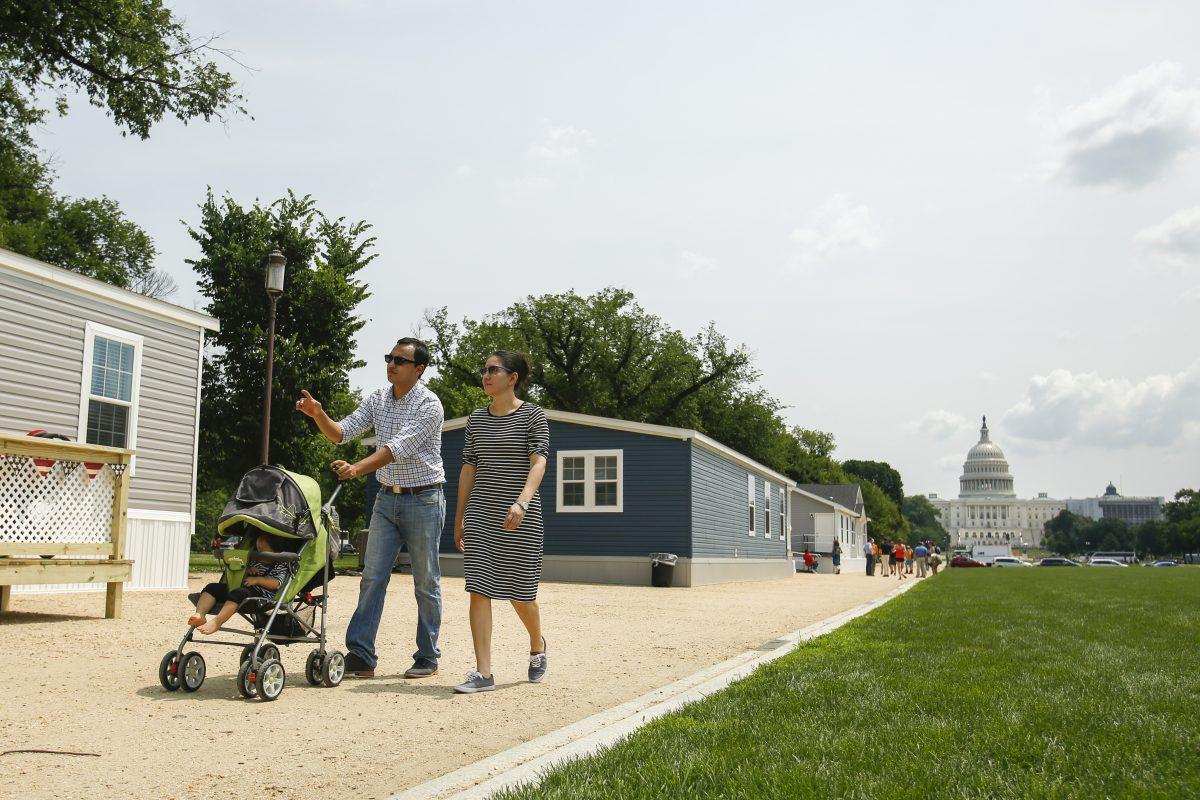 Views expressed in this article are opinions of the author and do not necessarily reflect the views of The Epoch Times.