Five Coalition senators have crossed the floor to vote in favour of a private member's Bill calling for an end to vaccine mandates in the country.
Senator Pauline Hanson of the One Nation party introduced the COVID-19 Vaccination Status (Prevention of Discrimination) Bill 2021 on Nov. 22 to overturn mandatory vaccination requirements across the country.
According to the senator's website, as of Nov. 22, 185,395 individuals signed an online petition supporting the Bill.
While Prime Minister Scott Morrison granted Hanson approval to introduce the proposed law, an overwhelming majority of MPs from the Liberal-National Coalition, Australian Labor Party, Greens, and independents did not back it.
Speaking via video link, Hanson said the Senate was responsible for protecting the rights of individuals noting that, "This is a pandemic of discrimination."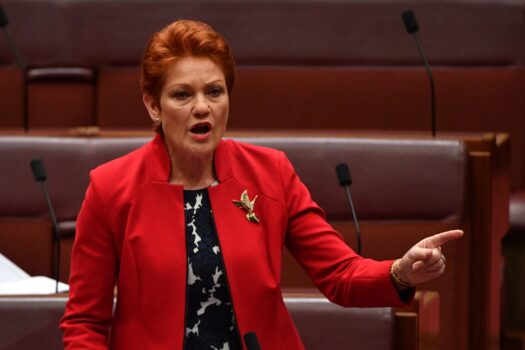 "You might not agree with the choices that people make, but that doesn't mean the right to choose should be stolen from them," she told sitting MPs.
"State governments are relishing this extraordinary power to command and control the people they are supposed to serve," she added.
"They're desperate to keep this power for as long as they can. They have ignored the prime minister's national plan and the decision of National Cabinet."
Independent Tasmanian Senator Jacqui Lambie lambasted the Bill, saying unvaccinated individuals were not discriminated against and were choosing to place the lives of others at risk.
"If you get behind the wheel of a car and drive twice the speed limit, you may be comfortable taking that risk with your safety. But you'd be putting other people's lives at risk. And you don't have the right to do that. And you will more than likely lose your licence," she told sitting members.
"You have the right to choose. You don't have the right to put vulnerable people's lives at risk. You don't have that right, and so you shouldn't have that right," she said.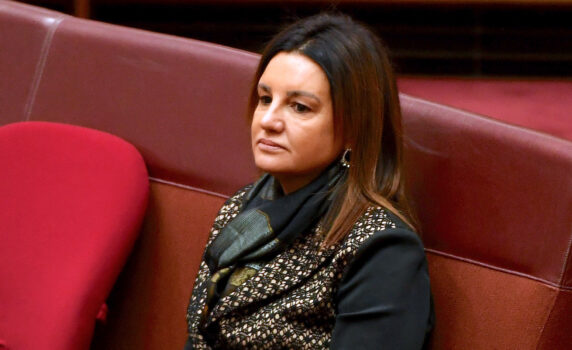 Tasmanian Liberal Senator Eric Abetz abstained from voting, saying the Bill was right in principle, but its construction was "clumsy and unlawful".
"The Bill before the Senate would seek to over-ride the States and stop funding to them if they mandate in any circumstance," he said in a statement to The Epoch Times. "Its constitutionality is highly questionable and the consequences highly disruptive. It would see the GST arrangements ripped up."
"It stands to reason that if today the federal government is clothed with the power to override the states on vaccine mandates, it would also have the power to impose such mandates on the states.
"This is a two-edged sword," he said.
Senators Concetta Fierravanti-Wells, Matt Canavan, Sam McMahon, Alex Antic, and Gerard Rennick voted to support the Bill.
Hanson and fellow One Nation senator, Malcolm Roberts, were not in Canberra and could not vote.
Last week, South Australian Liberal Senator Alex Antic joined his colleague Queensland Senator Gerard Rennick in pledging to withhold their vote over vaccine mandates and concerns around the safety of the inoculation.
"Australians deserve the freedom to choose their own medical treatment and way of life," Antic wrote on his Facebook page on Nov. 12.
"It is not reasonable for Australians to be discriminated against based on their decision to submit (or otherwise) to a medical procedure," he added.
Soon after, Prime Minister Scott Morrison began speaking out against vaccine mandates, bringing the issue to the centre stage of federal politics.
"We're not in favour of mandatory vaccines imposed by the government. Businesses can make their own choices under the law, but we're not about telling them what to do or telling Australians what to do," he told reporters.