A second senator from the Coalition has pledged to withhold support for any government-backed legislation until Australians refusing to receive the vaccine are "given protection from discrimination."
South Australian Senator Alex Antic's move follows fellow Coalition member and Queensland Senator Gerard Rennick, who has also pledged to withhold his vote over vaccine mandates and concerns around vaccine safety.
"Australians deserve the freedom to choose their own medical treatment and way of life," Antic wrote on his Facebook page on Nov. 12.
"It is not reasonable for Australians to be discriminated against based on their decision to submit (or otherwise) to a medical procedure," he added.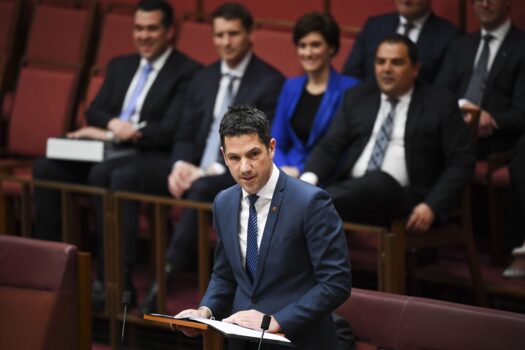 Meanwhile, Rennick wrote to Prime Minister Scott Morrison on Oct. 29 saying he would withdraw his vote, calling for a halt to vaccine mandates and an indemnity scheme for those suffering injuries from the vaccine.
"The indemnity scheme needs to be available immediately rather than start next year. Furthermore, it should kick in from the first dollar and be open to anyone who has incurred an injury, not just those who spent a night in hospital," he wrote on a Facebook post.
"This is important because people are being turned away from hospitals."
One Nation's Pauline Hanson has also promised to disrupt any government attempts to pass legislation.
"I'm going to cause so much mayhem in that parliament, as Scott Morrison is doing to the Australian people," she said last week in comments obtained by The Courier Mail.
The government currently holds 36 out of 76 seats in the Australian Senate.
Outside of bills with broad bipartisan support, the government generally relies on support from the crossbench to pass new laws.
Parliament is due for its final sitting this year from Nov. 22.
In a race to increase herd immunity, state and territory governments have issued vaccine mandate decrees and public health restrictions on unvaccinated individuals to push Australians to receive the jab.
Australians, in turn, have, with increasing regularity, held public protests and discontent with government-mandated decrees.
Tens of thousands of individuals in Melbourne marched on the weekend in one of the largest rallies, protesting vaccine mandates and the Victorian government's sweeping Pandemic Management Bill.