A shooting with disputed links to a funeral procession for slain rapper Nipsey Hussle has left two people injured and one person dead.
Los Angeles Police Department Chief Michel Moore said in a statement that 4 victims were gunned down "in the midst of this procession," which took place in Los Angeles on April 11.
Moore said three men and a woman, between the ages of 30 and 50, were shot in a drive-by.
The chief added, "We must stop this senseless violence."
The suspects remained at large at the time of reporting.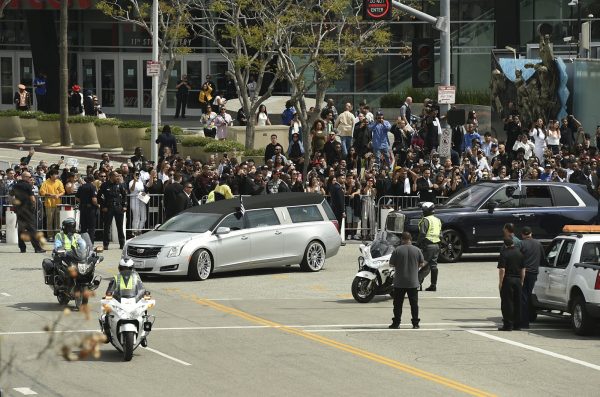 Conflicting Details
The LA Times reported that the shooting occurred sometime after the funeral procession had left Watts, the neighborhood where the gunmen opened fire from a grey Hyundai. The report added that there were "no indications at this time that the violence was connected to the memorial."
The news outlet added that, overall, there had been "no reports of violence related to the Hussle procession."
CNN reported the shooting took place "near the Nipsey Hussle procession," and "just three blocks away."
ABC10 reported that the gunfire erupted "along the procession route for Nipsey Hussle" and that the shooters fired into "droves of people lining the streets for the late rapper."
The shooting took place just before 6:30 p.m. local time, according to the timestamp on Moore's announcement.
Some Twitter users responded to the police chief's statement with criticism, with one saying that the shooting "happened 3 hours after the procession passed this area. It's irresponsible of you to link this murder with the procession."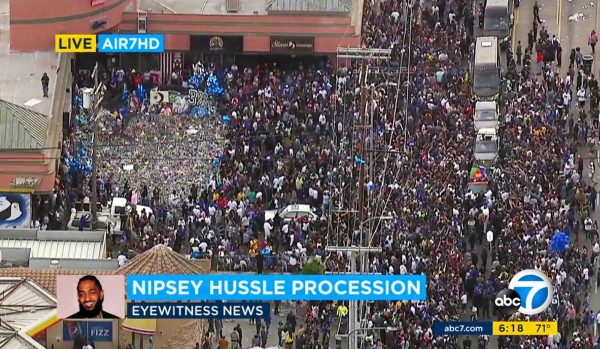 Tributes and Eulogies
Ermias "Nipsey Hussle" Asghedom was celebrated with a three-hour memorial service at Staples Center on Thursday.
The event featured tributes, performances, and eulogies from family and celebrities in front of a massive crowd at the 20,000-capacity venue.
"I'm very proud of my son. My son Ermias Joseph Asghedom was a great man," said Angelique Smith, dressed in all white. Standing onstage with Hussle's father, Dawit Asghedom, she declared, "Ermias was a legacy."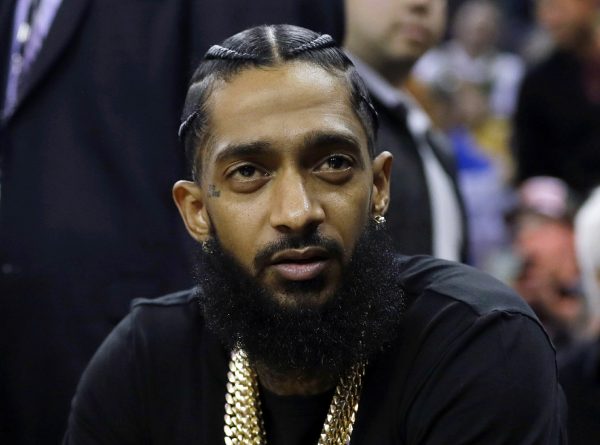 The late rapper's actress-fiancée Lauren London told the audience, "I've never felt this type of pain before."
London said she was especially sad for their son Kross, whom she feared wouldn't remember his father. "My pain is for my 2-year-old," London said.
During a speech at Nipsey Hussle's funeral, Lauren London's son Cameron says that Nip showed him "paradise" in a dream he had after his passing. https://t.co/hlUu62WEdD #CelebrationOfNipseyHussle pic.twitter.com/FtLStBMfMl

— Vibe Magazine (@VibeMagazine) April 11, 2019
Stevie Wonder was the last performer to pay tribute to Hussle, who he said he had the chance to meet, saying: "We had a good conversation." Before he sang "Rocket Song," one of Hussle's favorites, Wonder denounced gun violence and told the audience "There's enough people being killed by guns and violence."
Blogger and media figure Karen Civil read a letter sent by former U.S. President Barack Obama, who wrote: "While most folks look at the Crenshaw neighborhood where he grew up and only see gangs, bullets, and despair, Nipsey saw potential. He saw hope."
The Procession
The hearse carrying Hussle's coffin went through a 25-mile lap through the city, including past the property Hussle had planned to turn from an aging strip mall into new businesses and affordable homes.
Thousands of people crowded the streets, some on bicycles and motorcycles, following and surrounding the vehicle as it slowly wound its way to the funeral home.
Police kept an eye on the crowd, which appeared largely peaceful. At one point, people sat atop a police car spray-painted with the words: "Nips in Paradise."
Doesn't @LAPDHQ TRAIN for crowd control? Why would you allow such a huge crowd in a single area? This is NOT acceptable sir! Embarrassed by the images I'm seeing! The entire country will be laughing at #LAPD lack of control. pic.twitter.com/nXzvqL74Zt

— Jackie Martinez (@1Jax247) April 12, 2019
At one point during the procession, there was a brief stampede, apparently because of some kind of startling noise that may have been Mylar balloons popping.
Hussle was shot to death March 31 while standing outside The Marathon, his South Los Angeles clothing store, not far from where the rapper grew up.
Eric R. Holder Jr., who has been charged with killing Hussle, has pleaded not guilty.
Police have said Holder and Hussle had several interactions the day of the shooting and have described it as being the result of a personal dispute.
The Associated Press contributed to this report.