A 19-year-old man has been arrested and charged with homicide by child abuse after a 1-month-old baby girl died on Oct. 17.
Dakota Ash, 19, was taken into custody Thursday afternoon. His inmate record at the Douglas County Department of Corrections lists him as 6 feet tall and 220 pounds.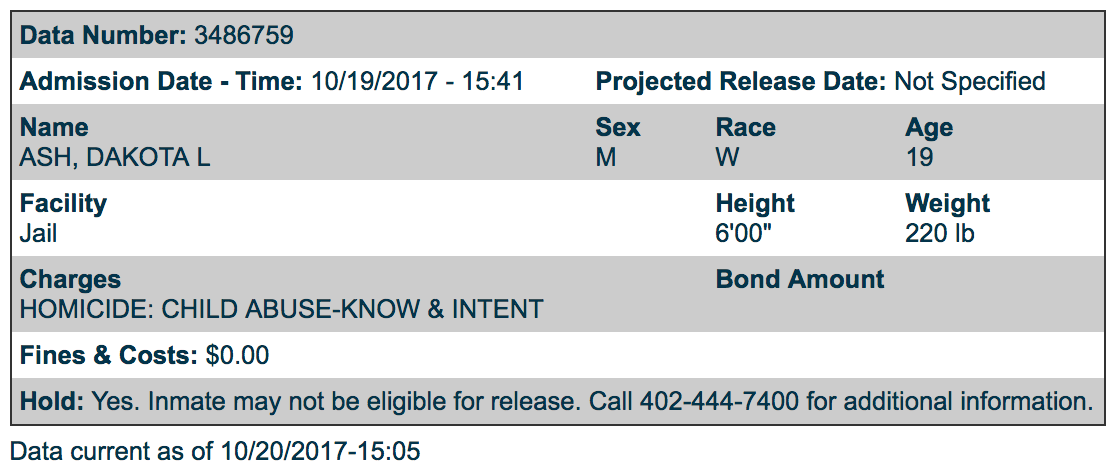 Officials told KETV that Ash hit newborn baby Micaila in the stomach and attempted to suffocate her.
An Omaha Police incident report says that police arrived on the scene at 7:33 a.m. and stood by with the victim until the Child Victim/Sexual Assault Unit arrived.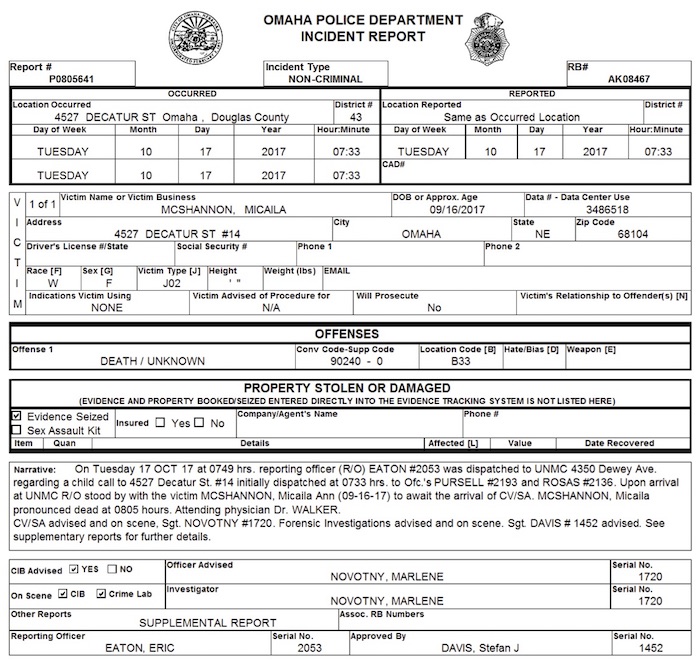 Micaila was pronounced dead at 8:05 a.m. by a Dr. Walker, according to the report.
The brief report states that evidence was seized but does not list it. It refers to a supplementary report for further details but a public information officer with the Omaha Police Department was unable to provide it.
It lists Micaila's birthday as Sept. 19, 2017.
Heather McShannon, the baby's mother, told KETV that police said Ash allegedly admitted he hit the child.
Ash has a picture of him feeding Micaila as his Facebook profile picture. McShannon had him listed as her fiancé at the time this article was published.
McShannon told KETV that she discovered her baby in her crib.
"When I had come upstairs, she was laying blue in the crib," said McShannon. "So I took her out and started performing CPR."
Later that night, she made a Facebook post apparently referring to her child's death.
She posted eight more Facebook statuses referring to her baby's passing. One of them was a post sharing a GoFundMe campaign a friend had started to help cover the Micaila's funeral expenses.
"This beautiful Baby Girl was brutally murdered at just 1 month old and needs a proper burial. Please help us raise the money to send Micaila home respectfully," it reads.
McShannon's last post said she was hiding her pain but said that deep down inside her heart was breaking.
"Why would someone do that to my baby my innocent child who couldn't do anything to defend yourself. I want justice for my daughter, she said."