Olympics-China Puts Glory Before Honour At National Games
October 24, 2005 12:00 am Last Updated: October 24, 2005 12:00 am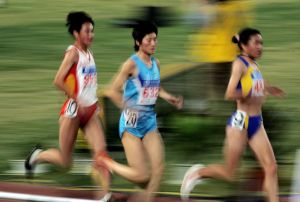 BEIJING – The many controversies which marred China&#039s National Games have raised pointed questions about sportsmanship and athletic priorities as the country prepares for the 2008 Beijing Olympics.
From doping to thrown matches to biased judging, the domestic "mini-Olympics" that ended on Sunday in eastern Jiangsu province was riddled with embarrassments blamed by some on a government-sponsored athletic culture that stresses greater glory over love of sport.
"In China, the concept of athletic spirit is too narrow. The blind pursuit of championships and titles still dominates Chinese sport," Song Jixin, director of a regional sports academy, was quoted as saying.
Almost 10,000 athletes representing 46 provinces, regions and groups, including the People&#039s Liberation Army, took part in the games, burdened with demands to bring back medals in return for potentially huge rewards from provincial authorities and local businesses.
The hosting Jiangsu province ended up with the highly coveted top spot in the medals table.
More pressure and money came from central sports authorities looking to groom new talent for the 2008 Olympics and push established athletes to give their all.
Combined Stress
By the end of the games, the stress had proved too much for many athletes, who either failed to live up to sky-high expectations or resorted to breaking the rules to do so.
Leading distance runner Sun Yingjie last week tested positive for a banned steroid.
Olympic medallist Xing Huina was denied her gold in the 1,500m for elbowing an opponent, saying after the race that she had simply wanted to win.
The women&#039s 78 kg judo final had to be replayed after one of the competitors threw the match in less than 30 seconds, while a cycling bronze medallist accused the top two finishers with deliberately blocking her and refused to accept her prize.
The controversies left audiences jaded and wondering whether the National Games are worthwhile.
"The National Games are a product of the planned economy. The event should have disappeared with the development of society," sociologist Zeng Yefu said.
"How many people pay attention to the games any more?"
Flagging interest in the domestic sports extravaganza did not stop the Jiangsu government spending at least 5.5 billion yuan ($680 million) on building venues, including a new 70,000-seat showpiece stadium.
The construction bill is equal to one third of Beijing&#039s budget for stadiums and other facilities for the 2008 Olympics.
China&#039s sports authorities appear undaunted, however, already planning the 2009 edition of the domestic games with preparations for 2008 in full swing.