More than half the country's vegetables, fruits, and nuts are grown in California's Central Valley, often called "America's salad bowl." The valley is also oil country, a strange mix that has some worried.  
Wastewater from oil production (called "produced water") is used to irrigate crops across some 95,000 acres in the valley. That's not a lot compared to the 9.6 million acres of farmland California irrigates every year, but the drought-stressed state is looking to expand the practice. Some hail it as an innovative way to recycle the massive amounts of oil industry wastewater, while others have decried the practice, saying the human health effects have not yet been studied enough in depth. 
Out of the 173 chemicals used in oil and gas fields that provide water for agriculture, as many as 66 remain undisclosed by oil companies, which classify them as "trade secrets," according to a report released in September by PSE Healthy Energy research institute. 
That means dozens of chemicals with unknown health impacts have not been tested in the water itself or in the crops grown with it. Even some of the chemicals that have been disclosed have insufficient toxicology data to determine safe levels for human consumption, according to the report.
One of the report's authors, Dr. William Stringfellow of the Lawrence Berkeley National Laboratory, is also part of an expert panel convened by the Central Valley Regional Water Quality Control Board to assess the safety of this practice.
At the most recent meeting of this panel in October, board members were mostly positive about the use of the water, noting that studies done by toxicology firm Enviro-Tox (including one released earlier this month) have shown only nine chemicals were absorbed by crops and only at low levels.


Stringfellow himself said at the meeting that these studies are encouraging. Still, he identified 46 chemicals that could be of concern and should be further tested. 
Dr. Karl Longley, the board's chair, said he is less enthusiastic about the practice than some of his colleagues, stating at the meeting: "What we have seen so far would indicate that there are things to watch out for, but we don't have any very major issues. That certainly is not a final conclusion. There are a lot of chemicals we still have to identify and we don't know where they're going to fall in that matrix."
Dale Harvey, a supervising engineer for the board, told Epoch Times via email that the board's legal counsel is working to determine how best to obtain information from the oil companies regarding the trade secret chemicals. Chevron is one of the major oil companies providing the wastewater. 
"We are calling for a moratorium on the practice until it can be proven safe," said Dr. John Fleming, a staff scientist at the Center for Biological Diversity who is part of a coalition that collected 350,000 signatures against the practice in August.
"Unfortunately, the water board is content to proceed with business as usual until it's proven to be unsafe, which is irresponsible when we're talking about our food supply and public health," Fleming said.
This practice has been going on for decades, though concerned voices have cried out against it more loudly in recent months, especially with worries it may spread as a solution to drought.
It's hard to tell what effects, if any, Americans may already be experiencing from this practice, Fleming said, since the chemicals people are exposed to on a daily basis come from a variety of sources and many of the oil industry chemicals are used in other industries as well. But further study on the use of this wastewater could help pinpoint the cause of some health problems. 
Fleming noted that wherever oil and agriculture share the same ground, this could be an issue. And how California handles it could set a precedent in similar regions, such as Texas.
He said that proponents of this practice are quick to point out that the wastewater isn't from hydraulic fracturing (fracking), since a misconception has arisen that fracking water is being used to irrigate crops. "But the chemicals that you find with just classical oil extraction can be just as deadly," he said.
Where the Water Comes From
When oil comes out of the ground, water that is naturally underground comes up with it. Every barrel of oil is accompanied by approximately 17 barrels of this wastewater, said California's Department of Conservation spokesman Don Drysdale via email.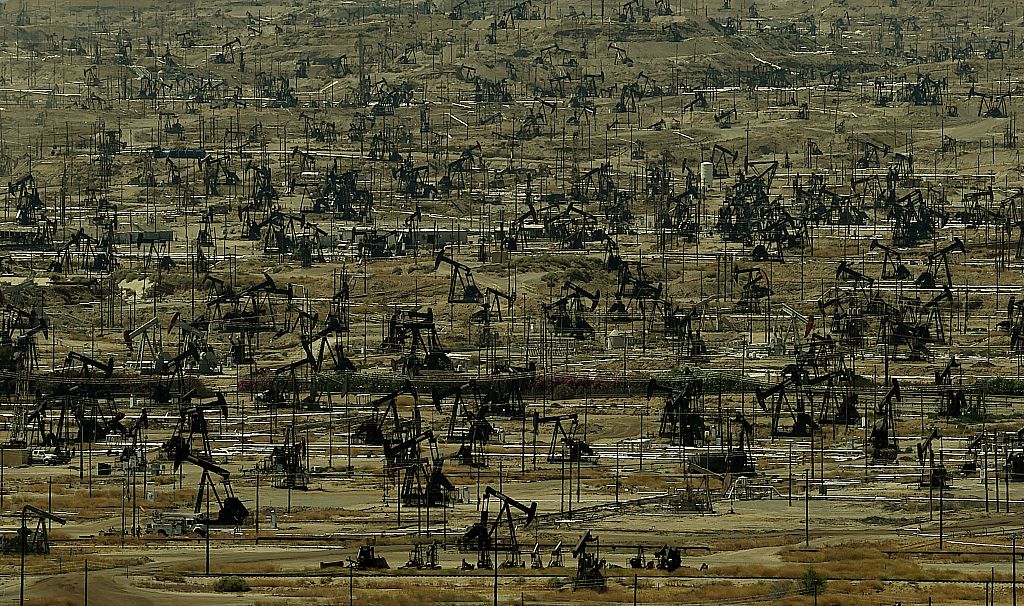 This water can contain natural materials from deep underground that may be harmful when brought to the surface, as well as the many chemicals used in oil production, such as those used to treat and clean wells, Fleming explained.
Among them are napthalene, ethylene glycol, and ethyl benzene, all of which are known or potential carcinogens.
Although the water is filtered and blended with fresh water, and goes through multiple testing phases, Fleming said the fact that those tests don't detect all potentially harmful chemicals makes them poor safeguards.

Monterey County Votes to Restrict Industry 
On the Nov. 8 ballot, Californians in Monterey County voted in Measure Z, which imposes major restrictions on oil wastewater disposal, among other restrictions on the oil and gas industry in the region.

The industry will no longer be able to dispose of wastewater by injecting it deep underground or by dumping it in above-ground disposal ponds.
Proponents of Measure Z, who include celebrities like Leonardo DiCaprio, worry that groundwater used for drinking and agriculture could be polluted by these disposal practices. Monterey County alone provides the United States with about 60 percent of its lettuce, 60 percent of its celery, and 50 percent of its broccoli, as well as other vegetables and fruits. 
Damon Nagami, an attorney working with the Natural Resources Defense Council, supported the ban. He's concerned the oil industry increasingly may use this wastewater to irrigate crops. 
"There's no really good way to dispose of toxic wastewater," he said. "The industry is going to have to figure out what to do under this new regime."
Opponents of Measure Z say the wastewater is filtered and safe. Norm Groot, executive director of the Monterey Farm Bureau, commented via email: "Water [from oil production] that percolates into the groundwater basin is actually cleaner than the natural water already in the basin. With the heightened concerns about our water supplies during the drought, any water that can be contributed to our groundwater basin is a welcome addition to our resources each year."
Stanford scientists Robert Jackson and Mary Kang, however, have expressed concerns that the deep aquifers are not being well monitored. "No one's following them through time to see how and if the water quality is changing," Kang said in a Stanford news release in June announcing their study of how much groundwater California has. 
Jackson and Kang said oil and gas drilling activities have been occurring in as much as 30 percent of the sites where deep groundwater resources are found in California's main agricultural region.