The Rose Bowl hosted an offensive shootout between the #6 Ohio State Buckeyes (11–2) and the #10 Utah Utes (10–4); OSU quarterback and receiver broke records in their comeback win, 48–45, from a two-touchdown deficit on Saturday in Pasadena.
Unable to slow down the Utes in the first half, the short-handed Buckeyes found the resolve to overcome a 21–35 deficit at halftime; winning on a tie-breaking 19-yard field goal by Hoah Ruggles with 0:09 remaining.
Buckeyes QB C.J. Stroud, from nearby Rancho Cucamonga, threw for a Rose Bowl record of 573 yards, completing 37 of 46 for six touchdowns and an interception. He was three yards shy of breaking the all-time record for bowl games held by Ty Detmer and Byron Leftwich.
The passing record is quite remarkable considering OSU was missing two starting receivers, Chris Olave and Garrett Wilson, who opted out of the game, to not risk injury for the NFL; left tackle Nicholas Petit-Frere and defensive tackle Haskell Garrett also opted out.
Stroud was accepting of the challenge, stating, "I'm excited for the young guys to play."
"It's emotional for me," added Stroud. "It's like I'm dreaming right now. I was able to come home and win the Rose Bowl like this. This is the Rose Bowl. This is where the legendary games are being played."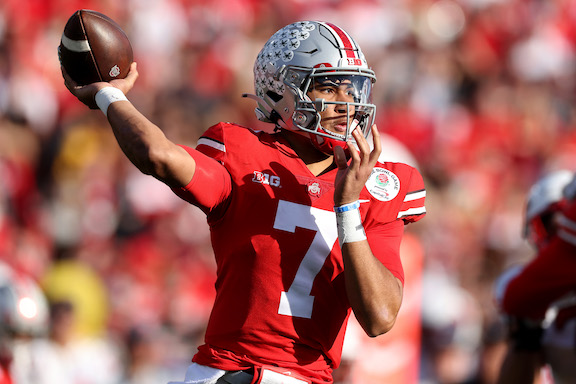 "I'm just blessed by God, to be honest," Stroud continued. "Opportunities came my way, and it's what I pray for. So I'm not really surprised. I can't be surprised for what I praying for. So I'm just really blessed."
The Buckeyes prevailed as Sophomore receiver, Jaxon Smith-Njigba, shattered the all-time bowl receiving record with 347 yards on 15 catches for three touchdowns; his longest was 52 yards. The Rose Bowl record was held by USC's Keyshawn Johnson, in 1996, of 216 yards.
Smith-Njigba's performance broke several OSU receiving records. The first, held by Cris Carter in 1985 of 172 yards receiving in a bowl game; as well as Terry Glenn's 1995 single-game school record of 253 yards. He further broke the season total record with 1,606 yards, which was held by David Boston in 1998.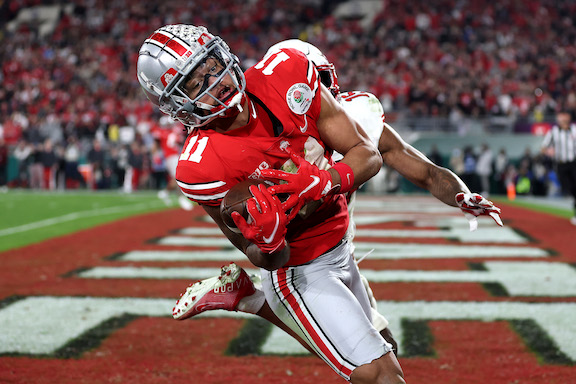 "Our team is built on fighting," Smith-Njigba said. "It doesn't matter if we're up, down. We were down the first half, but we just had to stay level-headed and keep fighting."
Freshman Marvin Harrison Jr. also contributed with 6 receptions for 71 yards, and three touchdowns. Stroud, Smith-Njigba, and Harrison are all expected to return next year for the Buckeyes.
The win gave OSU coach Ryan Day his second bowl victory "To come out in the second half and play the way we did says a lot about this team," said Day. "We were short-handed, and for us to respond the way we did at halftime says a lot about the character of this team."
"Well, a bunch of guys made a decision at halftime," added coach Day. "We talked about how a couple years ago, we were playing the Big 10 championship game against Wisconsin, and a bunch of guys in the locker room stood up and said we're gonna play better in the second half. That happened here. For us to play the way we did down a bunch of guys in this game, and to come back and show that, builds unbelievable momentum for next year. And really some gutsy performances across the board, and great to send out our seniors out the right way."
For Utah, the team overcame two recent tragedies. Ty Jordan died from an accidental self-inflicted gunshot over a year ago. On Sept. 26, 2021, Aaron Lowe was killed; his mother, Donna Lowe-Stern, was asked by coach Kyle Whittingham to address the team on her son's passing. She said, "I would love y'all to stay focused and keep playing because that's what Aaron would want."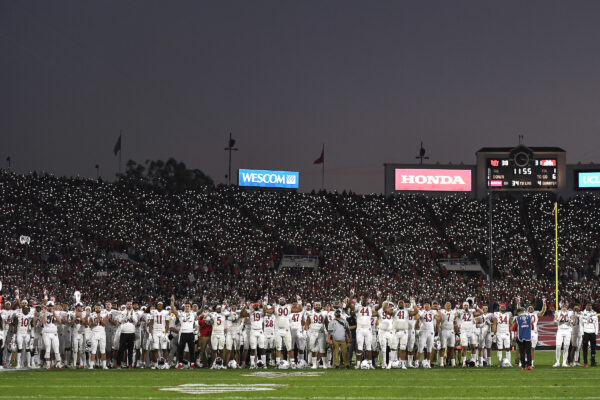 Utes sophomore QB Cameron Rising had a big day completing 17 of 22 passes for 214 yards, and two touchdowns passing. He led the team in rushing with 92 yards on 11 carries and also had a touchdown run.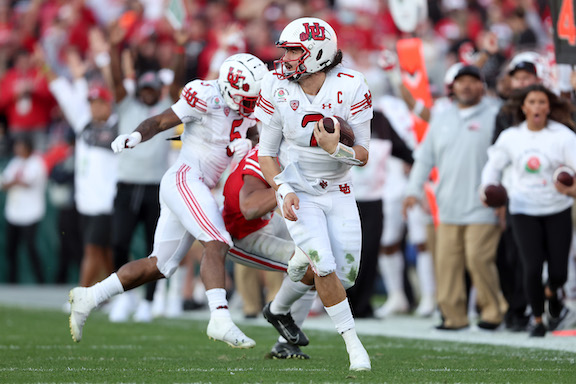 Following an OSU touchdown to tie the game at 38, Rising was taken out after laying on the ground for several minutes following a sack, with about 10 minutes left in the game. His head hit the ground hard as he was unable to brace himself, while attempting to rid the ball to avoid the loss of yards. Rising would not return, and was replaced by Bryson Barnes, who had yet to throw a pass in a game.
The Utes were forced to punt unable to get a first down, and OSU broke the tie on a nine-play 85-yard drive to lead 45–38. The touchdown came on a Stroud completion to Smith-Njigba of 30 yards.
Against the OSU momentum, Utah freshman quarterback Barnes led the Utes on a six-play 57-yard drive to tie the game, 45–45, on a 15-yard touchdown completion to Dalton Kincaid with 1:54 remaining. It was one of two completions on the drive, which was aided by two defensive pass-interference penalties.
OSU would have the final drive of 56 yards, and kick the winning field goal by Ruggles on a 2nd 1, with 9 seconds left in the game.
"All we needed was 30 more seconds, if that," Barnes said. "Get down the field, tie it, and head to OT. But we didn't get enough time. A lot of dudes are sad, but there's not a lot to hang our heads on. We've been through the lowest of lows and highest of highs, but we made Utah football history today."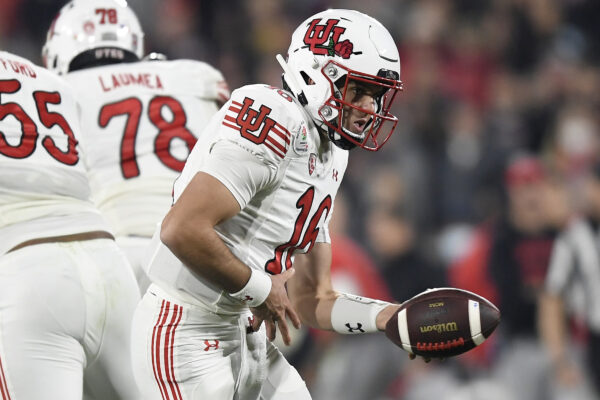 "At some point, we have to play defense," Whittingham said. "We didn't play very well all night long on defense. It wasn't our usual. Not sure we'd be able to get a stop."
Utah receiver Britain Covey contributed greatly returning kick-offs for 208 yards, which included the 97-yard touchdown return midway through the second quarter to give the Utes a 28–14 lead. He also had 34 yards receiving and 10 yards rushing. He gave his best effort on the final kickoff return but was eventually tackled after a circling run that ended the game.
"Just proud of this team, and this program … this university," said Covey. "I just have a great love for the University of Utah, and," he apologized, while in tears, for not being able to finish his statement.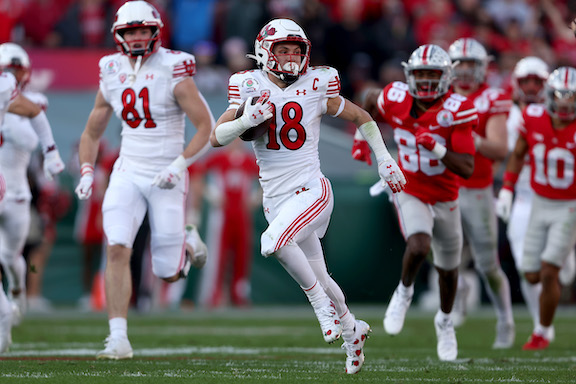 In a relatively short period of time, Utah ascended from a mid-major into one of the leading programs in the Pac-12, a Power Five Conference. They are ranked #10 or #11, depending on the poll, and the performance in this game provides argument that they are deserving of being in the top ten.