A wife and a mother of three, Lisa would only disclose her first name as she stood outside Victory Christian Church in Kettering, Ohio, on April 29 following a "Faith and Freedom" rally where GOP U.S. Senate candidate Josh Mandel was joined by Sen. Ted Cruz (R–Texas).
"I want to tell you what I think, but I'm hesitant to use my full name because there is so much emotion among people," said Lisa, who lives in Warren County, a region in southwest Ohio that is mostly conservative.
"You would think that you could have your own opinion about who you support in your own party, but that's not the case. I'm either voting for Josh Mandel or J.D. Vance. I'm still not sure."
Lisa's comments reflect a common theme among Republican voters as the May 3 GOP U.S. Senate primary is hours away. Ohioans are divided, and many are undecided.
Vance, the "Hillbilly Elegy" author and venture capitalist; and Mandel, a former Ohio state treasurer and state representative; are in a crowded field that also includes Cleveland investment banker Mike Gibbons, Ohio state senator Matt Dolan, former Ohio Republican Party chairwoman Jane Timken, central Ohio entrepreneur and activist Mark Pukita, and Columbus businessman Neil Patel.

Polling over the past month illustrates the uncertainty.
On April 15, the Trafalgar Group released a survey that found Mandel leading with 28 percent, followed by Vance (22.6 percent), Gibbons (14.3 percent), Dolan (11.6 percent), Timken (7.5 percent), central Ohio entrepreneur Mark Pukita (2.1 percent), Columbus businessman Neil Patel (0.8 percent), and 13.1 percent undecided.
The poll also showed that 54.9 percent of respondents, who are likely GOP primary voters, are either "more likely" or "much more likely" to vote for a candidate endorsed by Trump, who announced he was backing Vance hours later.
On April 27, Fox News published the first independent poll since Trump's endorsement of Vance. In that poll, Vance claimed a five-point lead at 23 percent compared to Mandel's 18 percent.
Gibbons (13 percent), Dolan (11 percent), and Timken (6 percent) finished in the distance with 25 percent of the respondents saying they are undecided.
On April 28, a poll conducted by Fabrizio, Lee & Associates and commissioned by pro-Vance PAC Protect Ohio Values showed Vance in first place with 39 percent followed by Mandel (17 percent), Dolan (14 percent), Gibbons (11 percent), and Timken (7 percent).
On May 1, Emerson College released a survey conducted from April 28 to April 29 that found Vance leading with 26 percent followed by Mandel at 24 percent, Dolan at 21 percent, and Gibbons at 17 percent.
The Trafalgar Group revealed its newest poll, conducted April 29 to May 1. Vance sits atop the field with 26.2 percent followed by Dolan (22 percent), Mandel (20.8 percent), Gibbons (13.1 percent), Timken (5.7 percent), Pukita (1.9 percent), and Patel (1.7 percent) with 8.6 percent undecided.
Mandel led in the polls for several months, and then Gibbons' campaign gained momentum. For a short time, he was even with Mandel ahead of the rest of the field. Then Gibbons and Mandel engaged in a heated on-stage altercation during a debate on March 18.  That is when Vance's campaign picked up steam.
Former President Donald Trump endorsed Vance on April 15, citing the conduct of Gibbons and Mandel on March 18, and Vance's chances of defeating likely Democratic party primary winner Tim Ryan in the general election.
"I've studied this race closely and I think J.D. is the most likely to take out the weak, but dangerous, Democrat opponent—dangerous because they will have so much money to spend. However, J.D. will destroy him in the debates and will fight for the MAGA movement in the Senate," Trump wrote in a statement.
"It's time for the entire MAGA movement, the greatest in the history of our country, to unite behind J.D.'s campaign because, unlike so many other pretenders and wannabes, he will put America first," Trump added. "In other words, J.D. Vance has my complete and total endorsement."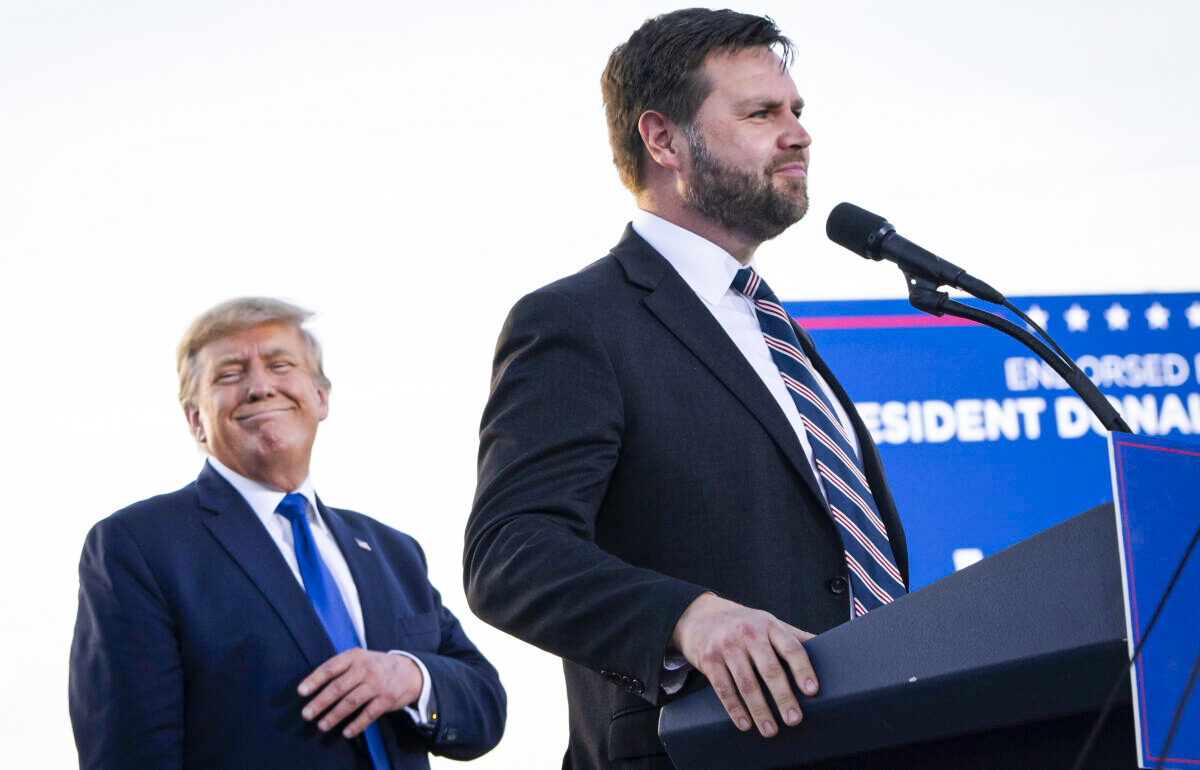 Lawrence and Karen, a married couple from Greene County, stood in line after Mandel's rally in Kettering to ask the candidate some questions. They are contemplating voting for Vance or Mandel.
"We're Trump supporters, and we didn't like what J.D. Vance said about Trump in the past, but we're also concerned that Josh Mandel has received so much support from (conservative PAC) Club for Growth and that J.D. Vance is funded by Peter Thiel," Lawrence said. "Will that money and support have strings attached?"
For months, the pro-Mandel Club for Growth has drawn from its multi-million dollar chest to fund attack ads against Vance, focusing on the disparaging remarks he made about Trump in 2016.
Thiel, who is the co-founder of PayPal and Facebook's first outside investor, has contributed $13.5 million to the pro-Vance Protect Ohio Values PAC.
Different Backgrounds
Mandel and Vance have different backgrounds.
A Cleveland area native, Mandel earned a law degree from Case Western Reserve University and is a U.S. Marine Corps veteran who served two tours in Iraq. The 44-year-old father of three entered politics on the Lyndhurst City Council before serving two terms as a state representative and then state treasurer from 2011 to 2019.
Mandel ran for the U.S. Senate in 2012 and was defeated by Democrat Sherrod Brown in the general election. He sought to unseat Brown in 2018 but eventually dropped out in a GOP primary won by former congressman and current Ohio GOP gubernatorial candidate Jim Renacci, who lost to Brown that November.
Vance was raised in Middletown, Ohio, and graduated from Ohio State University and Yale Law School. He is also a U.S. Marine Corps veteran.
Unlike Mandel, this is Vance's first bid for a political office. His resume includes working for Thiel's fund Mithril Capital in San Francisco before launching Narya Capital, an Ohio-based company partly funded by Thiel.
Vance became a recognizable name in 2016 when "Hillbilly Elegy: A Memoir of a Family and Culture in Crisis" was published. The book depicts Vance's family's struggles in Appalachian Kentucky and his mother's addiction during his childhood in Middletown.
"Hillbilly Elegy" shot to the top of the New York Times and USA Today bestseller lists. It was adapted into a Netflix movie that was directed by Ron Howard and nominated for two Academy Awards. The paperback, audio, and e-book versions are still widely sold and read.
While Vance has traversed Ohio with his "No BS" town hall forums, Mandel has centered his campaign on "Faith and Freedom" rallies at churches.
In March, a group of 114 clergy members wrote an open letter endorsing him.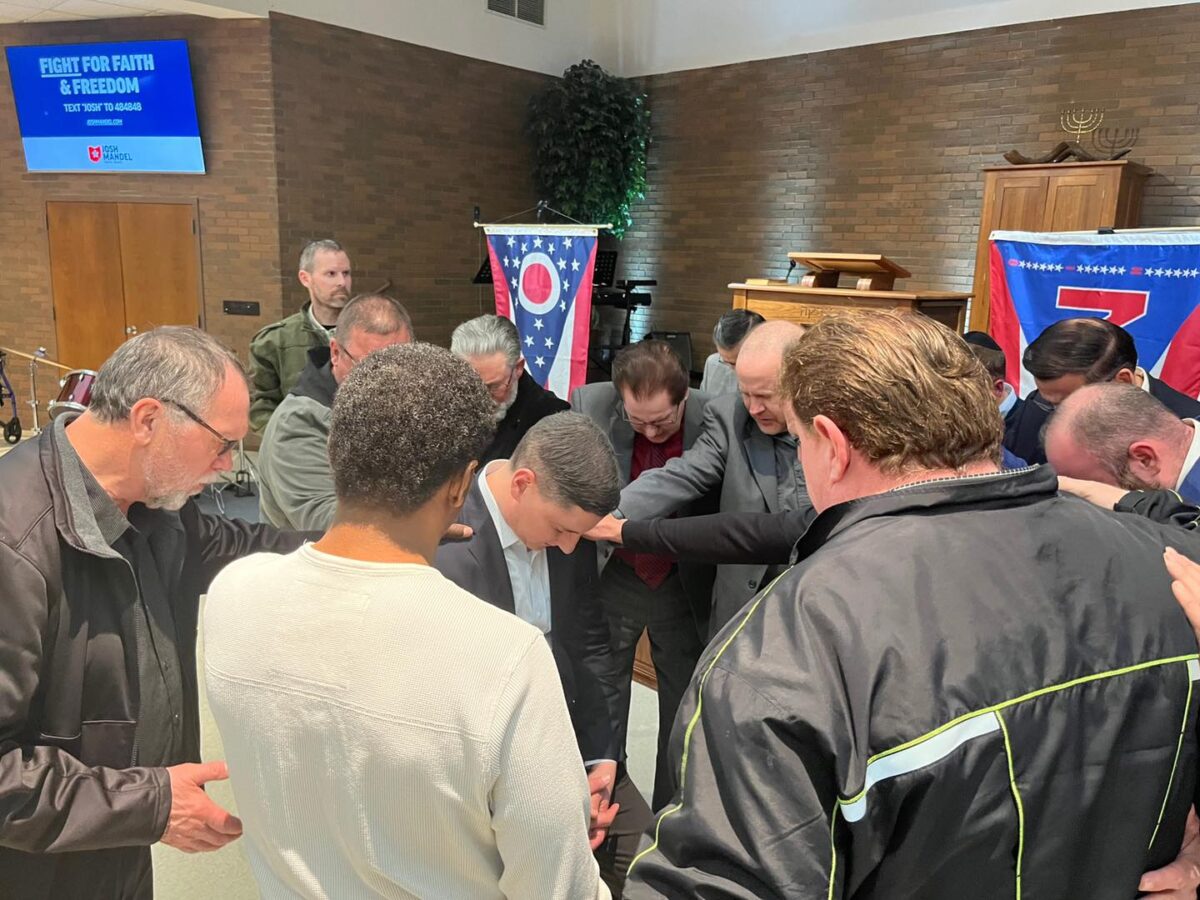 "The mantra of our campaign is pastors over politicians," Mandel said. "I'm more interested in earning the support and endorsements of pastors, Christian activists, and citizens who are Christians than getting approval from politicians."
Mandel is endorsed by Cruz, former Trump national security adviser Lt. Gen. Michael Flynn, North Carolina Rep. Madison Cawthorn and Utah Sen. Mike Lee along with organizations like Ohio Value Voters, the Right to Life Action Coalition of Ohio, National Association for Gun Rights.
Vance has picked up the support of former president Trump, Donald Trump Jr., Rep. Marjorie Taylor Greene (R–Ga.), Rep. Matt Gaetz (R–Fla.), Josh Hawley (R–Mo.), and Turning Point USA founder Charlie Kirk along with Ohio Right to Life and Penny Nance, the president of Concerned Women for America.
Mandel and Vance have similar stances on multiple issues. They both advocate for ending abortion, finishing Trump's wall on the U.S.-Mexico border, eradicating Critical Race Theory, restoring America's manufacturing base, dismantling big tech censorship, reforming election processes and establishing an election day, and protecting Second Amendment rights.
They have spoken out against COVID-19 mandates, and both believe the 2020 presidential election was "stolen" from Trump, though Mandel is more direct on that stance.
"Let me say it very clear: I believe this election was stolen from Donald Trump," Mandel firmly exclaims at every campaign stop.
Mandel has advocated for a European-led no-fly zone in Ukraine while Vance believes only humanitarian aid and weapons should be sent to support Ukraine's military, and that a stronger emphasis should be directed to the border crisis.
"Regardless of whether you get into the weeds of what's going on in Ukraine or what's going on in Russia, it is not in our vital national security interest," Vance said at a town hall in Centerville, Ohio, last week.
"I think it's disgusting that for four years Donald Trump could not get $4 billion out of the Republican Congress to build a wall at the southern border. Meanwhile, Joe Biden got $14 billion in a week to send to Ukraine."

While Mandel has remained in first place—or at least among the leaders in the polls since entering the race last year—and Vance saw a surge amid his strong debate performances and the April 15 endorsement from Trump, Dolan's presence near the top of The Trafalgar Group survey shows a rapid rise.
A state senator whose family owns the team formerly known as the Cleveland Indians, Dolan is the lone GOP candidate who has not openly sought Trump's endorsement.
"From Day One, I have said this race needs to be about Ohio," Dolan said after Trump announced he was backing Vance.
"Jane Timken, Josh Mandel, Mike Gibbons and J.D. Vance have instead embraced lies and undermined the Constitution to go all-in for one endorsement.
"They cheapened their candidacies and the integrity of the office they wish to attain with campaigns that are now in chaos as ballots are being cast. Make no mistake, this is how they will serve if handed power."
Dolan Gains Momentum
Unlike his opponents, Dolan has said he believes businesses should have the right to implement vaccine mandates, and that Joe Biden is the duly-elected president.
He has also supported Ohio Gov. Mike DeWine's handling of the COVID-19 crisis, and he has praised retiring Sen. Rob Portman, a moderate Republican who has drawn the ire of Mandel, Vance, Gibbons, and Pukita.
"Ohio Republicans want somebody who's talking about their financial security, their neighborhood security, their border security, international security," Dolan said.
"President Trump was a Republican president who did some Republican ideas and executed on them. And our country was stronger. Our economy was better," he added.
"Voters want to look forward. I'm not looking backwards. I'm focusing on stopping the Biden agenda and preparing for tomorrow's opportunities where we set a Republican agenda."
Dolan's father, Paul Dolan, decided to change the moniker of the Cleveland Indians to the Guardians, a move that went into effect after the 2021 season ended.
Trump criticized Dolan for his family's decision.
"Anybody that changes the name of the once-storied Cleveland Indians to the Cleveland Guardians should not be running for the United States Senate representing the great people of Ohio," Trump said when Dolan entered the race last September.
The Atlanta Braves and the Florida State Seminoles, Trump noted, have not changed their nicknames.
"Despite this, a man named Matt Dolan, the son of the owner of the team, said he is against Cancel Culture. Do those two things really work together?" Trump wrote.
"In any event, I know of at least one person in the race who I won't be endorsing. The Republican Party has too many RINOs!" he added, referring to "Republicans in name only."
In a recent radio interview, Dolan chose to focus on his platform to improve Ohio.
"We have outsiders. We have Marjorie Taylor Greene, Matt Gaetz coming into Ohio to tell Ohioans how they should vote for J.D. Vance," Dolan said. "Ohioans don't even know, so now we have to rely on outsiders? Josh is closing with Ted Cruz coming in. This is about Ohio."
While Dolan appears to be peaking, Gibbons' campaign has waned since the March 18 debate when he went nose-to-nose with Mandel.
On the stage in suburban Columbus, Mandel claimed that Gibbons had shipped American jobs overseas and questioned his alleged investments in Chinese companies.
Gibbons responded by telling Mandel he had never worked in the private sector. Mandel sprung from his chair, went nose-to-nose with Gibbons, and the pair exchanged heated words before they were separated by the moderator.

At the time, Gibbons had caught Mandel in the polls and two were deadlocked. While Mandel has remained near the top of several polls since, Gibbons has seen his numbers decline.
The affable Gibbons, who is 70, grew up in working class Parma, a Cleveland suburb. He serves as senior managing director of Brown Gibbons Lang & Company, an international investment bank and financial advisory firm that he created in 1989 above a dentist's office with a desk and a phone.
'I'm A Businessman'
Gibbons' platform is similar to what Mandel and Vance believe, but he believes that his negotiating skills cultivated by decades in investment banking differentiate him from his opponents.
"I'm a businessman, not a politician," Gibbons says at his campaign stops.
"My success is built on ideas and solutions, and gaining the trust of executives to incorporate those ideas and solutions," he added.
"I can help generate a positive impact for the country in the Senate at a time when it is challenging to accomplish what is needed to restore American principles and values."

Gibbons ran against Renacci in the 2018 GOP Senate primary and lost. A pro-Trump candidate, he has poured more than $12 million of his own money into his current senate campaign.
Gibbons expressed disappointment after not gaining Trump's endorsement, but like Mandel, he said that he would gladly accept Trump's backing in the general election.
While Mandel was joined by Cruz over the weekend, and Vance was traveling around Ohio with Greene and Gaetz, Gibbons continued a bus tour that has reached all of Ohio's 88 counties.
"We had a lot of people that came up and said 'we voted for you,' 'we're going to for you,'" Gibbons said on May 1 in northwest Ohio. "It's what we felt all over the state. We have a lot of support and this election's not over."
Perhaps the candidate most affected by Trump's decision to endorse Vance is Timken.
During debates and campaign stops, she says that Trump endorsed her to become the Ohio Republican Party chairwoman in 2017, and she helped "deliver Ohio for Donald Trump" in 2016 and 2020. Trump won Ohio by eight points in both elections.
Timken's campaign was focused on Trump—until the former president gave Vance his stamp of approval on April 15.
"While I was traveling over 150,000 miles across Ohio doing that important work for the America First agenda, J.D. Vance was in Silicon Valley and cable news studios trashing President Trump, calling him an 'idiot,' 'noxious,' and publicly considering voting for Hillary Clinton to stop Trump," Timken said after learning of Trump's decision.
"Ohio voters want someone who has fought and delivered for the America First movement—and won't support an elitist who insulted their intelligence and then pretended to be MAGA when it suited his political ambitions."
Timken is endorsed by Portman, former Trump adviser Kellyanne Conway, and South Dakota Governor Kristi Noem.
Over the weekend, she was in Lima making one final push for an improbable victory on May 3.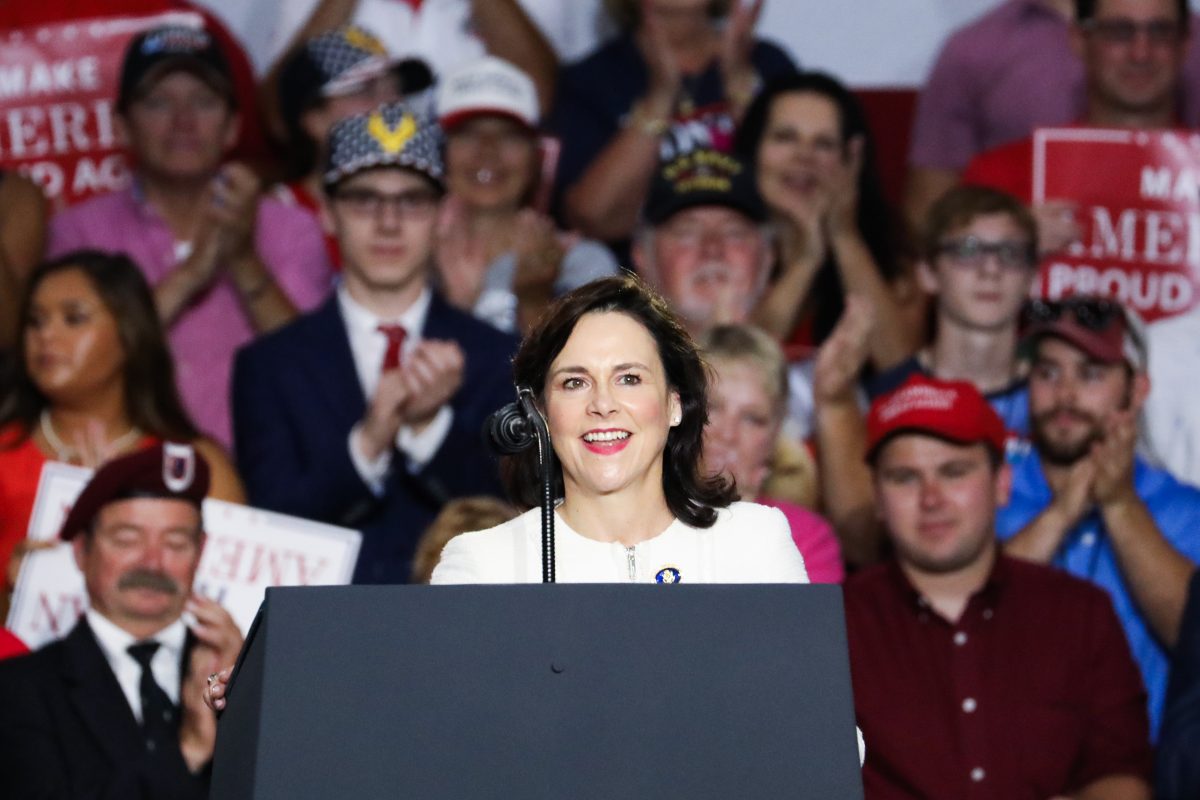 "I have been in the trenches fighting for those American-first policies when we had had energy independence, strong and secure border. America was strong in the world we need to get back to those days," Timken said.
"The question is who do you trust to fight for you and your family. I have been in the trenches fighting for Ohioans, I am going to continue that fight in the U.S. Senate."
Citizens' Candidate
While his opponents talk about their backing from Trump allies, Pukita is a self-described "citizens' candidate."
He jokingly says that he is "endorsed by my mother," and he dismisses the validity of endorsements, pointing out that "there are always strings attached."
Pukita is rarely included in polls, and when he is, his numbers are below two percent. He has not been included in most debates, though he points out he was the only candidate to "step up and run against Rob Portman" before the current senator decided to retire when his term expires at the end of 2022.
A central Ohio resident, Pukita earned a degree in electrical engineering from the Ohio State University. With $1,000, he founded an IT staffing firm called Fast Switch in 1996 and sold it to employees in 2019.
Instead of retiring, or moving on to another venture, he chose to run against Portman, who "never did what he was sent to Washington to do. He rolled over and became part of the swamp."
The outspoken Pukita is running for a Senate seat while also serving as an activist who attends rallies against COVID-19 mandates, addresses the Ohio Board of Education against CRT, and holds events designed to bring attention to changing "the corrupt Ohio Republican Party."
Pukita understands it is an uphill battle to defeat opponents who are funded by PACS and endorsed by high-profile figures, yet he believes his grassroots campaign is already seeing a positive impact.
"I am doing two jobs at the same time. Everyone else is just running their campaigns, reacting with comments to current events, and claiming what they will do if they get elected," Pukita said.
"I am running my campaign, emphasizing a detailed platform, and demonstrating that I put words into actions by working as an activist. I am the only true fighter in this race, and what I am doing shows that."
Early voting ends in Ohio on May 2 and the primary will take place on May 3.