HUNTINGTON BEACH, Calif.—Preliminary findings of the massive oil spill off the coast of Huntington Beach show it may have been caused by a ship's anchor.
Federal transportation investigators said Oct. 5 the spill was possibly "caused by an anchor that hooked the pipeline, causing a partial tear," according to the Associated Press.
"We do not have confirmation as to how the pipeline ruptured," Petty Officer Steve Strohmaier of the U.S. Coast Guard Joint Information Center told The Epoch Times. "We are looking into a dropped or dragged anchor as a possible cause, but this is all under investigation currently."
The head of the company that operates the pipeline said after the line was ruptured, it was dragged across the ocean floor.
"The pipeline has essentially been pulled like a bowstring. And so at its widest point, it is 105 feet away from where it was," Amplify CEO Martyn Willsher said at a news conference.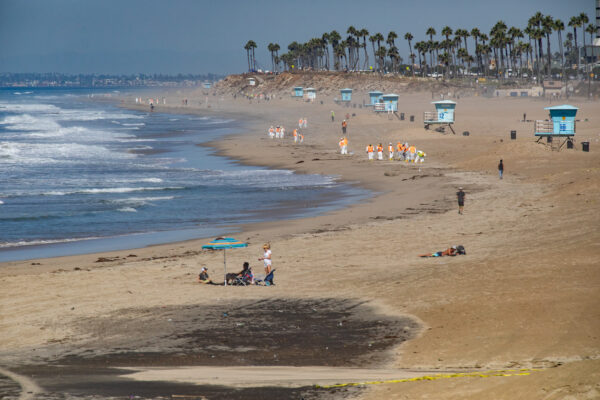 As the massive lineup of arriving container ships grows each day, it is now taking weeks to reach their port destinations in Los Angeles and Long Beach resulting in many of the ships dropping anchor to wait it out, thus expanding the anchorage field into areas not normally so broad-reaching.
"This has happened with ships anchoring and hitting pipelines and cables," Dr. Sal Mercogliano, associate professor of history at Campbell University in North Carolina, told The Epoch Times.
"As the anchorage gets fuller, the issue is safe anchorage sites."
Mercogliano referenced a November 2016 article in Popular Mechanics magazine about a ship's anchor slicing through three different undersea or submarine internet cables running along the seabed of the English Channel, likely caused by the ship at fault dragging its anchor along the channel's floor scraping an off-limits area where the cables ran. Fixing the issue took the companies involved almost three weeks to remedy.
As of Oct. 5, there are 63 container ships anchored at the port of Long Beach, which is one more than last week.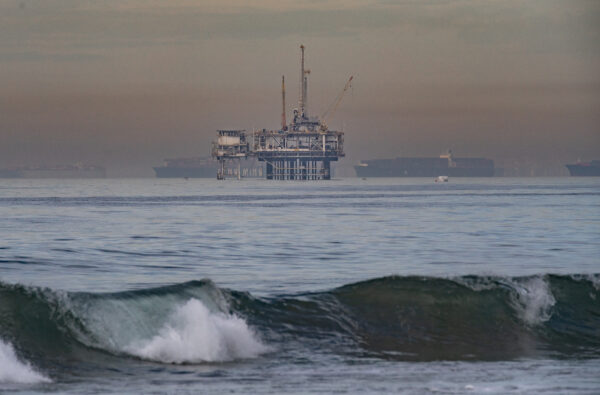 A similar blunder occurred in 2008 when a ship dropped anchor and severed cable to Dubai leaving 75-million people in the city and region with severely limited internet access.
Of the many issues plaguing seaports around the nation is the difference in working shifts when it comes to outgoing and incoming traffic from around the world.
"One of the issues here, is Long Beach is unique in that if you look at terminals and ports around the world, they're much more automated, using much more technology to facilitate the moving of goods, and that's one of the problems you have," Mercogliano said.
"The cargo there is being loaded in terminals in East Asia that are working 24/7. Whereas the receiving ports, at least on our end, are not. They are working two shifts in L.A. and Long Beach and weekends are hit and miss depending on the port and the terminal."
Leak Contained, Cleanup Response in Full Swing
On Saturday, Amplify Energy Corp. announced that its subsidiary Beta Offshore first observed and notified the U.S. Coast Guard of an oil sheen approximately four miles of the coast of Southern California and initiated its Oil Spill Prevention and Response Plan, sending its remotely operated vehicle to investigate and attempt to confirm the source of the release.
The company said it has shut down all production and pipeline operations at the Beta Field until further notice, and that it is working cooperatively with the Coast Guard and California Department of Fish and Wildlife's Office of Spill Prevention and Response (CDFW-OSPR).
That same morning, the U.S. Coast Guard, California state officials, Orange County Harbor Patrol, and Huntington Beach Marine Safety Division responded to reports that the oil spill was approximately 13 square miles in size, located about three miles from the Newport Beach coast.
"There are third-party oil spill response organizations that are on the water in skimmer vessels and individuals on land helping to safely dispose of the oil," Coast Guard Petty Officer Strohmaier said.
"There is no oil leaking from the pipeline and the rigs have been shut down. The company has not experienced anything like this in the past."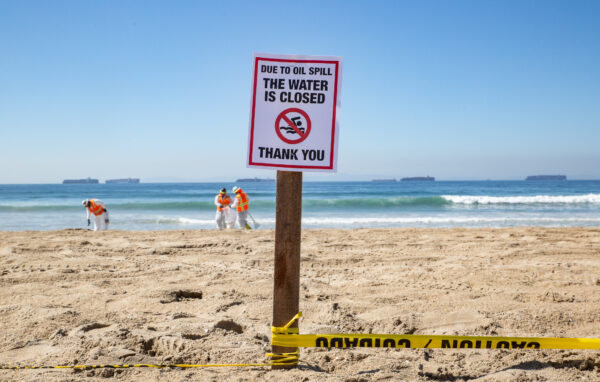 "Over the weekend, we saw our worst fears come to life with the catastrophic oil spill off our coastline. I live in Laguna Beach and I am personally devastated by this news," said California Assembly Woman Cottie Petrie-Norris in a statement released Monday. Petrie-Norris represents the 74th District being affected by the spill.
"As your representative, I'm working to ensure that all of our resources are being used to fight this. I just joined the U.S. Coast Guard for an aerial tour of the oil spill site and want to share as much information with you as possible," she said.
Shutdowns Continue, Resources Available
Officials are reporting that the spill involves approximately 144,000 gallons of oil and that Amplify and Beta Offshore are cooperating with the Coast Guard and incident management team to repair the leak, clean the spill and protect the environment from greater impact.
As of Sunday, a total of 3,150 gallons of oily water contaminants had been recovered, nine boats were dispatched for oil spill recovery operations, three shoreline assessment teams dispatched and 5,360 feet of boom deployed.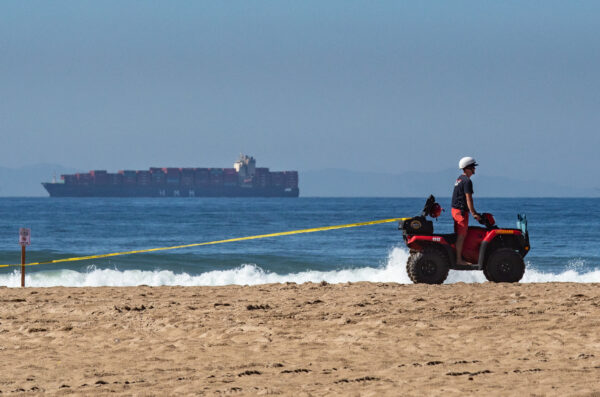 A significant amount of ecological damage has already been incurred, including the loss of birds and fish reported washing up on shores from Huntington Beach to San Clemente and beyond. All fisheries in the impacted area are now closed until further notice to allow for investigations into fish populations in the impacted area. Boats will not be allowed to enter or exit Newport Beach Harbor at this time. Impacted boaters are requested to go to Huntington Beach Harbor or Long Beach Harbor. At this time there is no date or time to re-opening Newport Beach Harbor.
As the oil slick continues to move, discussions are underway of the possible closure of harbors south of Newport Beach. Boaters are advised to make appropriate preparations at this time.
In addition, the County of Orange and the Cities of Laguna Beach, Huntington Beach, Newport Beach have closed all beaches. The Orange County Health Care Agency issued a brief health advisory for residents exposed to oil contaminants.
Members of the public are being asked to avoid assisting with cleanup in the oiled areas. Trained spill response contractors are working to clean up the oil. Public volunteers are not requested at this time, but information can be found at https://calspillwatch.wildlife.ca.gov/Volunteer. If anyone encounters oiled wildlife, please avoid contact and call the Oiled Wildlife Care Network at 1-877-823-6926.
Those experiencing business revenue loss or damage to their property from the disaster can call a special hotline established by Amplify and their partners to help impacted parties file claims. That number is (866) 985-8366.