LAGUNA NIGUEL, Calif.—Orange County officials declared a local state of emergency May 12 after a fire scorched over 200 acres in Aliso Canyon, burning through suburbs with multi-million-dollar homes, destroying more than 20 homes and damaging 11, and injuring two firefighters.
Authorities said firefighters had contained 15 percent of the fire as of 5:00 p.m. Thursday.
Both injured firefighters were treated at a nearby hospital and released shortly afterward.
"It's been a long night for the people living in Laguna Niguel, and my thoughts and prayers go out to all the people who've been affected by this terrible fire," Orange County Supervisor Lisa Bartlett said during a May 12 press conference. "The fire has been devastating for many families … the [Orange County Board of Supervisors] agreed upon an urgency to proclaim a local state of emergency on behalf of the county."
Authorities said approximately 900 homes were placed under mandatory and voluntary evacuation orders.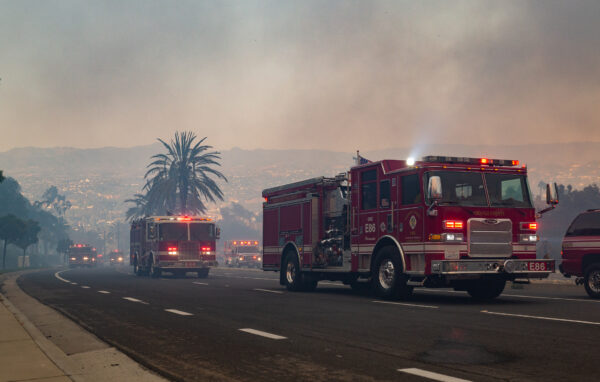 The fire originated near the South Orange County Wastewater Authority's Coastal Treatment Plant, handling sewage for the Laguna Beach area, according to Orange County Fire Authority officials.
At approximately 3:30 p.m., authorities estimated the fire at about 3 acres. However, the flames spread to at least 200 acres within three hours, ripping through thick brush on the hillside and decimating multimillion-dollar homes overlooking the Pacific Ocean.
Although the cause of the fire is still under investigation, authorities said certain factors contributed to its rapid spread, including bad drought conditions, low fuel moistures, westwards winds, and steep terrains.
All of which, authorities said, made for "a bad recipe" for the fourth fire the county has battled this year.
Earlier this year, authorities extinguished the Emerald Fire in Laguna Beach, the Jim Fire in Cleveland National Forest, and the San Juan Fire alongside Ortega Highway, east of San Juan Capistrano.
"Having as much fire behavior as we have had and the acreage that took definitely made us think this is going to be a bad fire season," TJ McGovern, Orange County Fire Authority assistant chief of operations, told reporters.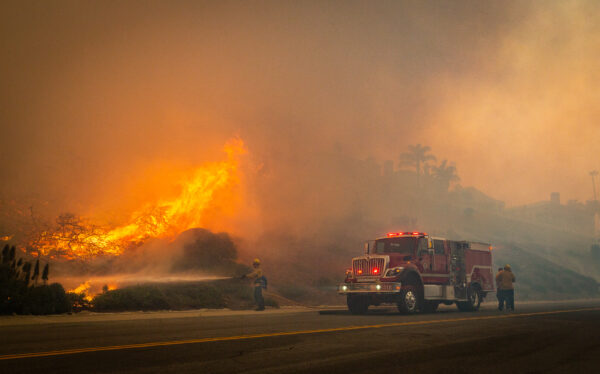 McGovern said the fire started at the bottom of a canyon drain with low fuel moistures until westward winds picked up flames and carried the fire up the canyon's slope.
He said they have established projected containment lines around the fire's perimeter and are "confident" the flames won't breach.
"However, we're not putting it a 'mop-up' stage because we still have to reinforce those containment lines," he said.
In addition to establishing the containment hose lines, authorities scraped the dirt by hand to keep the flames within the projected boundaries.
"There's still a lot of work to be done out there today," he said. "Our crews are there still aggressively working at it."
California has secured a fire management assistance grant from the Federal Emergency Management Agency to ensure the availability of resources to battle the Coastal Fire in Orange County, Gov. Gavin Newsom said in a statement.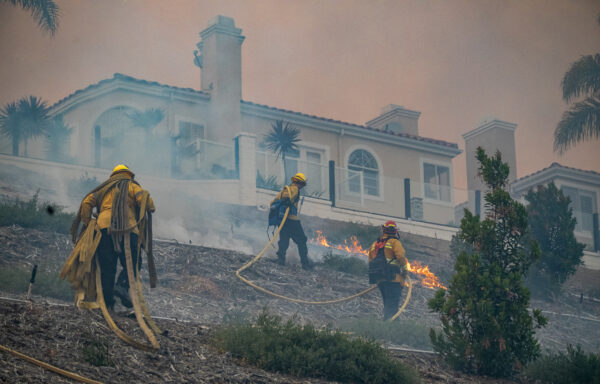 The grant is provided through funds from the federal disaster relief fund. It enables local, state, and tribal agencies responding to the fire to apply for 75 percent reimbursement of their eligible fire suppression costs.
Southern California Edison, which has personnel and investigators on the scene, has sent a letter to the state Public Utilities Commission regarding "circuit activity occurring close in time to the reported time" of the fire.
Firefighters continue to put out hot spots and lingering flames of the Coastal Fire using fixed-wing planes, dropping fire retardant on the hillside, and several water-dropping helicopters to slow the advancement of the fire from causing more damage.
Approximately 550 firefighters have battled the fire, according to authorities.
"The priority of the City of Laguna Niguel is the safety and well-being of all of our residents," Mayor Elaine Gennawey told reporters during the press conference.
Residents seeking shelter can call a hotline number to receive information at 714-628-7085 or visit ocsherriff.gov/coastalfire. For animal services information, call 949-470-3045, ext. 0.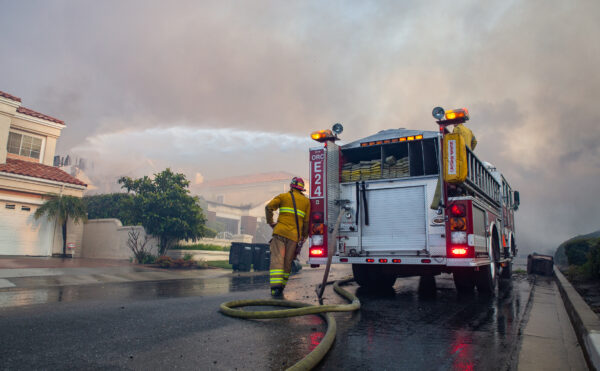 City News Service contributed to this report.
This article will be updated as events develop.