SANTA ANA, Calif.—With the Orange County Streetcar project running 40 percent behind schedule, the Orange County Transportation Authority (OCTA) approved an additional $100 million to the project this week, bringing the 4-mile development to a total cost of $500 million.
"We are unhappy with where we're at in terms of the status of the schedule and budget, but we also want to be open and transparent about what we think it will take to get it finished." Daryl Johnson, CEO of OCTA, said during the Dec. 13 meeting.
The project initially planned to have 99 percent completed by December.
However, Jim Beil, executive director of Capital Programs, who gave a presentation requesting the budget increase, told OCTA approximately 62 percent had been completed.
Beil said the progress includes construction, vehicle procurement, professional service contracts, and utility relocation.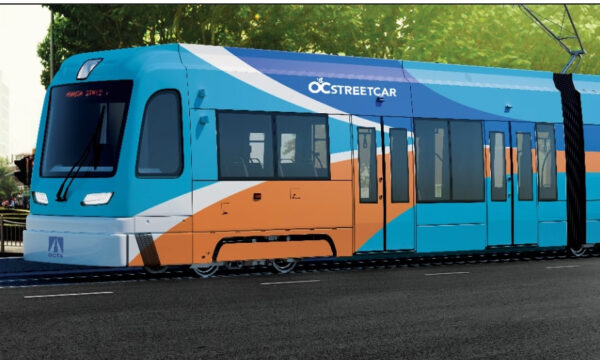 "We're up to about $125 million per mile … and now you want us to go up to $509.54 million," Director Don Wagner said during the meeting. "What happens if we just say no? When do we throw up our hands and say no, I have no hope in this project any longer?"
Wagner, who opposed the increased budget, said he has complained about the project as it continues to spiral for three years.
"We're not going to keep shoveling tax dollars into this project," he said.
Johnson replied that without the budget increase the board will not have enough money to finish the project.
"I think we find ourselves in the unenviable position that it could easily cost more than this amount if we're to stop and deal with the aftermath," Johnson said. "I don't see a better option out there.
"We could tell the contractor to work with no money, but we are essentially out of contingency … This is what your staff and the Federal Transit Administration believe it will take to get the project to completion."
Initially, the board approved $407.5 million for the project budget in 2018. Another $15 million was approved earlier this year to move the project forward pending a Federal Transit Administration audit—which now reflects the total budget.
Biel said after numerous challenges ranging from project design utility conflicts, excavating unsuitable soils, and paving over pacific electric rail infrastructure, the construction cost needs an additional 25 percent.
He also explained that removing underground storage tanks, water wells, and other delay costs significantly impacted the project's progress.
With the existing budget, Beil said they plan to use the following funding sources:
—$45 million in federal congestion mitigation and air quality funding;
—$9.4 million from the American Rescue Plan Act—which was allocated directly to Capital Investment grant projects; and
—$30 million from Measure M, a 30-year, half-cent sales tax for transportation improvements in Orange County.
The 8-streetcar fleet can carry up to 210 people per vehicle at a frequency of 10 to 15 minutes between stops. The electric ride will also connects to 14 OCTA bus stops.
Pioneering modern streetcar transportation in Orange County, the OC Streetcar will include ten electric rail stops, in each direction, from Harbor Transit Center in Garden Grove to the Santa Ana Regional Transportation Center in downtown Santa Ana.