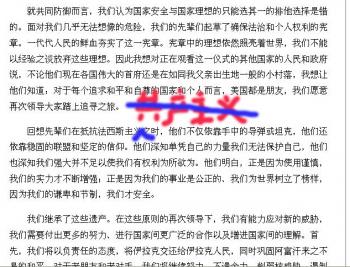 The Chinese regime omitted the words "communism" and "dissent" when publishing the translation of Obama's inauguration speech.
In Obama's 18-minute speech, he said, "Recall that earlier generations faced down fascism and communism not just with missiles and tanks, but with the sturdy alliances and enduring convictions." However, the word "communism" disappeared in the translated version published on the regime's mouthpiece Xinhua Net.
Also, during the live broadcast of the ceremony on China Central TV (CCTV) Station's news channel on Wednesday, immediately after the simultaneous translation of Obama's phrase "faced down fascism and communism," the broadcast suddenly switched to the host, who appeared unprepared for the switch.
The host then switched the topic to the U.S. economy and passed it to her colleague in the CCTV news center in America. That person also appeared unprepared and looked a bit lost.
Several major Chinese website also deleted another paragraph of the speech—"To those who cling to power through corruption and deceit and the silencing of dissent, know that you are on the wrong side of history; but that we will extend a hand if you are willing to unclench your fist"—because the word "dissent" were mentioned.
Although the regime has tight control over the Internet in mainland China, there were still quite a few messages posted online that mocked the censorship. Some even joked that the person in charge of the CCTV live broadcast would be punished the next day.
China issue expert Sima Tai commented that the cover up showed that communism is merely a tool for the Chinese regime to maintain its rule because no one inside the regime currently has faith in that ideology anymore.
Read original Chinese article.