Obama's Trip to Israel Makes Subtle Gains (+Videos)
March 24, 2013 11:53 am Last Updated: June 24, 2015 8:44 pm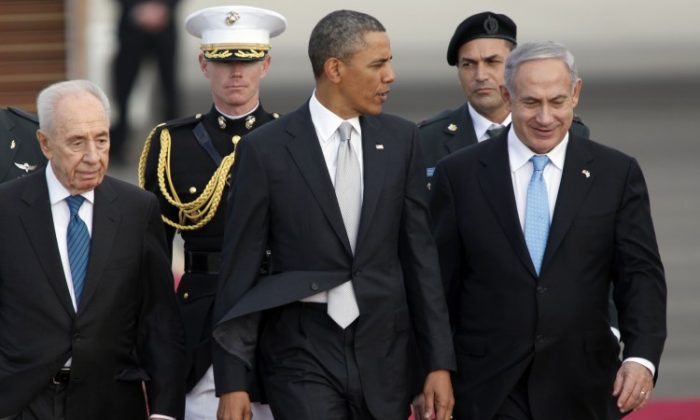 U.S. President Barack Obama returned home Saturday after a trip to the Middle East to meet with Israeli, Palestinian Authority, and Jordanian leadership.
The president's goals included discussing threats from Iran and Syria, peacemaking between Israelis and Palestinians toward a two-state solution, and assuring the Israeli public of American support during a speech to thousands of university students at the Jerusalem Convention Center.
The most tangible, immediate gain was the apology extended from Israel to Turkey for the May 2010 incident in which nine Turks were killed by Israeli Defense forces on a naval flotilla to Gaza. Israeli Prime Minister Benjamin Netanyahu called Turkish Prime Minister Recep Tayyip Erdogan, urged by Obama to do so.
The apology was extended and accepted after years of hostility.
Dan Arbell of the non-profit public policy organization Brookings Institute points out in an article on the organization's website: "Undoubtedly, a close relationship between Turkey and Israel—two of America's greatest allies in the region—serves United States' strategic interests globally and regionally."
Recommended: Obama in Israel: Photos
Recommended: Obama Kicks off First Presidential Visit to Israel
Turkey has been greatly affected by the civil war in Syria, as the conflict has spilled at times beyond Syria's borders into Turkey. Jordan has also been greatly impacted by the Syrian conflict.
Obama's trip included a meeting with Jordanian King Abdullah II. Jordan has received the most Syrian refugees of any bordering country, said the king when he met with Obama.
"The numbers have just exceeded 460,000 Syrians. That is 10 percent of our population," Abdullah said at a press conference.
Obama responded: "I want to commend the Jordanian people for their compassion during an extraordinarily difficult time for their neighbors. His Majesty was the first Arab leader to publicly call on Assad to step down because of the horrific violence that was being inflicted on the Syrian people. Jordan has played a leading role in trying to begin a political transition toward a new government.  We're working together to strengthen a credible Syrian opposition."
Obama told Abdullah he would seek an additional $200 million from Congress to aid Syrian refugees.
Politico analysts point out that Obama appeared to make some ground in convincing Israeli leadership to hold off on action against Iran.
Netanyahu's earlier insistence that action be taken by spring became diluted over the course of Obama's visit to "Whatever time is left, there's not a lot of time," reported Politico. 
The majority of Obama's time was spent with Israeli leadership and the Israeli public, which may lead Palestinians to feel somewhat jilted, noted Politico. Obama did meet with Palestinian Authority President Mahmoud Abbas.
"We have conducted a good and useful round of talks with his excellency President Obama," Abbas said at a joint press conference. "It was an opportunity to focus, on our side, on the risks and the results that exists that a continuation of settlement activity represent on the two-state solution, and over the need to release prisoners."
"I have renewed confidence that the United States, represented by his excellency President Obama and Mr. John Kerry, shall intensify its efforts to remove the obstacles ahead of the efforts to achieve a just peace, which the peoples of the region have long awaited," Abbas said.
Obama announced greater financial aid to the Palestinian Authority, and assured Palestinians he is against continued settlement activity. 
"The Palestinian people deserve an end to occupation and the daily indignities that come with it.  Palestinians deserve to move and travel freely, and to feel secure in their communities," Obama said at the press conference. 
"I've been clear with Prime Minister Netanyahu and other Israeli leadership that it has been the United States' policy, not just for my administration but for all proceeding administrations, that we do not consider continued settlement activity to be constructive, to be appropriate, to be something that can advance the cause of peace," Obama assured Palestinians.
Obama Speaks to Israeli University Students at the Jerusalem Convention Center
Obama's Meeting With President Peres of Israel
Obama's Meeting with President Mahmoud Abbas of the Palestinian Authority