The Oakland Raiders' final home game before the team moves to Las Vegas went from bad to worse on Sunday when fans threw trash, charged the field, and fought security. The team lost to the Jacksonville Jaguars 20-16 after blowing a 13-point lead late in the game.
At the start of the fourth quarter, more security began to hold positions at the Oakland Coliseum, as reported by Yahoo Sports and noted by some Twitter users.
When the Jaguars took the lead with just 31 seconds remaining, fans threw trash—including glass bottles and beer cans—onto the field. At least one woman was injured with blood streaming from her head, according to Yahoo.
Later, fans started to fight with security guards, video footage also showed. Reports said that media personnel were told to leave the premises by security, and photos posted online showed that fans had hopped over the wall onto the field before security grabbed them.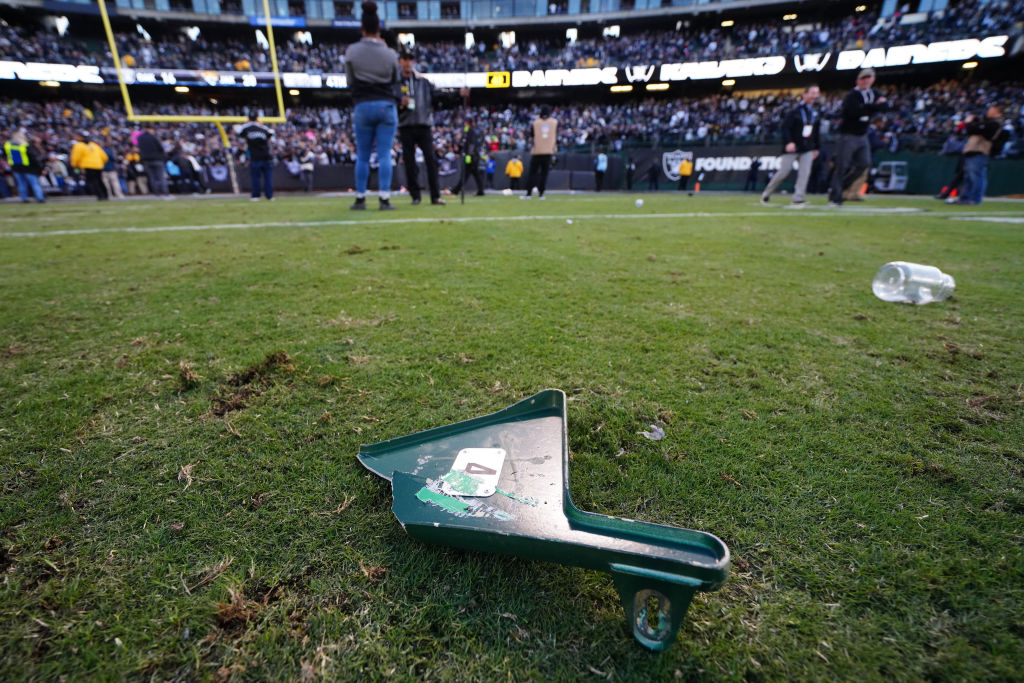 A plastic football filled with nacho cheese, a cup holder from a car seat, water bottles, liquid spray, and other items were thrown onto the field, ESPN noted.
A photographer reported that he was hit by an object, saying that "I'm going to tell myself that was beer."
Raiders quarterback Derek Carr, the Raiders starting quarterback since 2014, headed to the Black Hole fan section after the game, triggering boos, reported ESPN.
"Oh gosh," Carr said of the boos. "What's new with our crowd? Whenever we don't win, that's going to happen. Trust me, it's not under my skin. It's nothing."
Carr was then asked about his message to the fans after the loss.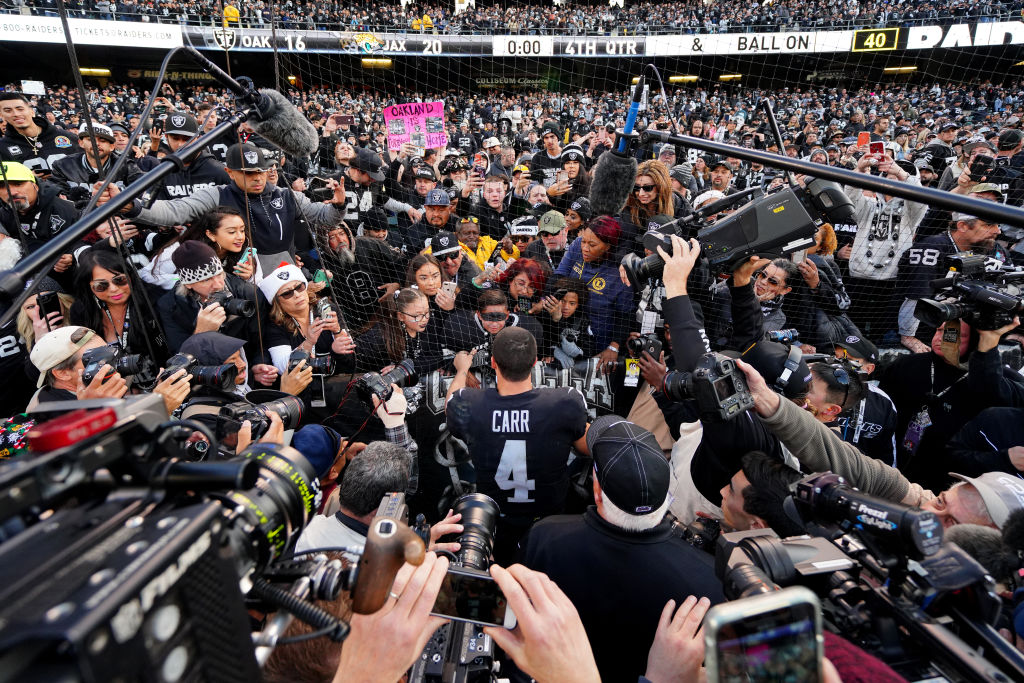 "Message to the fans?" he said. "I'm sure they don't want to hear anything right now."
Raiders Coach Jon Gruden, who took the helm last season, reflected on his time in Oakland. Gruden also coached the Raiders from 1998 until 2001.
"I'd like to say I wish we could have sent the Raiders fans off with a lot better finish than that," Gruden told reporters. "I think, most importantly, before we talk about the game, is I would like to thank the fans. I would like to thank the city of Oakland for supporting the Raiders and being faithful, and I'll miss them."
He added, "I love them, and I'm sorry about the outcome today, but I think that is something that needs to be said, and I really apologize that we weren't able to deliver a victory."
The Raiders are now 6-8 and can finish no better than 8-8 on the season with two games remaining.