WELLINGTON—New Zealand Prime Minister Jacinda Ardern announced on Sunday she had named her new-born daughter Neve Te Aroha as she prepared to leave hospital amidst an outpouring of public excitement.
Ardern appeared before dozens of reporters and a flurry of camera flashes at Auckland City Hospital in her first appearance since giving birth, thanking the public for their support as her three-day-old daughter slept in her arms.
"We really just wanted to say thank you and that we're all doing really well. Sleep deprived, but really well," Ardern said.
Ardern, 37, became New Zealand's youngest prime minister when she took office through a coalition deal last year after an inconclusive election. She has now become the first woman in the country's history to give birth while in office.
Ardern delivered her 3.31 kg (7.3 lb) daughter in the country's largest public hospital on Thursday afternoon with her partner, television presenter Clarke Gayford, at her side.
The couple had settled on the baby's first name, Neve, after she was born, Ardern said, explaining that it means "bright and radiant" and "snow," which reflected that she was born in the middle of winter during the nation's indigenous Maori new year and the shortest day of the year.
Her second name, Te Aroha, which means "love" in Te Reo Maori, one of the country's national languages, was a nod to the many Maori iwi, or tribes, that had offered names as a gift to Ardern while she was pregnant.
"'Te Aroha' was our way of reflecting the amount of love this baby has been shown even before she arrived," Ardern said.
The island nation, with a population of 4.5 million, was in the grips of a baby-induced glow of optimism in recent days with many social media users dubbing the baby the "Prime Miniature" while they waited for her name to be announced.
"It's just something really lovely in a world where so much is unfair that we're all very excited about it," said Frances Gerbic, a music teacher living in Auckland.
The New Zealand Symphony Orchestra recorded a version of Brahm's lullaby "Cradle Song" translated into Te Reo Maori, and Auckland's tallest building, the Sky Tower, was lit up pink for three nights in honor of the occasion.
Support also flooded in from around the world, with Britain's Queen Elizabeth, whom Ardern met in London in April, sending an emailed message of congratulations and Canadian Prime Minister Justin Trudeau tweeting at Ardern: "Pro tip, Jacinda: Briefing notes make excellent bed time stories."
Ardern will take the next six weeks off, leaving her deputy Winston Peters in charge, and return to work in early August when Gayford will care for the baby fulltime.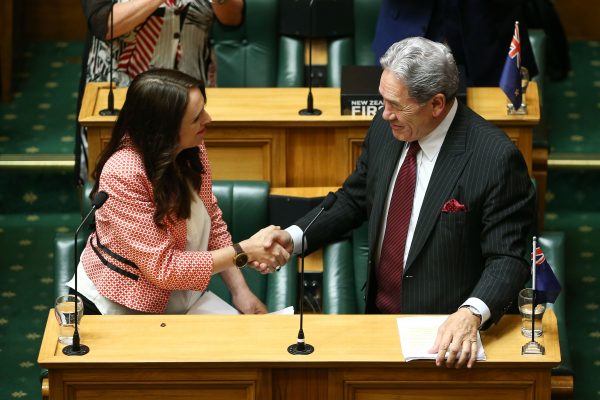 Ardern's pregnancy is just the second time an elected leader had given birth in office since Pakistan's Benazir Bhutto in 1990.
"I hope for little girls and boys that actually there's a future where they can make choices about how they raise their family and what kind of career they have that are based on what they want and what makes them happy," Ardern told the media.
By Charlotte Greenfield
Watch Next:
Aurora Australis Illuminates Southern Skies