NYCxDesign Spotlights Local Innovators
May 14, 2014 6:25 am Last Updated: June 24, 2015 8:06 pm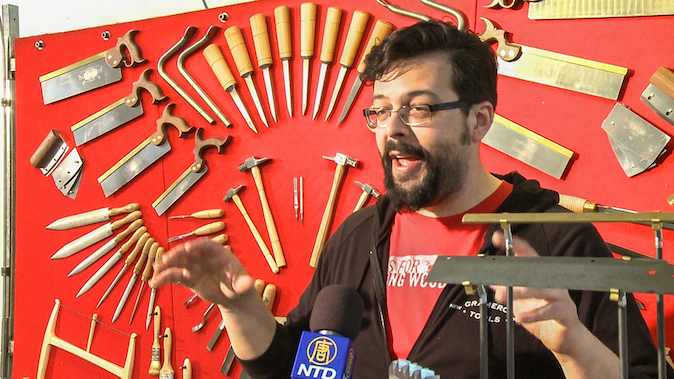 NEW YORK— Here be makers.
They're not mad scientists, though some of them talk like it.
"We are pathological makers," said Timothy Corbett. "People that are bound by untamable inner drives to work with their hands or materials or concepts, and basically smash things together and enjoy the carnage."
Corbett is the principal designer for Gramercy Tools, a Brooklyn-based company that skipped the manufacturing exodus to China in favor of crafting hand tools in the United States.
The carnage Cordett speaks of is in fact a blazing new tale of American success. It is an emerging culture of making things locally that is being urged along by breakthrough technologies like affordable robotics and 3D printing.
Makers and other designers like Cordett are being celebrated May 9-20 in hundreds of events across the five boroughs. It's called NYCxDesign, (New York City by Design), and it highlights all design outputs, be they furniture, fashion, art or other.
Faster Product Cycles
Industry City—a sprawling series of giant buildings on the waterfront in Brooklyn, is home to 2,400 jobs, and the hopes are for another 12,600 jobs to be added in the next ten years. It is one of several venues hosting events, which include a series of workshops on 3D printing and design.
If you go there, you'll likely see Susan Taing talking about "responsive product design."
It's a term of her own making based on the incredibly short product development cycles made possible by 3D printers.
Taing travelled the world in her previous marketing career. But something was missing, something she couldn't quite put her finger on—a tangible product.
She said the focus on the Internet over the past twenty years has led to major breakthroughs. But now designers like her can bring ideas to the physical plane.
"Something that you create on the computer that's coming into our world, that's just immensely satisfying," she said.
Taing's company, Bhold Design, (pronounced "behold") creates phone accessories and other items through 3D printing.
In anywhere from 45 to 90 days she will take an idea, design and produce a prototype, test it with a group of recruits she's garnered, modify the product, and put it up for sale.
It's a development cycle that makes bigger companies weep with envy, and it's all done in the same market as her end user. Taing's Maker Bot-brand 3-D printer lets her develop a new cell phone sound amplifier or car phone holder based on what the people that will buy it tell her about it.
Tang says 3D printers and easy-to-use software are revolutionizing product design and manufacturing.
"Anybody can just get started now with the tools that are available and with how easy everyone is making it."
At Industry City alone, the hope is to create 12,600 jobs through innovative entrepreneurs like Taing.
You can meet Taing, Corbett, and other creative entrepreneurs at Industry City and other venues throughout NYCxDesign.
For a list of all events, visit NYCxDesign.com