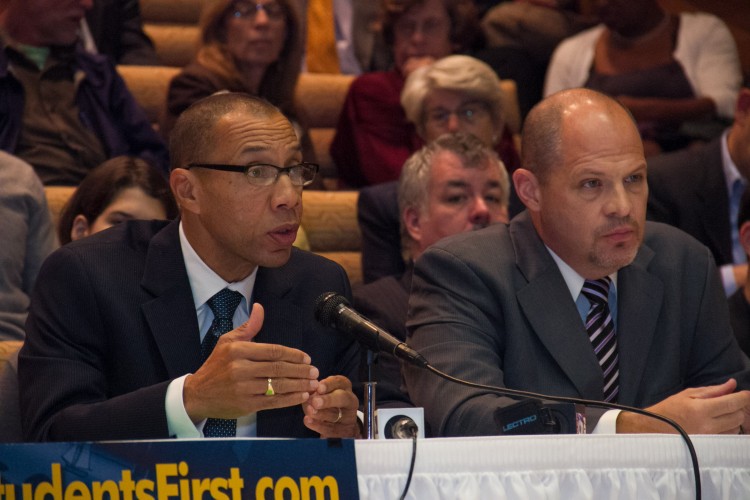 NEW YORK—Schools Chancellor Dennis Walcott said Wednesday that he wants negotiations over teacher evaluations finished by Dec. 21, about four weeks earlier than the official deadline of Jan. 21. Walcott said the earlier deadline takes into account time the state Education Department needs to look over and approve evaluation plans.
The New York City's Department of Education and the teacher's union (United Federation of Teachers (UFT)) have so far failed to come to an agreement. If a deal is not struck, about $250 million in state funding that has already been budgeted, could be taken away. 
"If we can't reach an agreement with the UFT, we will be forced to pass some cuts on to schools," said Walcott.
The department already faces a four percent funding cut next year. The $250 million, if lost, would almost double that cut. 
If an agreement isn't reached, principals would make final decisions about budget reductions. "We would expect that cuts would lead to fewer teachers being hired, which will probably lead to larger class sizes," said Walcott, adding that reductions to professional development for staff, after-school programs, and staff such as guidance counselors would likely happen.
"These cuts would be painful," he said. Later, to reporters, Walcott said "It's not a threat, it's just the reality we have to face.
"I have a responsibility to start to plan for that," but, "we're not that far off" in negotiations, he added. Sticking points include how observations by principals or independent administrators would work—which make up 60 percent of teacher evaluations in the new framework—the plan for teacher improvement, and finalizing the teacher appeals process.
Michael Mulgrew, president of the teacher's union, blasted Walcott's comments in an emailed statement.
"We're not going to have an agreement until Mayor Bloomberg and Chancellor Walcott stop playing politics with our schools," he said, noting the two sides have been negotiating for two years. "Rather than establishing bogus deadlines and threatening parents with the loss of teachers and services, they should be focusing on reaching an agreement that will actually help make the schools better."
A new framework for evaluations was passed by Gov. Andrew Cuomo in February with the stipulation that local districts and teacher unions would negotiate details.