NYC Introduces Civil Penalties for Hit-and-Run Drivers
September 23, 2014 6:16 pm Last Updated: September 23, 2014 6:16 pm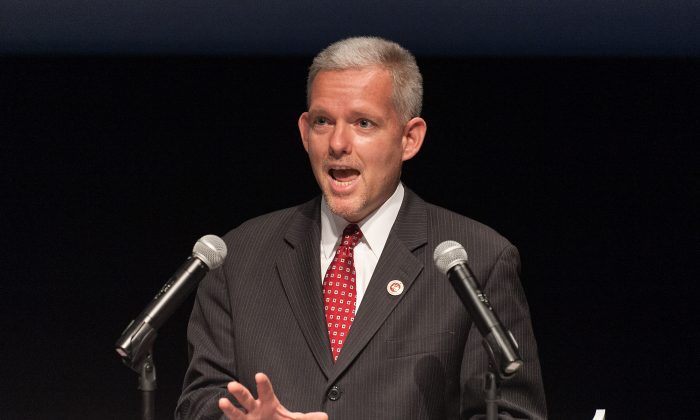 NEW YORK—A year after Martha Puruncajas's son Luis Bravo was killed by a hit-and-run driver, she still has no closure.
It broke her heart not knowing who hit her 19-year-old son, who was so full of hopes and dreams, Puruncajas said in Spanish. 
Bravo had wanted to be a police officer, and eventually join the FBI. "I want to know who killed my son. I want to know … I can't be in peace not knowing."
On Tuesday, Puruncajas and members of the community organization Make Queens Safer stood by City Council members to pass a bill that would introduce civil penalties for hit-and-run drivers.
There are currently criminal penalties but no civil penalties for hit-and-run drivers in New York City. Under this bill, drivers could be fined up to $10,000. 

Puruncajas said she hoped that, with legislation like this, the police would have the tools and incentives to go after these drivers. 
"There are few things that could be worse than leaving another human being who could have been saved in the streets," said Councilman Jimmy Van Bramer, who sponsored the bill. 
Those who leave the scene of the accident may pay up to $500 for property damage, $1,000–$2,000 if a person is injured, $2,000–$10,000 if there is a serious injury, and $5,000–$10,000 if there is a fatality. 
Transportation Committee Chair Ydanis Rodriguez added that there needed to be stronger support from Albany for stiffer penalties and more tools to lower traffic fatalities. 
For instance, the state penalty for driving while intoxicated is higher than a hit-and-run penalty, which may give intoxicated drivers who cause a death or injury an incentive to leave after the incident.
Traffic safety advocates said effective enforcement will rely on the cooperation of the New York Police Department. 
According to Transportation Alternatives, only 15 of the 60 hit-and-run drivers investigated in 2012 were arrested.