NYC Doormen and Handymen Vote to Authorize Strike
April 2, 2014 8:35 pm Last Updated: April 3, 2014 6:53 am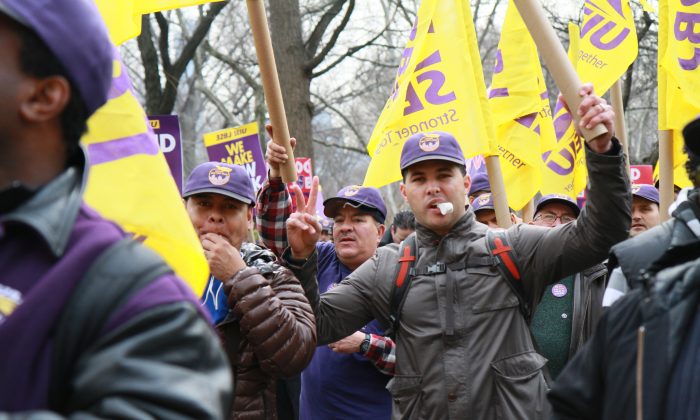 NEW YORK—The union representing the city's doormen, porters, handymen, superintendents, and other building workers voted Wednesday to authorize a strike in case talks with building owners break down.
The contract for some 30,000 building workers expires on April 20. The union is calling for higher pay, in line with the rising costs of living.
Hundreds of 32BJ Service Employees International Union members flooded East 79th Street near 5th Avenue, clad in the union's yellow and purple T-shirts. 
"With today's cost of living rising at any point, given that everything is going up, at least since the last time we bargained a contract, our salary hasn't kept pace with it whatsoever," said Donald Killings, 55, a doorman at an Upper West Side building.
Elected officials, including state Sen. Jose Serrano and Council member Elizabeth Crowley, joined the workers at the rally.
"Negotiations with the union are going extremely well so far because we are both committed to the same goal: reaching a fair contract that includes wage increases and protects the generous health and pension benefits that workers enjoy today," Howard Rothschild, president of the Realty Advisory Board (RAB), which bargains on behalf of the real estate industry, said in an email.
On March 13, the RAB offered the union wage increases for all job classifications, sustained health benefits, as well as expanded training and scholarship programs.
Over the past 17 years, 32BJ held a similar rally every time contract negotiations took place. The vote to authorize a strike is conducted by a show of hands during the rally.
"We stay hopeful and confident that the bargain continues to go well," said Kyle Bragg, the union's secretary treasurer. "But we take nothing for granted. We want to keep our members on the ready to take whatever action that we deem necessary."
Two Decades of Contracts
The relationship between the real estate industry and building workers union has been positive, resulting in more than two decades of uninterrupted contracts, according to the RAB. 
During the Great Recession, unionized building workers saw no industrywide layoffs and received a 12 percent wage increase over four years. In the aftermath of Superstorm Sandy, the real estate industry struck a deal with the union to keep paying employees who could not make it to work.
Under the current contract, a doorman costs building owners $77,000 annually and a handyman $82,000 annually, including wages and benefits. Superintendents and building managers earn more, and often receive a free apartment on site.
Members of the union receive full health insurance, including dental and optical coverage, and life insurance. Union members also receive up to 49 paid days off per year, retirement savings, free legal services, and job training.