NYC Council's Proposed Rule Changes Win Praise
Plan favors more discretionary funds for districts with more poverty
May 8, 2014 10:25 am Last Updated: May 8, 2014 10:25 am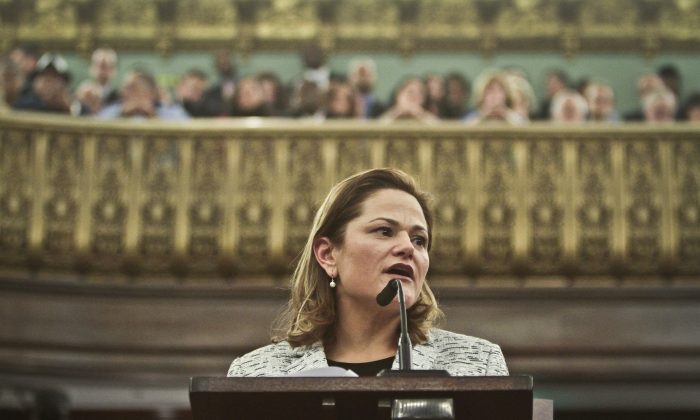 NEW YORK—Good government groups lauded the proposed changes to City Council rules at a committee hearing Wednesday, saying they are a substantial improvement to the current set.
The changes include reforms to council member items, which are discretionary funds allocated to council members on an annual basis. 
Member items have often been used for political purposes and Mayor Bill de Blasio has called for them to be abolished entirely. The proposed changes do not go as far as abolishing member items, but mandate that they be distributed based on a fair formula. The rules would also mandate that additional funding be allocated to districts based on how many people in poverty live there.
The reform package also strengthens the power of committee chairs and committees, and adds a measure of fairness to how new legislation is considered.
Significantly, the council speaker, who used to decide how virtually all of the member items were distributed is now limited to distributing less than 50 percent of the pot. Several council members commended Speaker Melissa Mark-Viverito for backing a bill that weakens her post.
"The council's growth will make it a more effective check and balance on city agencies," said Gene Russianoff, senior attorney at the New York Public Interest Research Group, at the rules committee hearing Wednesday. "That strength is clearly reflected in this package of council reform of its rules, which NYPIRG strongly supports."
Mark-Viverito charged the rules committee to draft reforms to the existing rules in January this year, emphasizing that the council become more responsive, transparent, fair, and inclusive. The final reform package is the result of public input, a survey of council members, and extensive legal and policy research.
Not Far Enough
While backing the reforms, the good government group representatives also said that they don't go far enough.
Alex Camarda from Citizens Union of the City of New York said that member items should be posted publicly on the Web three days prior to the council vote on such funding.
Jessica Walker from Partnership for New York City suggested that council create a department that can analyze the impact of City Council bills on employment and business startups.