NY Politicians Say No to Food Stamp Cuts
September 18, 2013 5:34 am Last Updated: September 18, 2013 10:28 am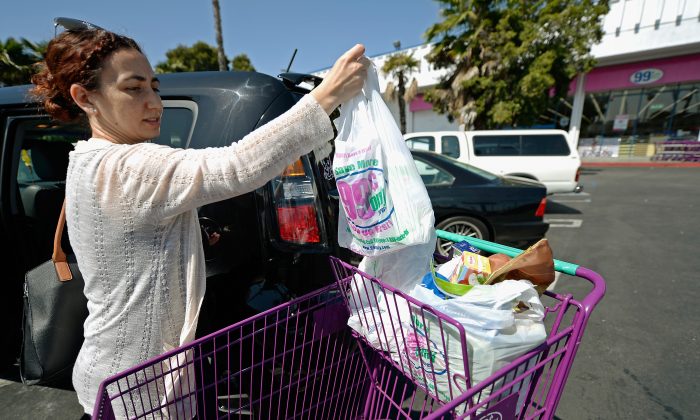 NEW YORK—New York local, state, and federal politicians decried cuts to the federal food stamp program introduced by House Republicans on Monday. The battle over cuts to food stamps heated up in June when funding for the program was separated from the farm subsidies bill, both customarily included in the farm bill.
Republicans hope to scale back the food stamp program, officially the Supplemental Nutrition Assistance Program (SNAP), alleging participation has bloated from inadequate verification to ensure participant's income and assets meet requirements of the SNAP program. 
Democrats oppose the proposed cuts, accusing Republicans of trying to reduce the deficit on the backs of the poor.
"This is absolutely unconscionable," said Rep. Carolyn Maloney (D-N.Y.) speaking at a press event at the Hour Children Food Pantry in Long Island City in Queens. She was joined by Assemblywoman Aravella Simotas, City Council member Jimmy Van Bramer, and director of New York City Coalition Against Hunger Joel Berg. "What we are talking about is cuts on top of cuts," Maloney said.
Maloney was referring to the reduction in food-stamp benefits that will become effective on Nov. 1 when the boost from the 2009 American Recovery and Reinvestment Act will run out. Families of four will see their food stamps reduced by $36 per month starting on Nov. 1. Those are the first cuts.
The second cuts are the proposed Nutrition Reform and Work Opportunity Act introduced Monday, which proposes to cut $40 billion from SNAP over 10 years.
Governors currently have the authority to waive the 20 hours per week of employment or training required for able adults who are 18 to 50 years of age without children. Under federal law, unemployed, childless adults who are not in a training program cannot receive benefits for more than three months every three years. The current bill, scheduled for a vote on Wednesday, would eliminate a governors' ability to request waivers of this employment requirement for childless adults in high unemployment areas. 
States will still be able to exempt from the work requirement 15 percent of those able bodied adults receiving benefits due to hardship or lack of work.
In 2012 SNAP spent nearly $78.5 billion per year with some 74 million recipients receiving about $133 in benefits. Republicans are proposing cuts of 4 billion per year. The cuts aim to help people in the program become more self-sufficient and also to restore the integrity of SNAP after abuses in recent years, according to the House Agriculture Committee. 
In addition, the federal government has granted SNAP assistance to those receiving other forms of federal aid, but waived asset tests normally required for enrollment in nutrition assistance programs, thus enrolling many who would not normally qualify.
According to the Center on Budget and Policy Priorities (CBPP) the bill would cut benefits to 1.8 million people with income or assets above the federal SNAP limits, but with disposable income below the poverty line. CBPP said this is often the result of high rent or child care costs cutting into disposable income, stretching budgets tighter.
"SNAP is our first line of defense, we must keep it strong. Food pantries, and soup kitchens, emergency food programs like my own are the last line of defense and we are already strapped," said Abigael Burke, food pantry and outreach coordinator for Hour Children Food Pantry. Already food pantry participants are growing, "We average over 45 new participants per month. I cannot emphasize enough how we must keep SNAP strong."