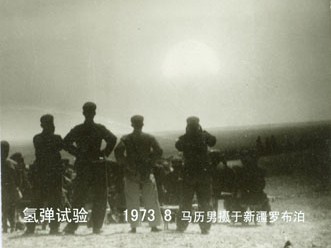 Lop Nor was once a 1.3 million acre lake in the Taklamakan desert of Xinjiang Autonomous Region until the Chinese military set up a secret nuclear test site in June 1959, detonating 45 nuclear bombs between 1964 and 1996. A Chinese military veteran, using the alias Liu Qing, told The Epoch Times in an exclusive interview about his experiences while serving in the nuclear unit and being sent for prolonged military exercises at ground zero.
Liu is from Urumqi, the capital of Xinjiang, and now lives in Australia. He said for 32 years approximately 100,000 soldiers participated in nuclear tests without any sort of protective gear, and the radiation they were exposed to has turned their lives into a nightmare. 
But while taking sample radiation measurements from exposed soldiers, and keeping secret files, the Chinese government never acknowledged the soldiers' health problems, and few of them have received any compensation.
Exposure 
In 1979, the then 18-year-old Liu was enlisted and served in the "Nuclear 8023" unit that was designated to test nuclear weapons. During the following 10 years, Liu went five times to the explosion field where nuclear weapons were tested. He lived at the site for about six months and walked around at the center of the site where a nuclear bomb had just been detonated. 
Liu said he touched the remains of the iron tower that held China's first atomic bomb in 1964. The only protection he had during these encounters was his military uniform. When soldiers left the bombing site, no one conducted any tests or measurements on them, Liu said. 
"We did not have any protection measures at that time. Our military uniforms were our only protection. We did not know the dangers of exposure to nuclear radiation. The damage is invisible and the victims could not feel it right away. The destruction is especially serious to the brain. I did not know of the permanent, lifelong adversities until later. The Chinese Communist Party's (CCP's) policy of withholding information from the public entrapped and hurt a lot of people during the decades of nuclear testing. During the ten years I was in the military, I was never taught about the extreme dangers of nuclear radiation.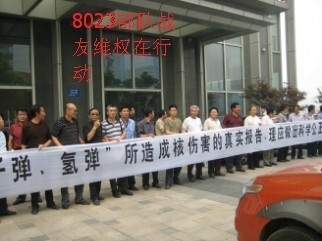 "The CCP treated us like non-humans during nuclear tests. Three minutes after detonation, 30,000 soldiers were sent to the field. Tank forces, armored troops, and cavalry had to drive to the bombing site for training. Of course the high-ranking leaders were not there. Each time we carried out a mission at the bombing site, we had to live there for months," Liu said. 
According to Liu's conservative estimation, at least 100,000 soldiers have served in the Nuclear 8023 unit during the 32 years and are suffering from different levels of radiation exposure and health damage. 
"After each explosion, sample testing of nuclear exposure was conducted on soldiers who participated in the drills and taken away by staff from the headquarters. The information was highly confidential and never released. For decades, the CCP never followed up on the health of those who participated in the nuclear tests. They threw us away after they were done with us and didn't care a bit about us," Liu said.
Radiation Effects 
In October 1985, 24-year-old Liu returned to his military base after the completion of a mission. It was also the beginning of his health failing, calling it "my nightmare." 
At first there was a row of endless colds for which he was given injections and medicines. Then his teeth fell out. At the same time he had chronic stomach pain, nasal inflammation and was diagnosed with type B hepatitis. His white blood cell count was very low, he said, in addition he has been suffering from insomnia ever since. 
Liu said he has taken countless types of medicines and shots these recent years. One year his medical cost was three fourth of his entire work unit's medical budget. "My coworkers were all complaining about me, and I was the headache for the supervisors," Liu said.
The nuclear radiation has also affected his son's health. "My son is only 20 years old, but his immune system is very weak, he catches colds very often," Liu said.
Compensation Denied 
Most of the retired military personnel from the former Nuclear 8032 unit, who are sick, are not recognized by the government as having been wounded or disabled as part of their service. They receive no compensation for the permanent health damage from nuclear radiation. 
When veterans went to the government to petition, police beat them up, sometimes cracking open the skin on their heads, with blood flowing, Liu said. 

Petitioning is a very harsh and painful journey for those retired soldiers, and it's been ongoing for the past 30 years, Liu said. People from all provinces in China have joined the wave of petitioning. Sometimes people go in groups from several hundred to several thousand. The largest group has been 8,000 people, he said.
Liu also petitioned for many years and was finally recognized as having incurred "level eight" injuries on a 10 level scale, 1 being the most serious, 10 the least.
However, most of the soldiers who participated in the nuclear tests were not able to get their health damage recognized by the government as being service related. They are still petitioning. Many people have died, and their families can't get any compensation, Liu said.
Of ten veterans from Liu's neighborhood who joined the same military troop with him, two have died of cancer at around 45 years of age, he said. 
"The CCP has always been this way. They use people and dispose of them when they are no longer of value to the CCP. The CCP is evil and inhumane. It's been solely out for its own benefits, from the very beginning. It's not uncommon for it to treat people like that," Liu said.
Nuclear Tests Ongoing
Nuclear tests are still being conducted at Lop Nor even after China signed a test ban treaty in 1996.
The CCP rushed its last official nuclear explosion test on July 29th, 1996, right before a United Nations ban. On the same day, the CCP announced that it would suspend nuclear testing, and on Sept. 24, 1996 then CCP Foreign Affair Minister Qian Qichen signed the Comprehensive Test-Ban Treaty along with 60 other countries at the United Nations in New York. 
But according to Liu, the tests have not been halted. The CCP has continued its nuclear tests after 1996. It has never stopped. They do the tests at the base or underground on a smaller scale, so it's not easy for the outside world to detect, he said. 
"A former fellow soldier, who is still working on the base, told me this in person the year before last," Liu said. "The CCP's way of doing things is gangster style: never leave evidence or written proof. Everything is passed on verbally by people from the top down."
Liu said, in September 1986 the CCP allowed the Pakistani government to also conduct nuclear testing at the Lop Nor site. 
"Pakistani nuclear experts were wearing People's Liberation Army uniforms at our nuclear testing site. If they were ever spotted by outsiders, they might be mistaken for Uyghur soldiers. But we all knew that there was not a single Uyghur soldier in our unit," Liu said.
Radiation from tests at the Lop Nor site has also endangered nearby residents and even unsuspecting tourists.
Takada Jun, Professor of Radiation Protection Studies at Sapporo Medical University, School of Medicine, in Japan, said in a paper "Chinese Nuclear Tests: The Nuclear Disaster on the Silk Road," that the silk road tourist sites and the nuclear testing ground are in the same location. Tourists there are at risk of being exposed to nuclear radiation. The risk was especially high before 1996, but even today the threat of nuclear radiation is still present in the area.
On Dec. 10, 2011, Human Rights Day, Liu, now a permanent resident in Australia, joined hundreds of protesters outside the Chinese embassy in Canberra for an anti-CCP rally. He said it was the first such rally he attended, and "it was very inspiring." 
"I finally yelled out 'down with the CCP, disintegrate the CCP!' I have been wanting to say this for several decades, and finally I was able to let it out," Liu said.
Read the original Chinese article. 
chinareports@epochtimes.com